Adaptive Approaches to Facilitating Finance in Myanmar's Agriculture Sector: A Review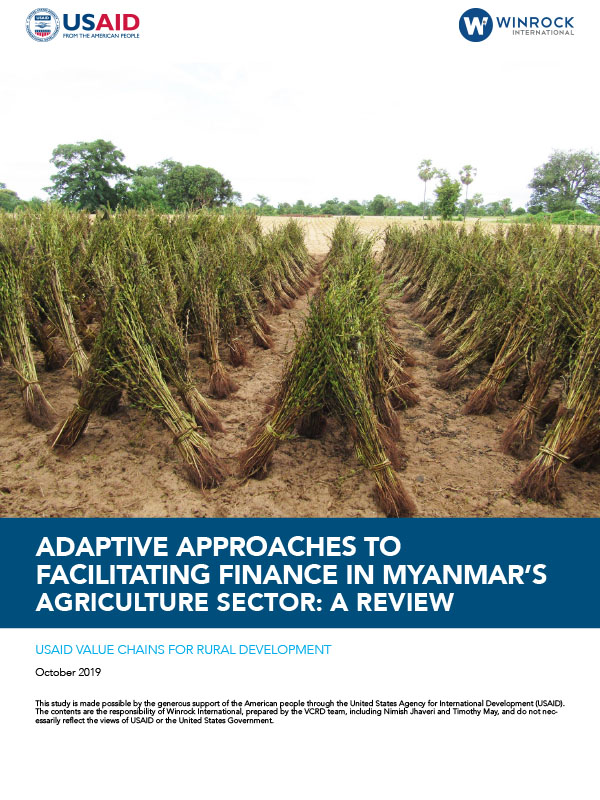 In collaboration with local partners in Myanmar, USAID's Value Chains for Rural Development (VCRD) project is helping rural smallholder farmers and processors find affordable pre-season financing to successfully enter higher-value domestic and international markets. After five years of VCRD value chain development assistance for soy, ginger, coffee, sesame, and melons, better skilled, equipped, organized and market-oriented entrepreneurs are now producing higher-quality products, establishing direct and transparent relationships with buyers, penetrating new markets, and obtaining higher prices.
This review describes how VCRD has empowered banks, farmers, and agri-businesses to identify, evaluate and tap previously elusive – or simply unavailable– financing opportunities in Myanmar, including pre-season working capital loans, microfinance, credit for input purchases and equipment, and pre-procurement loans (trade financing) – in many cases for the first time. The long-term success and ability of smallholder farmers, processors, and other Small and Medium Enterprise (SME) owners to benefit from Myanmar's transition hinges on the flow of capital to some of those who need it most: the farmers and other food system stakeholders whose hard work contributes 30-40 percent of the country's overallGross Domestic Product.