Case Study on How Referrals are Being Made Using the VCMS Referral Mechanism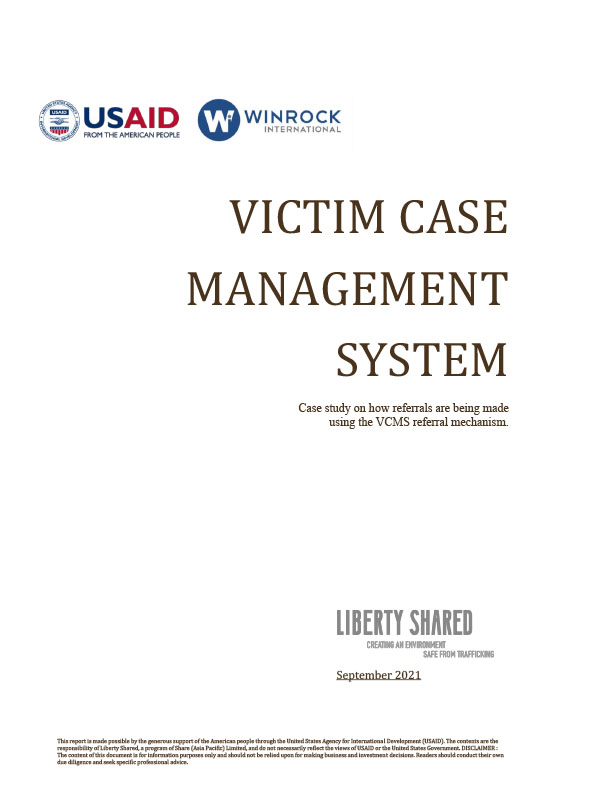 Effective collaboration and communication are crucial for protection, prevention, and
prosecution efforts and ensure appropriate responses and services are provided. Referral
structures should allow information to be channeled efficiently between service providers and
victims; help service providers develop care plans; and enable expectations to be set for the
quality and timeline of care. Versatile systems, which allow information and attachments to
be easily and securely migrated, also allow client confidentiality to be prioritized, which helps
to reduce the likelihood of re-trafficking.
The Victim Case Management System developed by Liberty Shared features an in-built referral
mechanism, which forms an integral part of its service provision. Standardization of referrals
was also a key area of focus in the system build. The Liberty Shared team recognized that each
organization had its own system for sending or receiving referrals in the counter-trafficking
space but identified a dire need for the standardization of those systems. While many frontline
organizations receive clients through outreach, a majority receive cases through referrals,
either from partner NGOs, the government, or law enforcement. When the referral
mechanisms of those stakeholders are non-standardized, work duplication occurs,
contributing to greater inefficiency, which indirectly affects the quality of care provided to the
client. As the VCMS exists for the purpose of improving care, the referral mechanism within
it is highlighted during system training and remains a core part of the service we provide to our global partners. We recently reviewed the effectiveness of the VCMS referral mechanism
by producing a case study featuring several of our partners and their referral experiences.
Therefore, this case study will be valuable in understanding the barriers for referrals, why they
exist, and what is needed to overcome them. A series of recommendations will be provided
based on these learnings.