Effect of Thai Public Perception of Migrant Workers on Exploitative Labor Practices and Forced Labor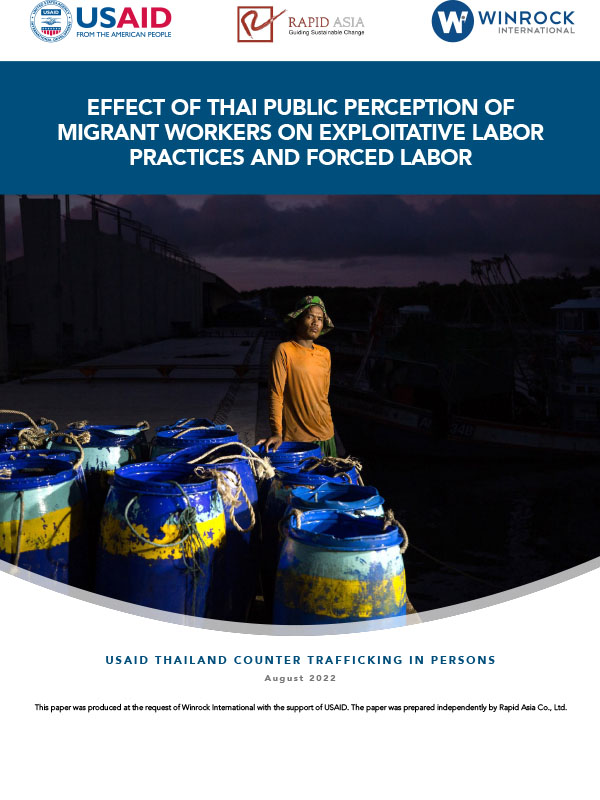 This Learning Paper Series was developed by the United States Agency for International Development (USAID) Thailand Counter Trafficking in Persons (CTIP) project with the overall aim to learn from previous and current programming to better inform future work. Winrock International is the lead implementing partner of the USAID Thailand CTIP project.
The USAID Thailand CTIP project seeks to reduce trafficking in persons (TIP) and better protect the rights of trafficked persons in Thailand by reducing the demand and incentives for using trafficked labor, empowering at-risk populations to safeguard their rights, and strengthening protection systems for survivors. The project works mainly with migrant and informal workers in Thailand's agriculture, fishery, and construction industries. The intervention is conducted in cooperation with the Royal Government of Thailand. The USAID Thailand CTIP intervention poses the Theory of Change that, if we reduce opportunities for trafficking in workplaces and supply chains; and if we equip at-risk populations with skills, information, and access to support, then trafficking in Thailand will be reduced and prevented. In addition, if we can identify those already trafficked and have improved access to strengthened support systems, survivors will live free and dignified lives, and the likelihood of human trafficking will decrease.