Financing Smallholder Cocoa Rehabilitation in Ghana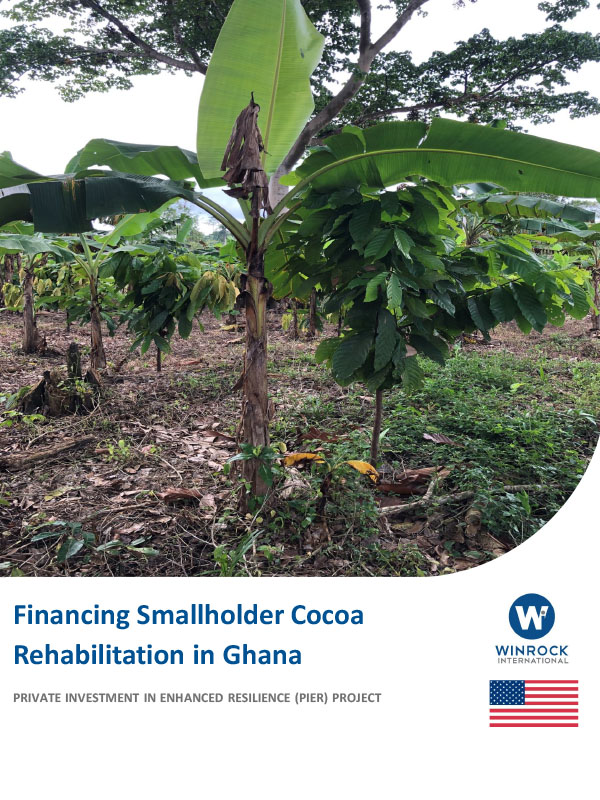 In Ghana, the Private Investment for Enhanced Resilience (PIER) project and cocoa trading company ECOM Agroindustrial Corporation (ECOM) are collaborating on developing a sustainable service delivery model for cocoa farm rehabilitation services. These services aim to rehabilitate old and diseased cocoa farms to more resilient agroforestry systems that deliver multiple benefits. Results from our efforts show that commercially viable farm rehabilitation services are possible, with increased livelihoods benefits from diversified cash crops. Blended finance solutions are suggested to help address underlying cash crop production risks, value chain development, and land and tree tenure, and leverage significant private investment needed to finance rehabilitation at scale.
PIER proposes that donors and multi-lateral banks collaborate to design a technical assistance project in support of blended finance solutions for resilient cocoa in West Africa. Three design options are explored in Section 6 of the report, a) a Blended Finance Facility, b) an SME Loan Fund, and c) a Resilience Bond. These options aim to assist the U.S. Department of State consider future support for private investments in cocoa rehabilitation in West Africa.
About PIER: PIER was designed to help bridge the finance gap between public funds and on-the-ground needs to adapt to climate change. Visit winrock.org/projects/PIER for more information.