High Carbon Stock Consulting Study 3: Review of aboveground biomass estimation techniques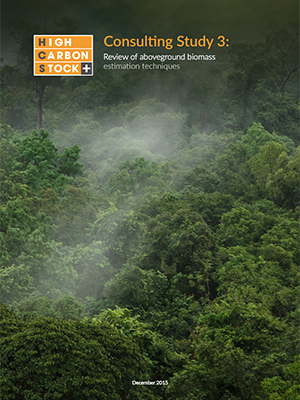 Estimating carbon dioxide emissions that result from altering forest cover relies on the quantification of the biomass stocks in various vegetation types, as well as the carbon stored in the soil (Brown, 1997). It is therefore necessary to develop reliable methods for estimating biomass stocks in forest systems. It is not possible to directly measure the mass of vegetation
in a forest area without harvesting and weighing all components and thus indirect estimation methods and sampling techniques have been developed over the past decades. This report explores the use of: (1) allometric models that relate the biomass of trees with certain measurable tree morphological features (e.g. diameter and height) to indirectly quantify aboveground and below-ground tree biomass estimates; and (2) the use of traditional forest inventories that provide data on the number or trees per hectare, the volume of timber and the amount of timber extracted to estimate aboveground biomass.