Impact of Logging on Carbon Stocks of Forests: Chihuahua Mexico Case Study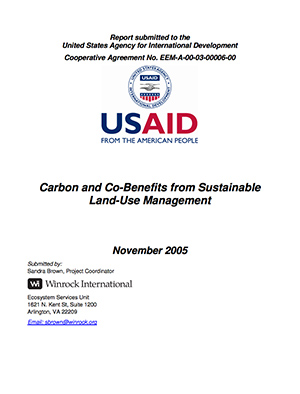 Pearson, T., S. Brown, A. Dushku, S. Walker. 2005. Carbon and Co-Benefits from Sustainable Land Use Management. Deliverable 13A: Impact of logging on carbon stocks of forests: Chihuahua Mexico as a case study. Developed for the US Agency for International Development: Winrock International, Arlington, VA.
This study focuses on the pine forests in the Chocachi ejido, located in Chihuahua State in Mexico (Figure 1). The principal aim was to estimate the net impact of selective logging on the forest carbon stocks by estimating extracted volumes, the biomass carbon from the timber tree that remains in the forest, and the incidental carbon damage to surrounding vegetation, and by creating relationships between volume extracted and the carbon impact. The report is concluded with a discussion on how such data and relationships can be used to estimate the impact of logging and changes in logging practices on the total carbon budget.