Impact of Logging on Carbon Stocks of Tropical Forests: The Republic of Congo Case Study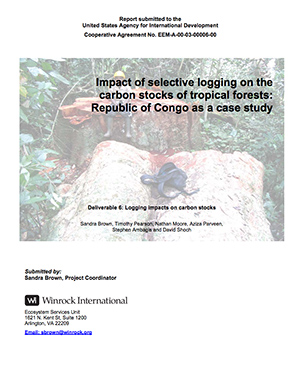 Brown, S., T. Pearson, N. Moore, A. Parveen, S. Ambagis, D. Shoch. 2005. Carbon and Co-Benefits from Sustainable Land Use Management. Deliverable 6: Impact of logging on carbon stocks of tropical forests: The Republic of Congo as a case study. Developed for the US Agency for International Development. Winrock International, Arlington, VA.
In this study we aimed to estimate the net impact of selective logging on the forest carbon stocks by estimating on a gap-by-gap basis extracted volumes, the biomass carbon from the timber tree that remains in the forest, and the incidental carbon damage to surrounding vegetation; and creating relationships between volume extracted, the size of canopy gap caused by logging and the carbon impact. We then discuss how such data and relationships can be used to estimate the impact of logging on the total carbon budget, using such information as timber extraction rates or area and number of felling gaps from aerial imagery.