Opportunities for Improving Carbon Storage through Afforestation of Agricultural Lands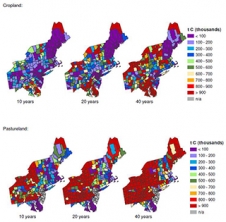 S.M. Walker, S. Grimland, J. Winsten and S. Brown. 2007. Opportunities for Improving Carbon Storage Through Afforestation of Agricultural Lands. In: Terrestrial carbon sequestration in the Northeast: Quantities and costs. Part 3A. Winrock International.
The main goal of this research is to estimate the maximum potential quantity and associated costs of increasing the storage of carbon by afforestation of existing agricultural land in the 11 states of the Northeast United States. The focus of the work was to quantitatively describe location, the quantity, and at what cost in the region it would be economically attractive to shift agricultural production to afforestation to increase carbon storage. The information contained in this section of the report and subsequent sections of the report can help stakeholders prepare for an uncertain regulatory future by providing more accurate estimates of the quantity of carbon credits that might be available at different price points for various planting or management activities.