Role of Agriculture, Forestry, and Other Land Use Mitigation in INDCs and National Policy in Asia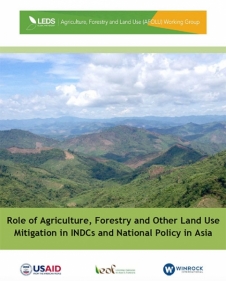 The 21st United Nations Framework Convention on Climate Change Conference (COP 21) that took place in Paris in December 2015 resulted in a historic agreement. 195 nations agreed to combat climate change and introduce actions and investment towards a low carbon, resilient and sustainable future. The Paris Agreement was built upon the submission of Intended Nationally Determined Contributions (INDCs) by individual countries, in which nations describe the actions they intend to undertake to lower emissions. Yet analysis of the 188 country submissions to date indicates that current contributions may not be enough to stay below 2° Celsius warming, putting pressure on all countries to consider how they can increase their level of ambition.To assist national policy makers and other decision-makers understand and strengthen the connection between the current role Agriculture, Forestry, and Other Land Use (AFOLU) Low Emission Development Strategies (LEDS) plays in relation to the mitigation from AFOLU, this paper analyzes the strategies proposed in INDCs as well as the national development plans and strategies of selected countries in Asia representing different AFOLU emission profiles and development priorities: Bangladesh, Cambodia, India, Indonesia, Lao PDR, Thailand and Vietnam.
Main Authors:
Alemayehu Zeleke, Winrock International
Thuy Phung, USAID Lowering Emissions in Asia's Forests (LEAF) Program
Natcha Tulyasuwan, Engility/ USAID Low Emissions Asia Development (LEAD) Program
Robert O'Sullivan, Winrock International
Steven Lawry, Center for International Forestry Research (CIFOR)
With contribution from Sophia Gnych, Center for International Forestry Research (CIFOR).