SWP Institutional Capacity Assessment Process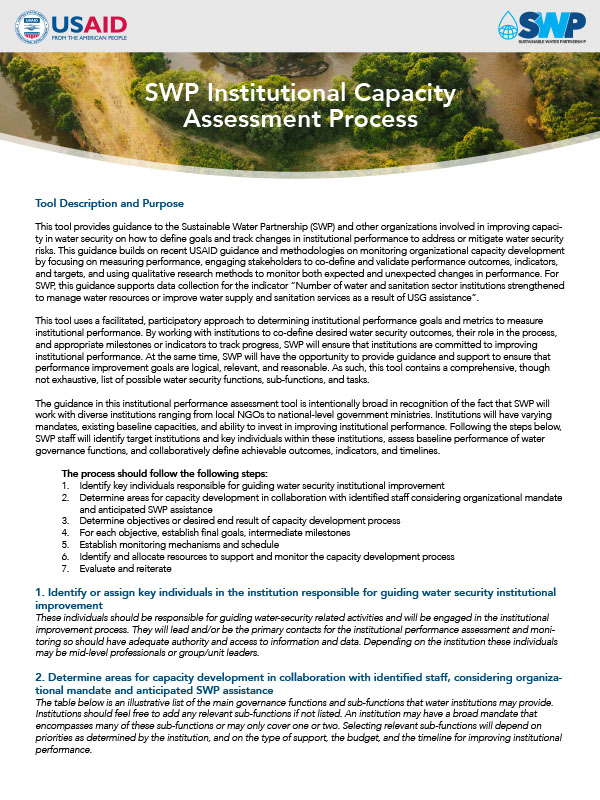 This tool provides guidance to the Sustainable Water Partnership (SWP) and other organizations involved in improving capacity in water security on how to define goals and track changes in institutional performance to address or mitigate water security risks. This guidance builds on recent USAID guidance and methodologies on monitoring organizational capacity development by focusing on measuring performance, engaging stakeholders to co-define and validate performance outcomes, indicators, and targets, and using qualitative research methods to monitor both expected and unexpected changes in performance. For SWP, this guidance supports data collection for the indicator "Number of water and sanitation sector institutions strengthened to manage water resources or improve water supply and sanitation services as a result of USG assistance".
This tool uses a facilitated, participatory approach to determining institutional performance goals and metrics to measure institutional performance. By working with institutions to co-define desired water security outcomes, their role in the process, and appropriate milestones or indicators to track progress, SWP will ensure that institutions are committed to improving institutional performance. At the same time, SWP will have the opportunity to provide guidance and support to ensure that performance improvement goals are logical, relevant, and reasonable. As such, this tool contains a comprehensive, though not exhaustive, list of possible water security functions, sub-functions, and tasks.