Tapped Out: A Research Study on Forced Labor and Trafficking in Persons in the Thai Rubber Industry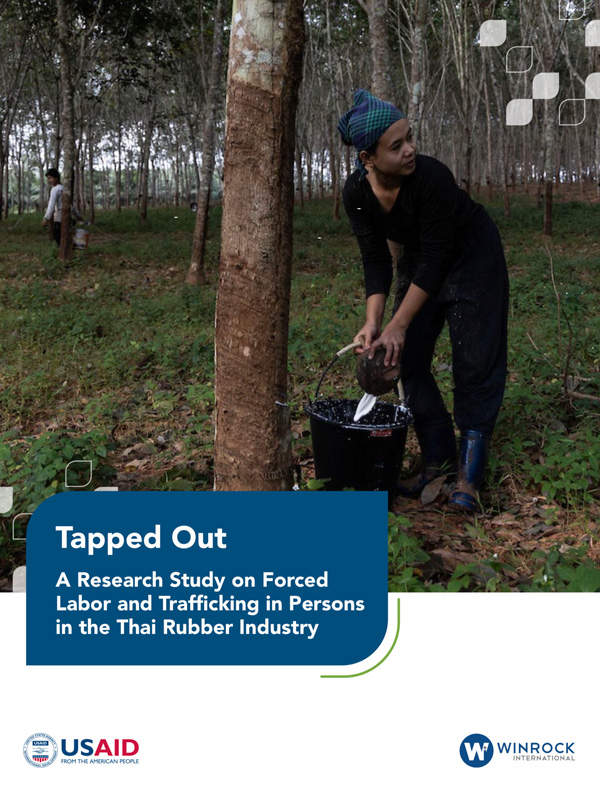 Since 1986, Southeast Asia has been the largest natural rubber producing region in the world. Thailand is the world's leading producer of natural rubber, with approx- imately 4.37 million metric tons of natural rubber pro- duced in 2020, accounting for 35% of global production.
Thailand faces multiple manifestations of forced labor (FL) and trafficking in persons (TIP). As a transit, source, and destination country in Southeast Asia, TIP in Thai- land is primarily fueled by the demand for low-skilled labor which is further enabled by deep-rooted social discrimination and a lack of legal regulation and enforce- ment. At least 90% of the workers on rubber plantations in the southern provinces are migrants from neighboring countries.
While the demand for natural rubber has decreased, it is expected that demand will surpass supply in the coming years. Previous analysis and research have identified high risks of FL and TIP in this sector. In addition, COVID-19 has further complicated the issues, potentially exacerbat- ing vulnerabilities in the protective system for migrants. These effects may have been amplified for migrant workers who were unable to return to their home coun- tries due to travel restrictions and other preventative measures.
This research focused on identifying FL and TIP within the Thai rubber industry and aimed at determining factors that contributed to the vulnerability of workers on plantations, as well as ways of reducing those vulnerabil- ity factors. More than 20 rubber plantation workers were interviewed via focus group discussions (FGDs) and one- on-one interviews, to gauge the evidence that FL and TIP was likely or was occurring in the industry. A litera- ture review, and in-depth key informant interviews (KIIs) with various stakeholders in Thailand further uncovered the issues faced by migrant workers. The target locations for the research were Bangkok, Chiang Rai, Chonburi, Phang Nga, and Rayong.