Malaysia has come under global scrutiny in the 2023 Trafficking in Persons Report issued by the U.S. Department of State. The report identifies the country as a significant destination and transit point for human trafficking and exploitation in its major industries, even though Malaysia has demonstrated some progress over the past year, moving from Tier 3 to the Tier 2 Watchlist. Given the powerful impact of news media in shaping public opinion, journalists who actively report on human rights issues hold the power to instantly amplify awareness about human trafficking ─ and to help inspire transformative societal shifts. Combined with the efforts of frontline workers such as law enforcement, survivor services providers, human rights advocates and others, the media are essential to the fight against human trafficking and modern slavery. Together, their efforts help comprehensively address the complex, overlapping and deeply entrenched systems and forces that drive human trafficking and related exploitation in the region.
That's why the USAID Asia Countering Trafficking in Persons project partnered with the Thomson Reuters Foundation to conduct an online program aimed at helping both Malaysian journalists and civil society organization (CSO) representatives to better understand and provide more informed, survivor-sensitive coverage of human trafficking in the Southeast Asian country of over 34 million people. The dual-track training, Reporting and Communicating on Human Trafficking and Modern Slavery in Malaysia, focused on the importance of moving away from sensationalist coverage, diversifying information sources and cultivating trust-based relationships with subject matter experts ─ an area in which local CSOs excel. Collaborating closely with the media can help CSOs reach their goals, including heightened stakeholder and public awareness, expanding their influence and increasing their effectiveness in the fight against human trafficking.
The dual-track approach
The USAID Asia CTIP/Thomson Reuters Foundation training, held from January-March 2023, involved eight journalists and 10 communicators, all of whom are CSO representatives and/or researchers. Each participated in a five-week course comprising one day of learning for each group and an additional shared session each week. This engagement helped to facilitate networking sessions that fostered connections between journalists and CSO representatives. The training approach for the reporting track is rooted in solutions-focused journalism, including how to help the public unpack the complexities of TIP while building on core journalism skills. Meanwhile, the strategic communication track focused on honing CSO members' general communications and media skills. Each week, participants from both tracks met in joint sessions to discuss learning, share insights and ideas while forging valuable cross-sectoral links to support the fight against TIP in Malaysia.
Solutions journalism as a connector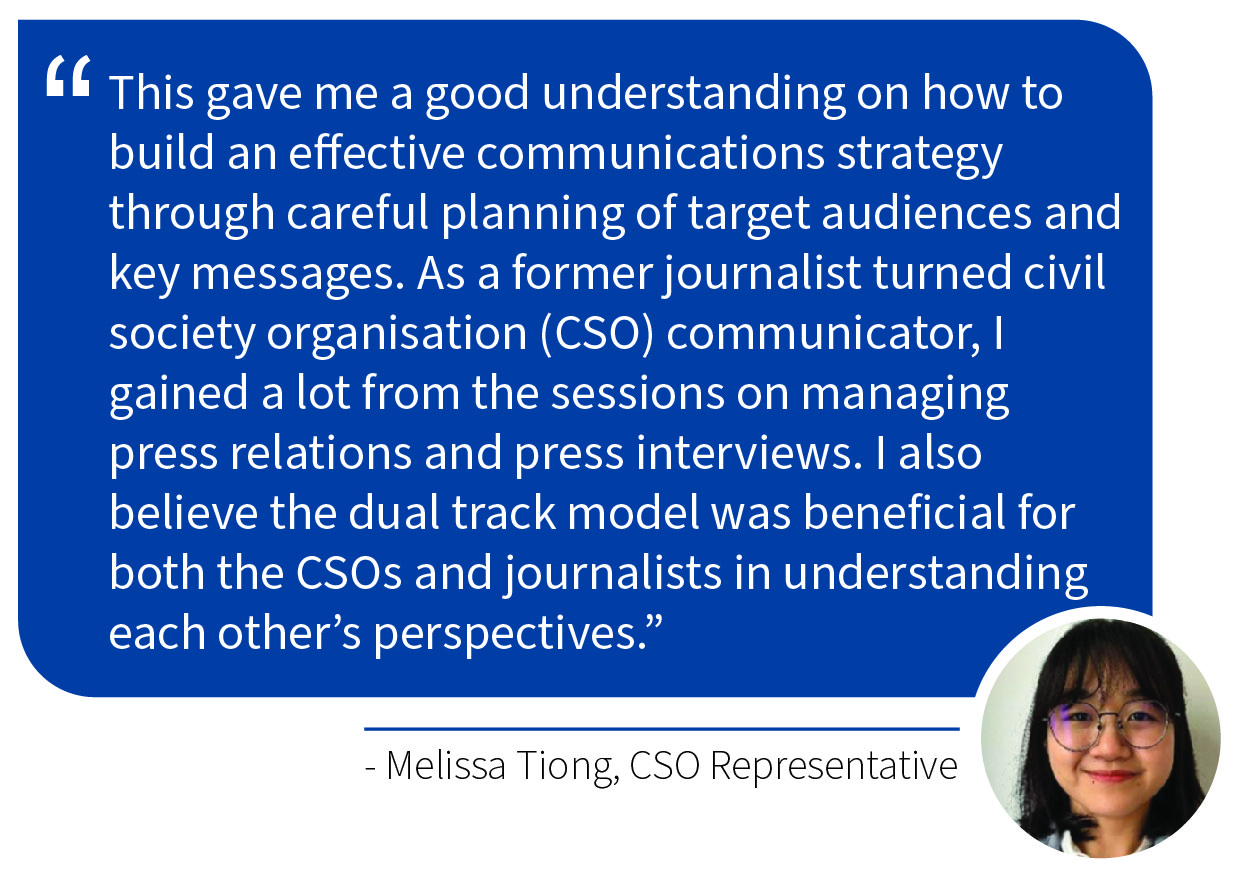 Journalists and civil society representatives alike said they viewed the dual-track approach as a promising method to bridge the gap between civil society groups aiming to convey their message and journalists seeking to enhance their expertise and report more proficiently on human trafficking and modern slavery. This indicates the value of training and other participatory programs that engage journalists ─ including editors ─ to develop solutions-focused stories about modern slavery and human trafficking, and to integrate the approach into reporting strategies. These and other insights, including the need for journalists to connect and communicate regularly with CSO representatives, shed light on current and future actions needed to expand socially impactful reporting on these issues in Malaysia.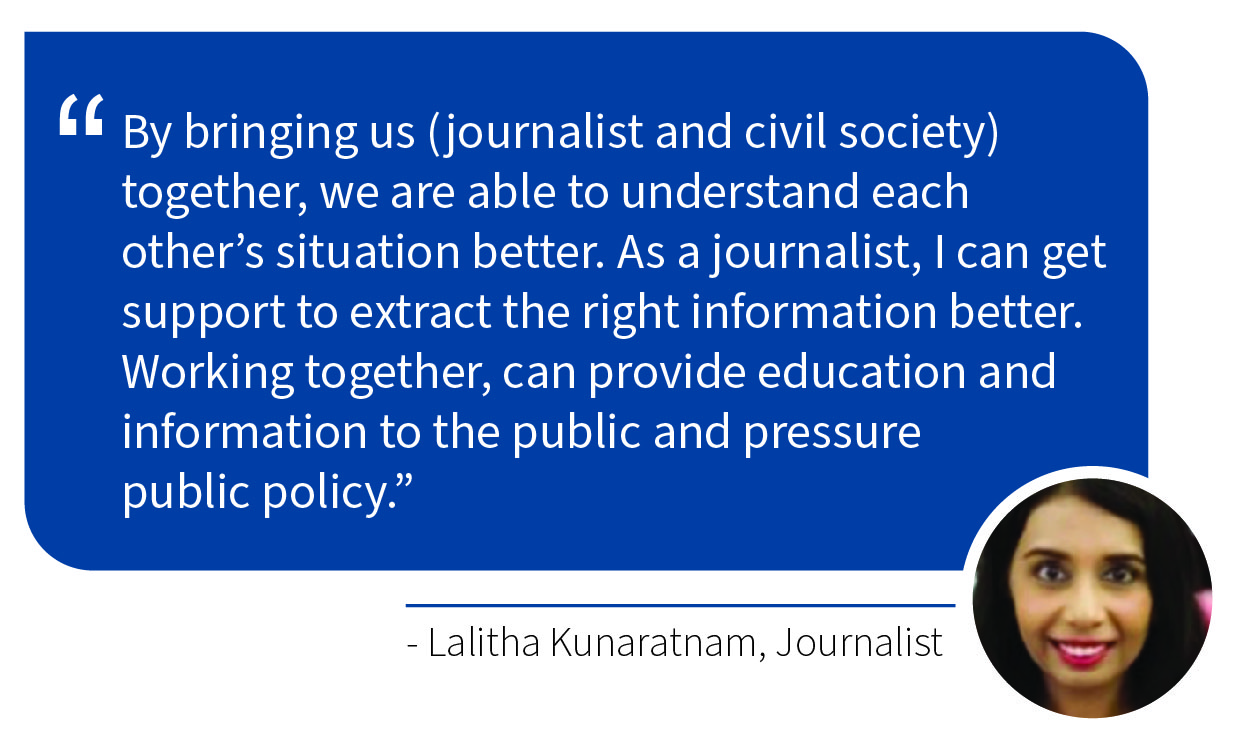 Regional approach for cross-border issue
During the recruitment process for the training, many journalists and CSOs, including those outside Malaysia, expressed strong interest in bolstering their knowledge on reporting and communications related to the training topics. In response, we expanded access to the communications track for CSO applicants from Cambodia, Indonesia, and the Philippines to join the course. These participants lent the program a broader regional perspective and enhanced the learning experience for both civil society members and journalists. It also helped to foster connections between people working in the countries of origin for migrants in Malaysia. This highlighted both the need for similar training opportunities for journalists and civil society in other countries within the region, as well as the benefits of a regional approach to learning, especially considering the cross-border and inter-regional nature of human trafficking and modern slavery in Asia.
Mentoring and story development
Mentoring started immediately after the training with the selection of five journalists to receive one-on-one coaching to develop their human trafficking story ideas. The mentoring phase also included assistance to participants for publication of their pieces. These stories are expected to shed light on TIP issues and to promote socially impactful reporting on human trafficking in Malaysia. In addition, three CSO participants from organizations in Malaysia, Philippines, and Cambodia, respectively, developed strategic communication plans to raise public awareness and elevate survivors and CSO voices to influence change in their countries.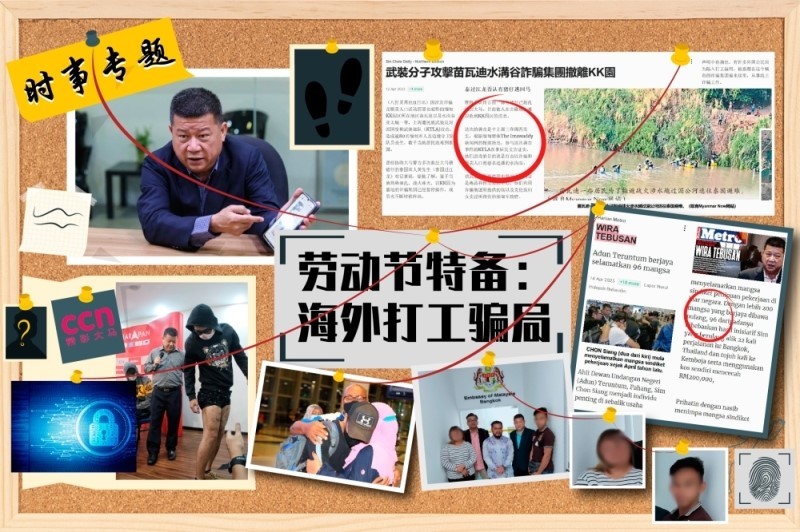 (Above: photo from Malaysiamail.com stories by journalists who participated in the USAID Asia CTIP/TRF training activity.)
Following the training, a three-month, one-on-one mentoring program took place. As a result of their collaborative efforts, the five inspiring journalists recently published impactful stories. These stories delved into pressing issues, such as investigating overseas job scams that have affected over 1,000 Malaysian victims currently awaiting rescue abroad. Additionally, they examined the present conditions within the fishing industry and the communities impacted, striving to find viable solutions to combat forced and bonded labor. Through their collective reporting, these journalists are shedding light on the darkness of human trafficking, exposing perpetrators and advocating for justice. We invite you to click on the links below to read their stories:
Individuals Who Rescue Victims of Job Scams Show How It is Being Done    By: Chong Siaw Chan   
 Young Blood Needed to Help Shape Fishing Industry's Future    By: Soon Li Wei & Rohani Mohd Ibrahim   
 Incentives, Grants and the Way Forward to Attracting Youth into Fisheries  By: Soon Li Wei & Rohani Mohd Ibrahim   
Two of the new stories were published in Chinese, with both articles examining human trafficking in Malaysia; the second story focuses specifically on child trafficking:
 人口贩运(五)| 营救 辅导 培训 融入社会 SUKA助受害者展开新生  By: Jia Hui Lee and Sharon Shee Min Foo  
人口贩运(六)| "过程绘画"能疗心 艺术治疗助走出阴影  By: Jia Hui Lee and Sharon Shee Min Foo  
Click here to read the full report on the USAID Asia CTIP/Thomson Reuters Foundation training.
This blog was made possible through the generous support of the American people through the United States Agency for International Development (USAID). The contents do not necessarily reflect the views of USAID or the United States Government.