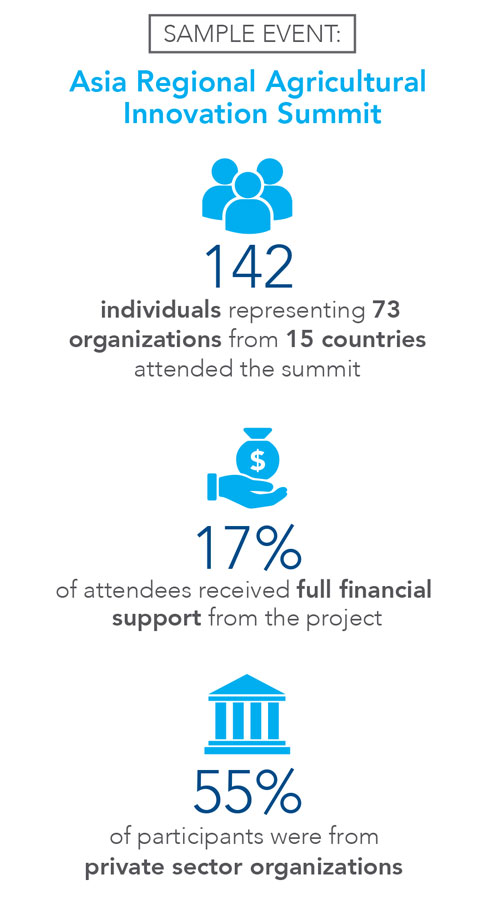 PROJECT NAME: Feed the Future Asia Innovative Farmers Activity (AIFA)
SYNOPSIS: Increase food security, reduce poverty and improve environmental sustainability by facilitating agricultural innovation and technology diffusion
YEARS ACTIVE: 2015-2020
FUNDER: USAID
Winrock's very existence can be traced back to a big idea: that delivering knowledge, training and opportunity to the world's most disadvantaged people is key to improving lives. New ideas and innovation continue to propel our day-to-day work and guide our efforts to make an even greater impact.
The need to generate and share bold new ideas that address the sort of complex challenges Winrock works to solve each day is one reason we are taking a more strategic approach to events. We have initiated and organized events that not only showcased Winrock's thought leadership – which is helpful in garnering media attention and winning new business – but also brought together leading minds in agriculture, technology, innovation and public policy.
For example, Winrock spearheaded a roundtable gathering to discuss U.S.- Cuban relations that attracted former U.S. Senate Majority Leader Tom Daschle, Arkansas Gov. Asa Hutchinson and Cuban trade official Ruben Ramos Arrieta. Other events included a joint gathering of the Concordia Summit and Winrock to announce a groundbreaking partnership to fight labor trafficking and a celebration of the first shipment to the U.S. of Burmese specialty coffee beans at La Colombe Coffee Roasters in Washington, D.C. The Agricultural Innovation Summit in Bangladesh attracted 142 people from 73 organizations and 15 countries, the majority of whom came from the private sector.
Critical to the success of all of these events is the free-flow of ideas, especially those that hold the promise to tackle seemingly intractable problems. Ideas, that is, like the one Michael Peng presented at the Winrock and U.S. Agency for International Development (USAID)-organized Asia Regional Agricultural Innovation Summit in Bangkok, Thailand. Peng was among the social entrepreneurs, researchers, government experts, farmers and fishers invited to the two-day event aimed at uncovering ideas and solutions to improve the effectiveness and livelihoods of Asia's small farmers.
A co-founder and co-managing director of the design and innovation firm IDEO Japan, Peng introduced a device called the Magic Stick, which is able to measure soil temperature and moisture levels. It's vital information that can help farmers grow more and higher quality crops. Other innovations presented at the summit included a precision irrigation system that utilizes sensors, smartphones and the Internet of Things, as well as a microphone that helps aquaculture farms adjust how much food to give fish based on their appetite.
Obviously, to be a success, innovation can't be limited to a few days of fresh thinking at a conference – which is why the summit kicked off a five-year initiative to promote innovative agricultural technologies in the region. It also launched the Tech4Farmers Challenge, an effort to harness the power of technology and partnerships to improve the effectiveness of smallholder farmers in Bangladesh, Cambodia, Myanmar and Nepal.
Related Stories