Vientiane Times features USAID Laos Counter Trafficking in Persons project expansion
The USAID Laos CTIP project, implemented by Winrock International, announced it is expanding its work to support the Lao government's counter-trafficking efforts in the northern provinces of Oudomxay and Luang Namtha.
On Jan. 11, 2023, the Laos Counter Trafficking in Persons project signed a Memorandum of Understanding with the Lao Ministry of Labor and Social Welfare to extend work in the two additional provinces. Laos CTIP has operated in four southern and central provinces since 2020, and supports the government's counter-trafficking efforts for coordination, victim identification, quality services and prevention through enhancing access to economic opportunities and awareness raising.
At the MOU ceremony, U.S. Deputy Chief of Mission Shannon Farrell thanked the Laos government for its continued partnership with the U.S. to end human trafficking. "Ending trafficking in persons continues to be a priority for the United States," Farrell said. "Building on successful efforts by the Laos CTIP project, we are confident that the government of Laos, together with Winrock International, development partners, nonprofit organizations, and private sectors, can enhance prevention and protection of human trafficking in northern Laos."
To see more photos of the event, check out the USAID Laos Flickr page.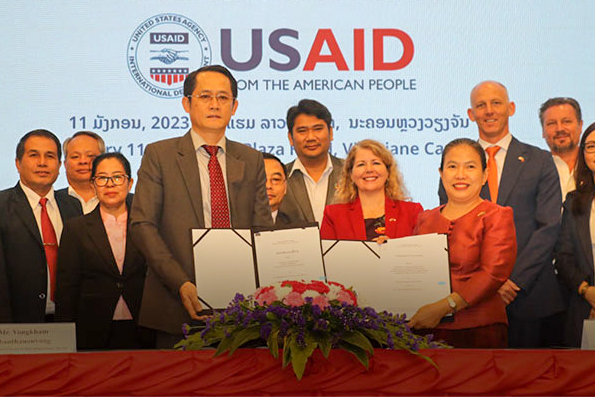 CMr Vongkham Phathanouvong (center left) and his development partners display a signed Memorandum of Understanding.
Related