Neelam Canto-Lugo was nominated by the Myanmar Farmer to Farmer team because she is excellent at highlighting personal capacity and demonstrating how to use, manage and improve it. She has opened the eyes of many trainees about how to prepare for the work place and is dedicated to training while doing it with pleasure. 
Country Director, Ai Kyaw, said: "She is not only a volunteer but also the capacity builder, developing countries need."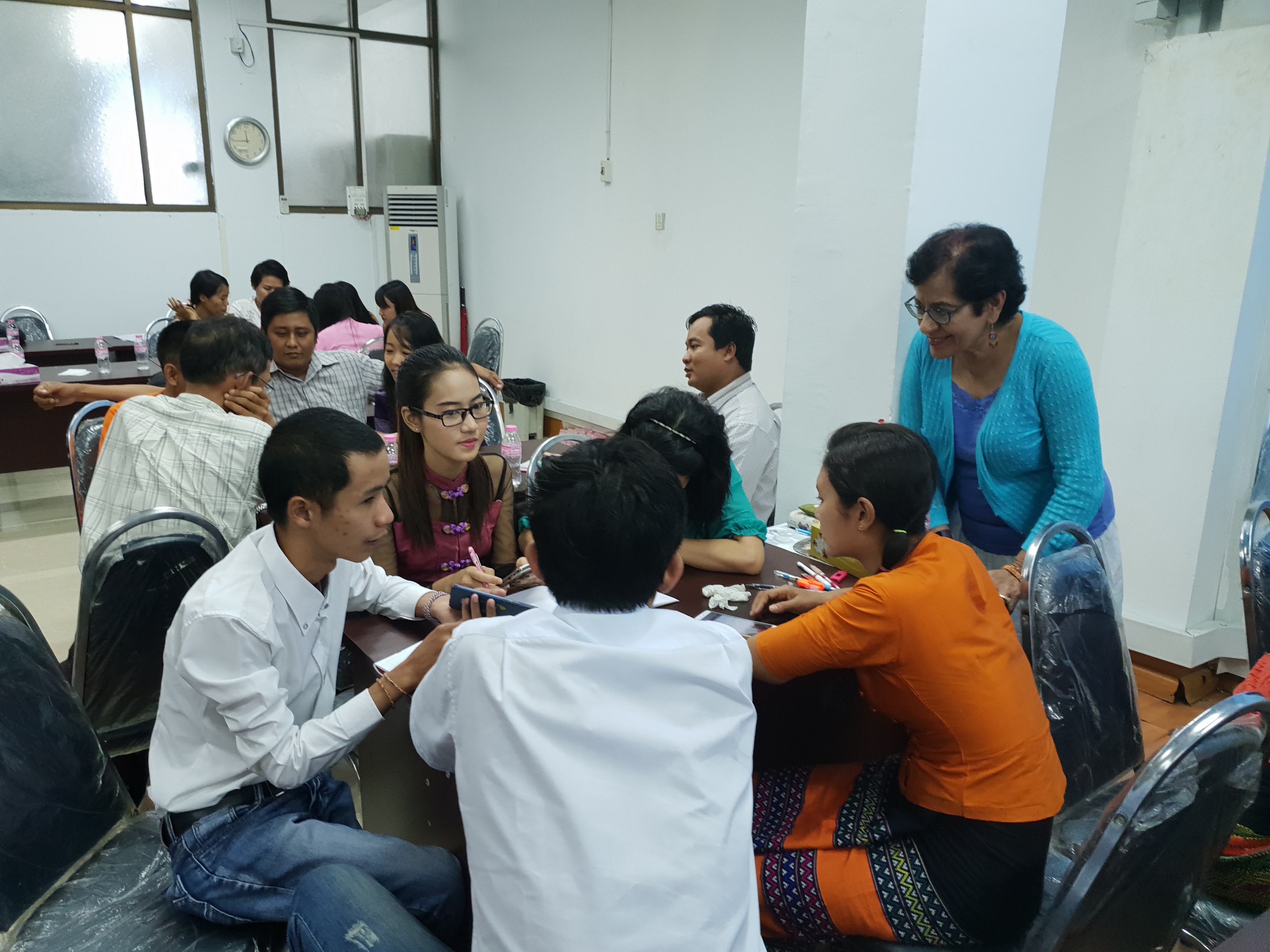 Why did you want to volunteer? 
 I have always enjoyed volunteering. I live a comfortable life and have all my material needs met. There are many in our world who do not have that luxury. Material objects are essential but more important are knowledge and learning. These can transform lives and societies and benefit countless people. I wanted to share the knowledge I possessed to transform and empower others in my own community and around the world. Volunteering for Winrock's Farmer-to Farmer gave me that opportunity for which I am very grateful.  
We come into this world to do more than make a living; volunteering (for me) is the way to do more. 
 What was the highlight of your most recent volunteer assignment abroad? 
 We conducted two three- day training sessions for members and representatives of Myanmar Livestock Federation (MLF) and Myanmar Flowers, Fruit, and Vegetable Producers and Exporters (MFVP). At the end of the soft skills training, I encouraged the participants an incentive to write effective grant proposals on food and water safety issues and offered $500 each for successful proposals. After just three days of training, fourteen participants submitted proposals.  That was amazing and incredibly rewarding. I was overwhelmed by the participants' enthusiasm and motivation. I ended up providing four mini-grants instead of three as I had originally planned.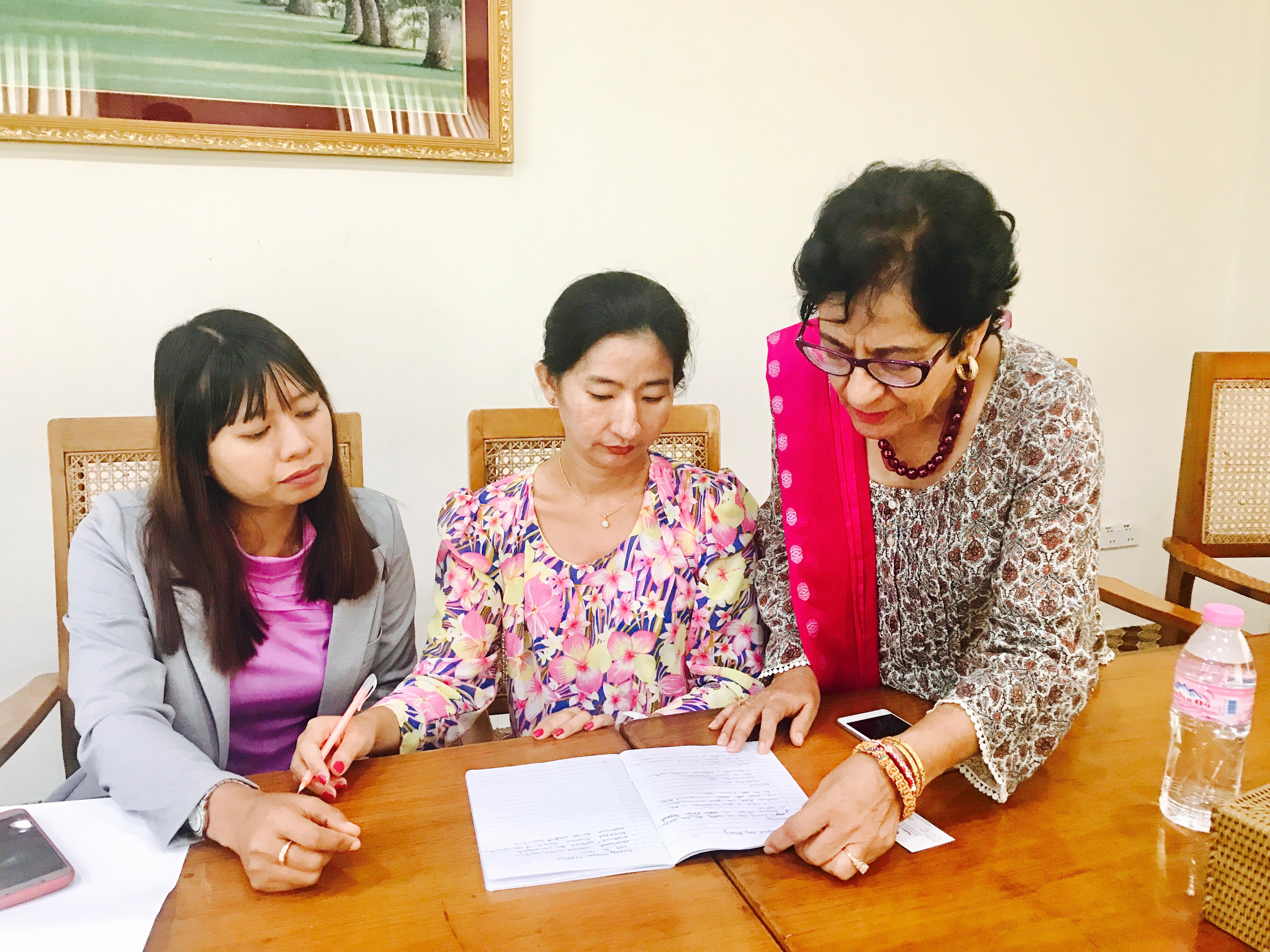 What made your Winrock volunteer trip distinctive? 
I was extremely impressed by the enthusiasm of the people who participated in my training. The participants were eager to learn and to put into practice the ideas I had shared with them. The highlight of my Myanmar assignment was the fact that I left Myanmar feeling that I had accomplished more than I had set out to do. I still get emails from my Myanmar students sharing with me the progress of projects that they started because of the training  
As a volunteer for Winrock, I have been rewarded with working with people whose dedication to the mission of Winrock is reflected in the ways they perform their tasks. I must emphasize that the Myanmar team made me feel like a member of their family.  I experienced true hospitality from the Farmer-to Farmer staff and the two hosts and they are now part of my global family. 
How does your experience affect your world view? 
My travel to Myanmar has re-confirmed my faith in the goodness of humankind. I realize that no matter what part of the world we inhabit, kindness, respect, and hospitality are universal values that can enrich our lives as they enriched mine.  In addition, I became aware that the process of teaching is also the process of learning; I gained more than I offered.  
 What advice would you give a new volunteer? 
 I will strongly suggest that a new volunteer must establish connections with his/her trainees.  Share new ideas with the trainees in a way that respects their culture and traditions.  
Be flexible because each culture has its own way of perceiving and interpreting ideas. The Winrock International staff and the country hosts treat you as close family members and look after your every need, so you need to relax and enjoy the tremendous opportunity to share your knowledge and skills with people around the world. 
 How have your assignments made a difference in your own life?/Has your assignment caused you to do anything differently once you returned? 
 I focus much more on human relationships now than on objects. I constantly attempt to dispel misinformation and myths that we have about other countries.  I encourage my college students to develop and practice empathy, acceptance of others, kindness. Most importantly, I promote the spirit of volunteerism in them and provide them volunteer opportunities in my community. 
 Why should people consider volunteering? 
Volunteering allows people to become knowledgeable about other cultures and ways of life.  It forces you to evaluate and analyze your own values and beliefs.  A volunteer teaches, but she also learns about herself.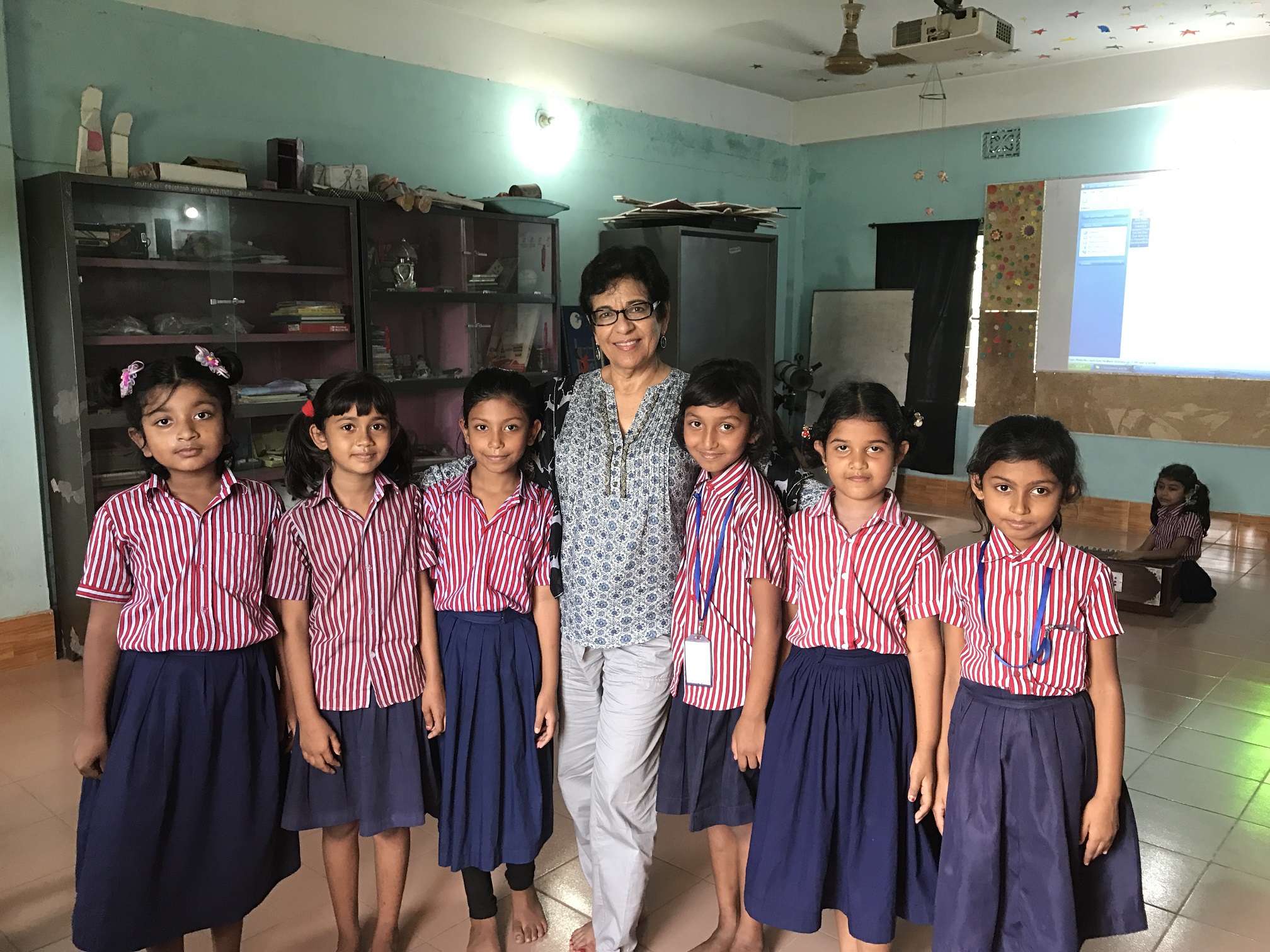 How do you feel about the support from Winrock, whether before, during or after your assignments? 
From my first assignment over two years ago, the Winrock team in Arkansas and in the countries I have visited has been extraordinary.  They provide tremendous support to volunteers and maintain outstanding communication before, during, and after the completion of the assignments. The directors in Myanmar, Bangladesh, and Nepal phoned me a couple of times every day to ensure that everything was running smoothly.  Every detail, large and small is carefully managed. 
When your friends/family find out that your volunteer assignment abroad, what do they say or ask? 
They want to know about the countries I visit and the people I meet and work with.   
They ask about the types of training I provide. And many wish to learn about  volunteering overseas.   
What do you do when you're not volunteering? 
I teach Public Speaking and Intercultural Communications at Yuba College in California. Many years back, I developed a speakers' series titled "Crossing Borders Building Bridges" for college students, faculty, and community members and I organize speakers and events when I am not volunteering. I am a Board member for various civic organizations like the Japanese American Citizens League, JACL, and the Foundation Board of Rotary International.  I am grandmother of two little girls, a 2- year old and a 10- month old and enjoy spending time with them. 
 Does anyone in your life play a role in supporting your involvement? In providing inspiration? 
 My parents inspired us when my siblings and I were growing up in India. They encouraged us to help take care of wounded soldiers returning from battles and babies whose families had been lost due to wars or poverty.   In addition, my junior high school in India had a Civics Day once a month where all students were required to participate in community service.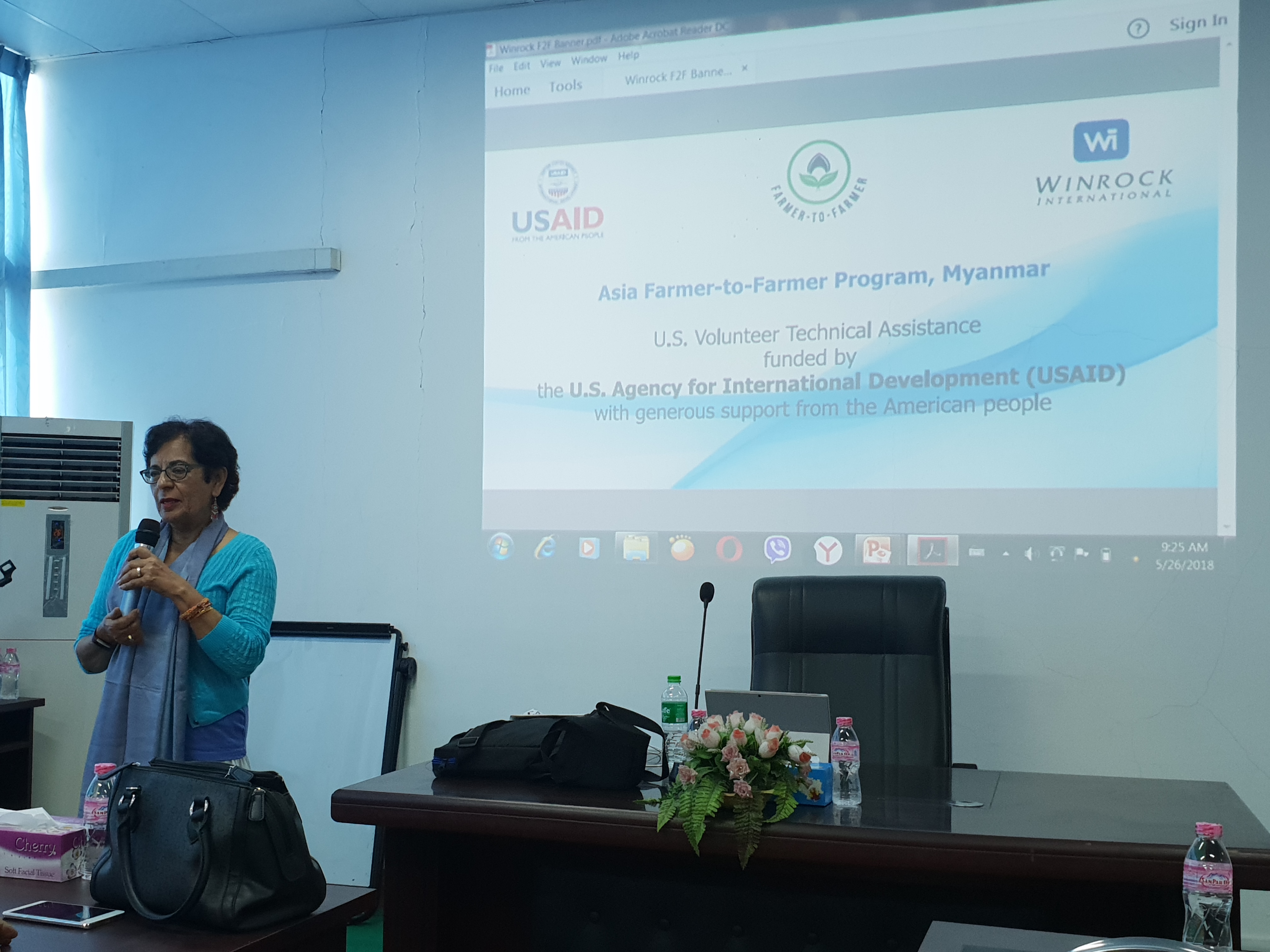 Do you keep in touch with your host organization?
 Yes, I am in constant touch with all my hosts. We communicate regularly by phone, email, or social media. I also conduct fundraisers for them as I did with my Nepal host, Women Development Advocacy Center, and Bangladesh host, Hunger Free World.  In July of this year, I provided voluntary Pedagogy and Curriculum Development training to my host, Dept. of Youth Development, Bangladesh.   
 How do you feel that your volunteer assignment has contributed to create a shared understanding across different cultures through person-to-person interactions? 
 I did not have much knowledge about some of the countries where I volunteered. However, in the process of teaching and interacting with the participants, I was able to share with them many positive ideas about my country.  Many of them didn't know much about the USA other than what they saw on television. By our interactions during and after the assignment, they were able to get a different picture of America and Americans. On my part, I realized that like my students here, the participants were eager to learn new information and couldn't wait to put it into practice. The country hosts as well as the Winrock teams in every country I visited had the exact same mission as I, social uplifting and economic empowerment of people.  
What keeps you going back to volunteer? 
 Volunteering gives me a tremendous sense of fulfilment. I have tremendously enjoyed and value the kindness and care shown by everyone I have met on my assignments. I have also gained lifelong friendships in all the places where I have volunteered.
Posted in
Asia
,
Bangladesh
,
Myanmar
| Tagged
Bangladesh
,
capacity building
,
cultural experiences
,
inspiration
,
international volunteer
,
Myanmar
,
volunteerism
,
Winrock Volunteers
,
women