In 1961, President John F. Kennedy established the Peace Corps, and 59 years later we take this week to celebrate all the ways Peace Corps has made a difference at home and abroad.  Since 1961, more than 240,000 Americans have served our country and the global community as Peace Corps Volunteers, living and working alongside local leaders to catalyze change. Under USAID's Farmer-to-Farmer Program, Winrock has partnered with the National Peace Corps Association to tap into this network of Peace Corps alums in order to field highly skilled and experienced volunteers to West Africa. In addition, Winrock has also created connections with the Peace Corps in Guinea and Senegal to facilitate training and technical assistance. Peace Corps Volunteers and their counterparts are then able to bring the knowledge and skills they learn back to their communities, increasing the spread and impact of Farmer-to-Farmer Volunteers. In honor of Peace Corps Week, we thank all volunteers, past and present, each time you give your expertise and time you help build the future!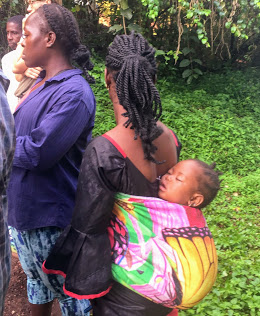 "We females eat what is left." That was just one of the many tough issues discussed on ways to reduce malnutrition during the first Farmer-to-Farmer (F2F) partnership assignment between Winrock and the Peace Corps/Guinea. By all accounts, this strategy of F2F volunteers working with Peace Corps Volunteers and their volunteer counterparts in a practical skills workshop was a success.
The objective of the trip, titled Training of Trainers (TOT) in Nutrition-Sensitive Agriculture and Behavior Change, required integration between multiple disciplines. The assignment challenged me to put the experience I had gained on linking agricultural resources to solving nutritional problems for the past 40 years.  The undertaking necessitated using an approach which would be a dance between the art of communication and the science of agriculture, food and nutrition.
My main task was to facilitate a TOT workshop with Peace Corps Volunteers and local volunteer counterparts from their community on how to use behavioral change communications (BCC) to help households make their agricultural investments more nutrition-sensitive (NSA) as well as more specific in order to close their identified dietary gaps.
The challenge I faced was clear in the preparation stage. Unlike some other African countries, there is little written about Guinea, especially its agriculture and nutrition situation, and this made designing a quality program even more tricky as the trainees were not experienced outreach professionals in either agriculture, nutrition or behavioral change communications.  Moreover, for most of the local participants, this was their very first experience attending a workshop so far from home. These many challenges resulted in multiple emails with draft documents going back and forth between me and the Peace Corps staff (host) as well as with Winrock/ Guinea staff.
After arriving in Guinea and holding initial briefings with F2F Winrock and Peace Corps management staff in Conakry, I proceeded with 12 people in a single-vehicle for 125 miles — an 8-hour drive — to Mamou. The road, if one could call it that, was certainly one for the record books. I nicknamed it the "Shake, Rattle, and Roll" road adventure.
The venue for the workshop was Guinea's forestry center, Ecole Nationale des Agents Techniques des Eaux et Forets (ENATEF), just outside of Mamou City. The site was wonderful as the center was surrounded by forest with all its diverse vegetation and sounds. Its magnificent diversity served as a living laboratory for the practicum exercises.
One of the big workshop communication challenges faced right off the bat was the need to work in five languages at the same time: English, French, Malinke, Pulaar and Soussou.  Fortunately, we had with us Peace Corps staff who spoke at least one of the three local languages. Having worked in similar multiple language situations throughout my career, the workshop was designed from the start to have lots of small group work so that the participants could carry on in their language group, thus reducing the time needed for multiple translations.
Since the term "Nutrition-Sensitive Agriculture" is still evolving within the global community of practice, the group decided to operationalize NSA according to their local situation. They essentially agreed that it meant practical actions that could be taken throughout a crop's cycle to enhance and or preserve the nutrient quality of that crop.
As the workshop took shape, a distinct trend was emerging.  Some Peace Corps Volunteers were keen to learn about the technical aspects of growing certain crops, especially the ones they were introducing to their community as part of their 2-year assignment: orange-fleshed sweet potato and moringa, while their Guinean counterparts seemed more interested in exploring effective way to communicate specific behavioral changes that need to be made so that home food systems are nutrient- and nutrition-sensitive.
It became clear that while technical improvements and solutions were identified by the group for improving crop production and post-production as well as dietary intake issues, culture seems to trump every technical subject — hence the importance of identifying strategic BCC messages for each issue.
Through group discussions, a few Peace Corps Volunteers began to understand that in order to have a few "quick wins" and build credibility with their community during their two-year assignment, they should look at ways to enhance post-harvest through improvements in existing practices. Their emphasis on the introduction and acceptance of new crops by subsistence households, while important, takes longer than their assignment time.
There were four key themes that came up continuously:
Start with what households were doing right with their food system. The good news is that households already grow a wide variety of crops consisting of a large diversity of calorie- and nutrient-dense crops and their main meal is complete as it consists of a starch (usually rice) with a sauce (oil, legume and a dark green leafy vegetable). One of the key challenges mentioned by the participants was not so much technical issues but their cultural traditions around who eats what and in what order.
Identify gaps in their cropping system, usually more vegetable protein (peas, beans, legumes) and in their household meals, especially for the most at risk nutritionally (mothers and young children)
Identify local solutions based on existing knowledge, skills and resources. If it is not available at the local market, forget it as a "solution."
Identify a range of locally acceptable behavioral change methods that a household can do with minimal disruption to their existing food consumption pattern.
By the end of the five-day exercise, the workshop participants had designed their own location-specific illustrated communication materials for use with their community as well as a clear roadmap of activities for closing dietary gaps from existing crops. Clearly, they valued the experiential learning approach and could see that their malnutrition issues were solvable by tweaking the use of the resources they have now.
A bonus from the training was the Peace Corps staff indicated that their own capacity had been built as a result of this exercise, especially regarding behavioral change messaging. One long term outcome of this assignment is that the Peace Corps staff will be presenting this NSA/BCC workshop to its Peace Corps Volunteers going forward.
In sum, it was my pleasure to work with this group of volunteers who live in hardship conditions and yet showed so much dedicated to finding solutions together.
To read about a Peace Corps Volunteers experience you can go here: