And looking forward to the start of a new one!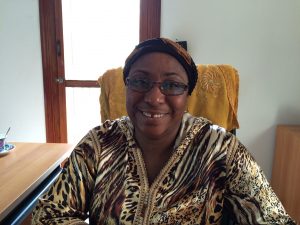 Mama joined Winrock in June 2014, but she has known about Winrock for many years, as she is a member of the Africa Women Leaders in Agriculture and Environment (AWLAE) network that Winrock helped form and strengthen in the 1980s. She received her Master's in International Agriculture Education from the University of Arizona and spent many years working for the Senegalese Ministry of Agriculture and for the Food and Agriculture Organization. Mama enjoys working with volunteers because she learns from their variety of experiences and skills which she then applies on her own farm. She admires the volunteers' dedication and motivation to share their knowledge with others. In her opinion, the F2F program addresses numerous development issues within the wider agricultural sector that benefits Senegal. On the weekends, Mama likes to go to her farm, where she keeps fruit trees, poultry, and livestock. 
Being part of the Farmer-to-Farmer team has allowed me to meet great people who have helped improve my knowledge in a variety of areas from agriculture production, income generating activity development, and management and leadership strategy.
With F2F volunteer, Erica Cummings, I learned how to make compost tea which is a very handy method of using manure without going through the whole process of making a compost pile, including the energy and time-consuming practices of watering the pile, turning it, and then spreading the compost in the field.
This method does not require many tools. Combining it with a simple drip irrigation system gives amazing results; I have noticed a great improvement in my plants as the compost tea is introduced in the irrigation water, reducing the space and mess associated with more traditional composting.
With F2F volunteer, Julie Albrecht, I learned how to preserve and process fruits and vegetable by listening in on the two trainings she conducted with COFLEC, a local women's group; I have learned how to process various fruits and vegetables such as tomato, mango, orange, and local fruits
What a delight to make my own mango jams and chutney using mango from my own farm! I have learned many different methods of food processing so I no longer fear the fruit and vegetable going to waste. One of the best aspects of this knowledge is that now I can propose useful activities to do with my friends and sisters when staying on our farm.
With F2F volunteer, Monica Norley, I learned how to make soap based on available agriculture products; this is another very fun and interesting activity to do on our farm with the many different ingredients available to us.
These and many other assignments have taught me a lot about other new topics I knew nothing about: beekeeping, aquaculture, and dairy product processing.
With the new program beginning, I hope to learn more about post-harvest processing, best practices, and innovative value adding techniques.
The F2F for AET program has inspired me to make my farm an informational and training site for agricultural production available to all city dwellers who are interested in agriculture or just in nature.
From all of us here at Winrock, Happy Thanksgiving!