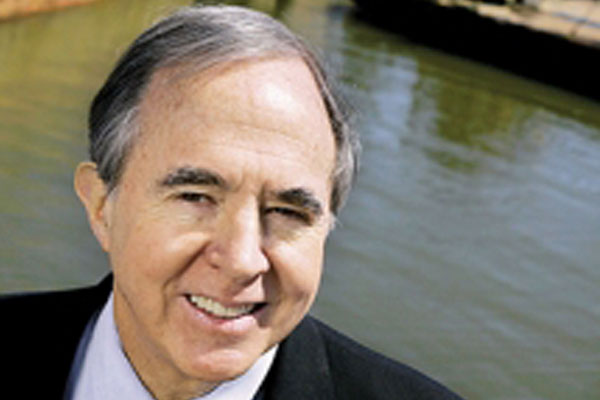 When David Patterson Lambert passed away last month, one thing was certain: his final days — like countless days and years that came before — were spent working to end world hunger.
David, 75, of Washington, D.C., died in his sleep in the early morning hours of Oct. 16, 2015. Nobody who knew him would have been surprised that he was in Des Moines, Iowa, for the World Food Prize. In fact, just three days prior, he had visited Hawkeye Community College, to deliver a lecture on food security and climate change.
A member of Winrock's advisory council since 2007, David was a tireless advocate for global food security. "As much as anyone, David captured the focus of Winrock's activities," said Linus Raines, advisory council co-chair.
A native Arkansan, David was appointed by President Bill Clinton as Foreign Agriculture Service Counselor in Rome, where he served from 1999 to 2003; promoting American food security policies with the United Nations. David advised numerous organizations; including the Chicago Council on Global Affairs, the Center for Global Development, the Clinton School of Public Service, and the Alliance to End Hunger.
"David was an unrelenting supporter of Winrock, and we have surely lost a dear friend," said Winrock President & CEO Rodney Ferguson. "We can also be certain, however, that his legacy will live on through his life's work, his kind nature, and his strong encouragement of those seeking to make a positive change in the world."
Those who knew David describe a consummate nice guy — the kind of man who was always there with an encouraging word or a gentle push. Indeed, the way he lived had a positive impact on far more people than he probably ever realized.
Former U.S. Senator Blanche Lincoln, a long-time supporter of Winrock and a relative of David, put it this way:
"David was a mentor to me, who—in his calm and positive approach—helped to set my personal compass and make sure I stayed on the right path. And he did this not only for me, but for so many others around the world through his legacy of caring for all people, even those he never knew or would have the opportunity to meet. I know I'm not alone when I say David made me a better person, and I will be forever grateful to have had him in my heart and my life."
A beautiful tribute to a life well lived.