This post originally appeared on USAID's Edu-Links.org site on May 15, 2023.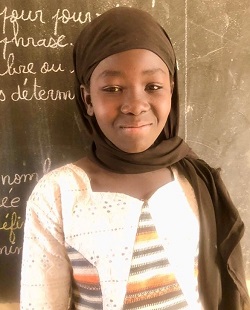 "With the GLEE project, my motivation for schooling increased because the mentor sensitized us about early marriage, the use of sanitation pads, and the importance of schooling for girls."
– Hawa WARME, 13 year old girl, 5th grade
Adolescence is a time of tremendous change for children as they transition to adulthood. Many adolescent girls around the world experience their first menstrual period without any support or supplies. According to research conducted in Niger by UNICEF, 70 percent of girls are unaware of menstruation prior to their first period1. There are numerous impacts that this physical change has on girls, including preventing them from attending school. To address this issue, USAID/Mali took a holistic approach to programming by directly targeting the relationship between adolescent girls' health and educational access.
"When combined together, (cross-sectoral programming) is the most effective way to help girls achieve their potential." – Ilias Konfe, Education Specialist, USAID/Mali
The team designed a Positive Youth Development project for adolescent girls, taking a "whole of girl" approach that is responsive to girls' situations at school and home. They strategically wove together funds from education, water, and family planning to create a program called Girls' Leadership and Empowerment through Education (GLEE.) The project's curriculum and products are made easily accessible to girls in community health centers. Training events are conducted for moms, teachers, and grandmothers with the same information that reinforces good menstrual health practices at home.
GLEE strives to decrease educational barriers for adolescent girls, improve their safety in schools and communities, and increase knowledge of positive health behaviors amongst them and their families. Ilias Konfe and Mamoutou Coulibaly, GLEE's project managers, emphasize the education and health aspects of the program go hand in hand. Some notable elements of GLEE's programming include training teachers to adapt their language and instruction to address issues important to girls such as physical development, menstruation, and early marriage; training youth ambassadors to serve as role models and peer educators; and mobilizing community mentors who educate girls on menstrual health and hygiene.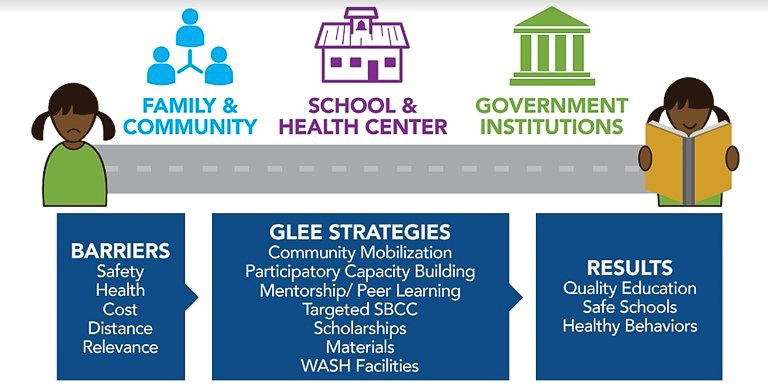 "Household chores and domestic activities led me to give up school. But, thanks to the GLEE project activities, I had a second chance to go back to school and to continue with my schooling." – Kadidia Kodio 14 years old, 6th Grade
GLEE creates tangible opportunities for adolescent girls to pursue their academic goals. At accelerated schooling centers, over 22,000 out-of-school girls learned the alphabet, and attained basic reading, writing, and mathematics skills over nine months before transitioning back to formal school. GLEE also reduces many barriers keeping girls out of school by providing school supplies, mentorship, and menstrual health and hygiene products. Kadidia's story highlights the personal impacts this type of program can have on a young woman's life. Now Kadidia, along with thousands of other girls, can embark on young adulthood equipped with the tools and knowledge she needs to succeed, both in the home and at school. Addressing various aspects of adolescent girls' lives, as GLEE has done, is a powerful way to respond to the intersecting challenges that girls often navigate. The project represents a promising model for future holistic youth programming.
1 https://www.unicef.org/niger/stories/menstruation-natural-fact-life