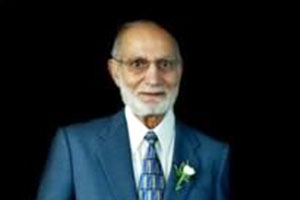 Dr. Dilbagh "Dil" Athwal, Ph.D., a pioneering plant scientist who headed Winrock's technical cooperation division when the organization began in 1985 and was a guiding presence in its early years, died on Sunday, May 14, in Tom's River, New Jersey. He was 88.
Athwal joined Winrock as the most senior staff member of the International Agricultural Development Service (IADS), one of three Rockefeller organizations that merged to form Winrock in 1985. By the time Athwal joined IADS in 1977, serving as a program officer for Asia and the Pacific, he already had a distinguished career helping lay the foundation for what is known as the Green Revolution, a series of agricultural initiatives credited with saving up to a billion people from starvation. Along with his colleague and friend Dr. Norman Borlaug, Nobel laureate and former Winrock board member, Athwal developed several varieties of hybrid wheat, including the Kalyan variety, which helped India feed its people and produced a wheat surplus for the nation.
After serving as a visiting professor at Ohio State University, Athwal joined the International Rice Research Institute (IRRI) in the Philippines. He left IRRI as deputy director general in 1977, when he joined IADS. When Athwal started at Winrock in 1985, he headed up the technical cooperation division and was in charge of most project implementation. When Winrock reorganized, he became its Asia director and, later, senior vice president of programs, a position he retained until his retirement in 1991.
"Dil was a punctual, calm, pleasant and supportive boss," says Winrock's Senior Associate Henk Knipscheer, who worked under Athwal for many years. "He had an extensive knowledge of Asia."
Athwal was born in Lyallpur, India (now Pakistan) on October 12, 1928. He received a B.S in agricultural sciences from Punjab University in 1948 and a Ph.D. in genetics and plant breeding from the University of Sydney in Australia in 1954. Among the awards Athwal received are the Shanti Swaroop Bhatnagar Award and the Padma Bhushan National Award, both given to him by the president of India. After retiring from Winrock, Athwal moved to Toms River, N.J., where his children were living, and took on a new project, pursuing a career in real estate development.
Athwal is survived by his wife of 61 years, Gurdev, two sons and daughters-in-law, five grandchildren and many other family and friends. There will be memorial service for Athwal at Lawrenceville Gurudwara, 282 Bakers Basin Rd., Lawrenceville, N.J., at 12:00 p.m. Saturday, May 27.
"A few creative people can breathe life into an entire research system," Athwal wrote in Winrock's 1987 annual report. "What does it take to create and sustain an institutional environment that encourages excellence and innovation? I believe the secret is in the leadership skills of the men and women who manage research and in the incentives that the research system offers for professional excellence."  Athwal provided such leadership for Winrock, and we mourn his passing.