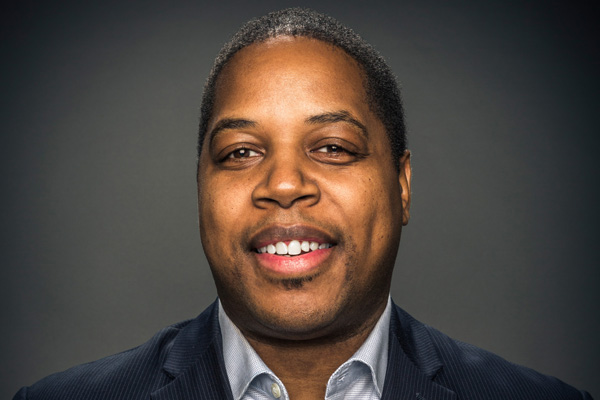 Winrock International announces the appointment of Dr. Christopher M. Jones as executive director and lead maker of the Arkansas Regional Innovation Hub, a nonprofit organization dedicated to inspiring creatives, supporting makers, and advancing the infrastructure for entrepreneurs for Arkansas and the entire region.
With graduate degrees in nuclear engineering and urban planning, and 20 years of experience in energy and infrastructure, diversity, community development, housing and management, Jones is uniquely suited to discuss barriers to innovation. A native of Pine Bluff, Ark. — which he visits in the PBS "NewsHour" segment — and graduate of Watson Chapel High School, Jones has spent his career promoting science, engineering, equity and inclusion. Jones joined the Hub in March 2018.
Jones has led and participated in research projects in engineering, physics, urban planning, housing and the social sciences, including an 18-month study on the future of nuclear power. As a principal at BCT Partners, Jones was lead executive on numerous multimillion-dollar federal projects. He has served on or supported several boards of directors and spent one year as an algebra teacher in a Boston public school.
As executive director of the Dudley Street Neighborhood Initiative (DSNI) in Boston, Mass., Jones secured more than $6 million in funds for the organization and supported a community of active and engaged residents. As assistant dean for graduate education at the Massachusetts Institute of Technology (MIT), Jones led efforts that doubled minority enrollment and more than tripled minority applications to MIT graduate programs. His academic research ranges from plasma fusion and nuclear nonproliferation to the social impact of large-scale energy infrastructure systems.
"We are delighted to welcome Chris as executive director and lead maker of the Innovation Hub," said Winrock International President and CEO Rodney Ferguson at the time of Jones's appointment. "His strong scientific background and phenomenal academic accomplishments combined with his dynamic community-building skills make him a natural for this position. We know he will continue to inspire the makers of the future as he takes on the Hub's crucial mission. I'd also like to thank Errin Stanger for her terrific work as interim director and look forward to her continued service at the Hub."
"We are especially proud to welcome Dr. Jones back to his home state of Arkansas as the new executive director of the Innovation Hub," said North Little Rock Mayor Joe Smith. "We have watched the Innovation Hub revitalize the Argenta neighborhood, and we are expecting even more good things to come with Dr. Jones at the helm."
"I am humbled and excited to start this new chapter of my life," Jones said. "The Innovation Hub, with its outstanding staff, has unlimited potential to strengthen community and further develop a thriving entrepreneurial ecosystem throughout the state and beyond. I'm an engineer at heart, so am especially excited that I will be both 'lead maker' and 'executive director,' as I join forces with other creatives, entrepreneurs and technologists to ensure that the Innovation Hub continues to flourish as the premier makerspace in the region."
Jones holds five degrees, including a B.S. in mathematics and a B.S. in physics from Morehouse College, where he received a full scholarship from NASA and served as student body president; an M.S. in nuclear engineering and an M.S. in technology and policy from MIT, and a Ph.D. in urban studies and planning from MIT. He and his wife, Dr. Jerrilyn D. Jones, an emergency room physician at the University of Arkansas for Medical Science (UAMS), live with their three daughters in Little Rock.
CONTACT