Emerging From Tragedy: Tree Nursery Gives Woman New Hope, Income Source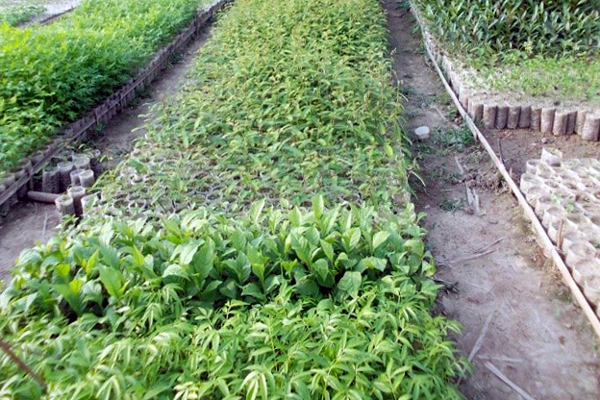 Community Patrolling Groups (CPGs) in Bangladesh are at the frontlines of forest protection, confronting illegal logging and poachers in an effort to save forests and biodiversity in protected areas. There are 75 CPGs working to protect 43,974 hectares of bio-diverse forest areas in Bangladesh. Since CPGs began patrolling in 2006, two CPG members have been killed and five severely injured while on patrol. This is dangerous work, and it is done on a mostly volunteer basis.
In 2010, tragedy struck Hasina Begum's family when her oldest son was killed by illegal loggers while patrolling Kaptai National Park. Hiru Mia, joined the Kaptai Mukh Beat CPG in 2009 and literally put his life on the line to save the forest. His family had depended on income from his small stationery shop for their livelihood. Undeterred by his tragic death, Hasina has continued to support forest conservation efforts as a member of a Brick Field Village Conservation Forum (VCF).
In 2013, the Winrock-implemented Climate Resilient Ecosystems and Livelihoods (CREL) project began working with the Brick Field VCF to identify alternative livelihood activities, especially for the most vulnerable and resource-dependent families. Tree nurseries near protected areas help meet local demand for different kinds of seedlings, decrease dependence on forest resources, and increase the number of trees on or near homesteads. The Brick Field VCF selected Hasina to participate in a three-day training program on establishing and managing tree nurseries for enterprise development (at the Forest Department's Social Forestry and Nursery Training Center in Patiya, Chittagong).
Hasina has established a thriving nursery with the knowledge she gained from the training and within three months has raised over 10,000 seedlings of 10 different indigenous tree species (including fruit trees and others with medicinal and/or timber value), and has sold 2,100 saplings for approximately $165 USD. Based on the seedlings she has in stock, she expects to earn more than five times that amount from this cycle of trees in her nursery. This economic opportunity has given Hasina and her family hope for a better future after barely scraping by since the main breadwinner was tragically killed.
The USAID-funded CREL project is working with communities and the Government of Bangladesh to support co-management institutions (including CPGs) to conserve protected areas and ecologically critical areas (ECAs), improve governance of natural resources and biodiversity, and increase resilience to climate change through improved planning and livelihoods diversification.
Related