On September 25, Dr. Chris Jones, executive director and lead maker of Winrock International's Arkansas Regional Innovation Hub, appeared on the plenary stage at the Concordia Summit, an annual global affairs forum in New York City that brings together heads of state, Fortune 50 executives and other thought leaders. Here is Jones's presentation:
If you could do the thing that you cared deeply about, the thing that you feel you were born to do, and you knew that it would bring about transformational change in someone's life, would you do it? What if you could do that thing in the place you grew up? Would you move back home?
I'd like to tell you about some transformative work that we're doing in Arkansas, and I'd like to tell it through the lens of my own personal journey. Now, I'm a mathematician, and you can sum up this journey in a really simple equation. Okay, I'm just joking. That's a Fourier transform and has nothing to do with what I'm talking about today.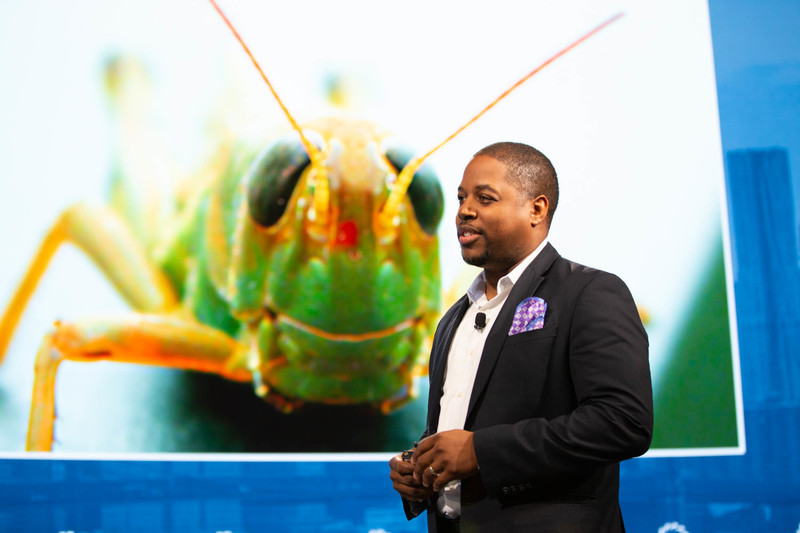 However, there is an equation that explains what we're doing in this work, and it's a fairly simple integral. It says if you integrate educational experiences, both formal and informal, and the right exposure, both intentional and unintentional, over a period of time, you can achieve transformational change. Say it differently, provide the right educational experiences and provide the right exposure, and you can make a difference in someone's life trajectory.
So, my story begins where I grew up. I was born and raised in the American South, in a place called Pine Bluff, Arkansas. It's a small town, very unique in some ways, but not unlike many other southern towns, southern rural cities in other ways. I grew up eating honeysuckle. If you've never eaten honeysuckle, let me tell you, the honey from it is delicious, and you haven't lived until you've done it. I also grew up fighting grasshoppers. We even had tournaments with brackets. Now, of course, it was single elimination, but I won't talk about that, that's for another conversation. I was blessed to have a very loving family, and I was surrounded by love. My parents pushed us, and despite our modest upbringing, they always taught us that education mattered, and education can come from anywhere, and they always worked to expose us to new people and new opportunities.
This came together for me and created a desire, a passion, to pursue education, to find new experiences, and to help others do the same. When I graduated high school, I ran out of Arkansas looking for a little bit of both. But I left with four life lessons that were important. Always listen for God's voice and obey it. Remember that the price I paid for existence is giving back. Never stop learning. And find people who can expose me to new experiences. So with that, I was off.
My first stop was to Atlanta, Georgia, and Morehouse College, where I earned a bachelor's in mathematics, and one in physics, and I was on a full scholarship from NASA. My next stop was Cambridge, Massachusetts, where I earned a master's in technology and policy, a masters in nuclear engineering, and a Ph.D. in urban planning from a small school called MIT. Now, as the traditional narrative would have it, it's actually counter, that a young boy from a small town in the rural south, would end up with five degrees and a Ph.D. from MIT. But I can tell you with great confidence that I got there because of experiences and exposure that was given to me by mentors, and I had many, many mentors. Mentors like Ambassador to the Gambia George Haley, Atlanta mayor Maynard Jackson, Surgeon Generals Joycelyn Elders and David Satcher, astronaut Franklin Chang Díaz, and former National Science Foundation Director Walter Massey.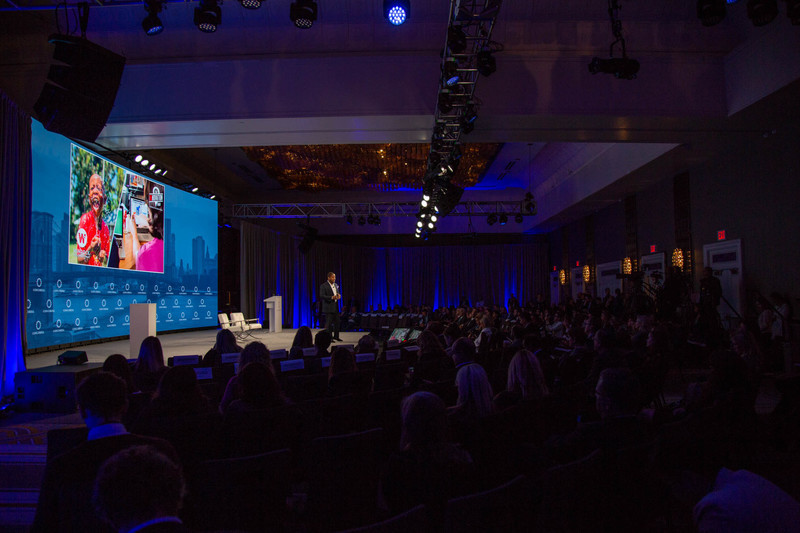 The picture in the middle is me descending down a hydrogen test bed at NASA, and for the life of me, I can't figure out why I looked so serious. My mentors gave me experiences that were transformational in my life. But they also told me that my payback to them was to pay it forward. So, I remembered that, and at every stage in life, I paid it forward. As I was paying it forward, I realized that something wasn't right. There I was paying it forward and helping people in one of the most innovative places in the world, Cambridge, Massachusetts, while at home, we were losing ground with respect to education and exposure.
If you look at a map of innovation around the country, you'll see that there are certain areas and regions that are more innovative than others. There's a study done by the Equality of Opportunity Project. This graphic is representative of where innovation happens around the country. You'll notice that there are some places that are so far behind, they don't even show up on the map. So, like any good engineer, I said we need to do something about it. As we looked more closely into the study, I found that the study's findings were that children born to wealthy income families were 10 times more likely to be inventors than those born to low-income families. White children were three times more likely to be inventors than black children. Eighteen percent, only 18 percent of inventors, are women.
Clearly, we were leaving a lot on the table with respect to innovation, and if innovation was the driver, or the fuel, of future growth, something had to change, something had to happen. Kids who grew up outside of well-resourced families and outside of the hotbed of innovation that exists on the coast were at a severe disadvantage, and something needed to happen about that. So, my beautiful wife and I loaded up our three girls and all of our stuff, and we moved back home to Arkansas. As you noticed in the picture in the graphic before, the situation in Arkansas is rough. We lag behind on a number of metrics with respect to exposure and education.
But what I found when I got there was that there was a lot going on in the state. In fact, we had a rapidly growing ecosystem of innovation and entrepreneurship. That ecosystem was fueled in part by organizations like Winrock International, and the Arkansas Innovation Hub. Winrock was doing work across the globe to impact people's lives in a real way, and at the same time, the Innovation Hub was doing work in Arkansas to impact people's lives in a real way. The Innovation Hub is a makerspace and it's Arkansas' premiere makerspace. We are 22,000 square feet of fun. We have all the tools necessary for creatives, inventors and makers to turn their creative ideas into reality. And like Winrock is training individuals across the globe, we are building skills and training in Arkansas. From welding and wood shop, to ceramics and screen printing, to video game design and small business support. We are making the makers of the 21st century and having an impact.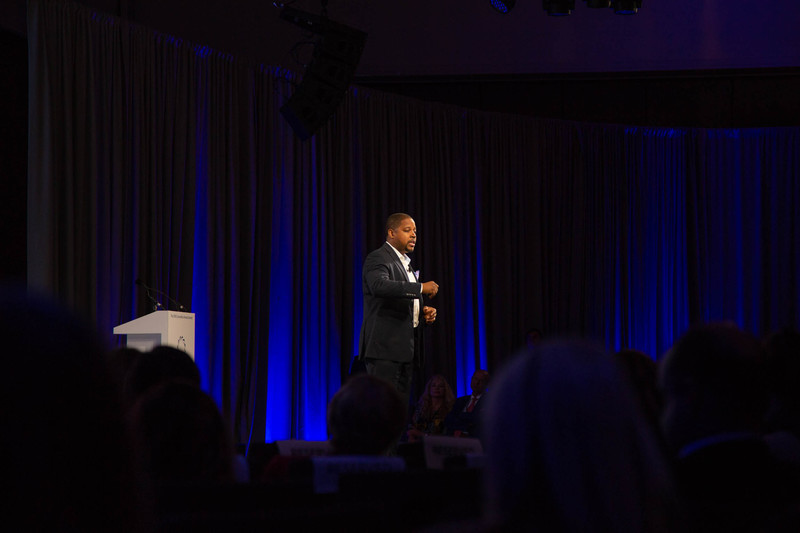 In fact, last year, we helped to educate and expose nearly14,000 individuals who will become the makers of the future. Although that number is great, we're barely scratching the surface. In order to have transformational impact, there's something else that's needed. There was something that's keeping us from connecting with everyone. We found that that thing was geography. While there were some individuals who could come to us and we can help to expose them and educate them, there were a lot who would never make it through our doors, either because they lived in rural Arkansas and couldn't get there, or they were in marginalized communities and couldn't get there. So we went back to our equation.
In order to have transformational change, we realized that yes, we needed to increase education and increase exposure, but we also needed to decrease barriers. The smaller the barriers, the larger the transformational impact that we could have. And the barrier was geography. So we made a commitment to figuring out how to decrease that barrier, and how to reach people where they were. And thus, we created the mobile makerspace. The mobile makerspace is the Innovation Hub on wheels. We've taken all the tools of the Innovation Hub and put it on wheels, and now we're going out to communities in rural Arkansas, and exposing them and educating them, and creating in them a desire to become the makers of the future, and thereby, helping us to become leaders in the 21st-century economy.
This is what I'm passionate about, this is why I moved back to Arkansas. But we're not doing this alone. There are many other organizations that are engaging in this work as well. Remix Ideas in Arkansas, TechSquare Labs in Georgia, CO.LAB in Tennessee, STEM NOLA in Louisiana, and many, many others are engaged in the work of transformational impact. Can you join us in that work? Better yet, would you go back to the place you grew up and find a way to make transformational impact?
Thank you!