"It goes without saying that there's no food without water," said Winrock President and CEO Rodney Ferguson opening the Wilson Center event "Feeding a Thirsty World: Harnessing the Connections Between Food and Water Security" in Washington, D.C., on March 25. "Seventy percent of global water use goes to agriculture. … Water insecurity affects food security and can lead to migration and conflicts."
The event is the first of three programs on water security that Winrock is producing at the Wilson Center this year, following its four-part water series, Water@Wilson, in 2018. It attracted an audience of more than 100, including online attendees. In addition to Ferguson, Winrock's Eric Viala, chief of party of the USAID-funded Sustainable Water Partnership (SWP), also spoke at the event.
Other speakers included Laura Abrahams Schulz, acting deputy assistant administrator of USAID's Bureau for Economic Growth, Education and Environment, who delivered the keynote address, and panelists Jennifer Billings, agriculture development leader at Corteva Agriscience; Claire Chase, senior economist at the World Bank's Global Water Practice; and Michael Tiboris, global water fellow at the Global Food and Agriculture Program, Chicago Council on Global Affairs. The Wilson Center's Lauren Herzer Risi moderated the discussion.
The panel tackled challenges that arise from the deep connections between food and water security — and the fact that more than 25 percent of the world's population lives in areas facing severe water scarcity and more than 820 million people face chronic food deprivation. These realities are compounded by population growth and changing weather and climate patterns, challenges that SWP is tackling.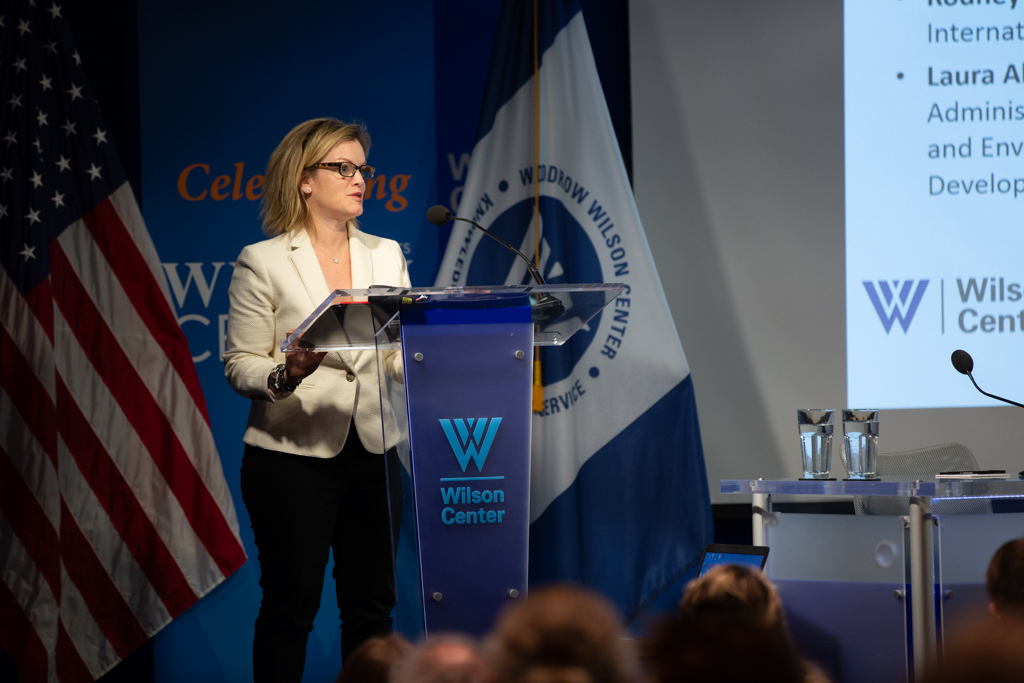 "SWP is one of the Agency's few investments using water security as a framework and a launching point to galvanize action among stakeholders in myriad sectors affected by water availability and water quality," USAID's Schulz said. "SWP's five-step water security improvement process, outlined in a series of toolkits, holds promise for water allocation within communities that often struggle to juggle water for food and water for other pressing needs."
Speakers tackled everything from nutrition to irrigation to the silos that keep water security experts and agriculture experts apart — silos that were broken down during the two-hour discussion.
"We are in period of transformation to a digital economy where the ability to reason and collaborate is crucial, and human capital, the skills and knowledge which create economic value, are a driving force in the new economy," Chase said, explaining the World Bank's Human Capital Index and how water and nutrition factor into it. "The areas affected by future water scarcity and population growth are the same that today score low on the human capital index and where a large portion of the population under five is stunted. The implication is that if we fail to invest in approaches that unlock food security and nutrition gains today these future generations may fall short of their potential."
Viala described his work in Egypt and in the Sahel. He noted the aging of farming populations around the world and young people's need for hope. "We have been saving lives, that's great, and improving life expectancies, that's great," he said. "But we aren't improving life's expectations." People want to believe they have viable futures, he said, and when they don't, that's when there might be a turn to extremism.  "Water and food security … go to the heart of social and political stability."