Over 244 million children and youth are out of school across the world, according to the United Nations. This staggering statistic does not begin to capture the residual consequences of educational inaccessibility.
Educational access leads to empowerment. It breaks cycles of poverty and builds gender equity. Less than 40% of girls in sub-Saharan Africa complete secondary schooling and more than 4 million children do not attend school. When youth are supported with educational opportunities, they are empowered to make positive impacts on their families, communities, the economy and the environment, by developing the skills to prosper.
Winrock International remains committed to working with partners in the U.S. and across the globe to increase access to education, entrepreneurial, and skills development opportunities for youth in the face of persistent economic, human rights, and environmental challenges. In the words of Nelson Mandela: "Education is the most powerful weapon you can use to change the world."
​​Here are five important activities Winrock and partners are supporting to improve access to education, community-based resources, and livelihoods opportunities for youth: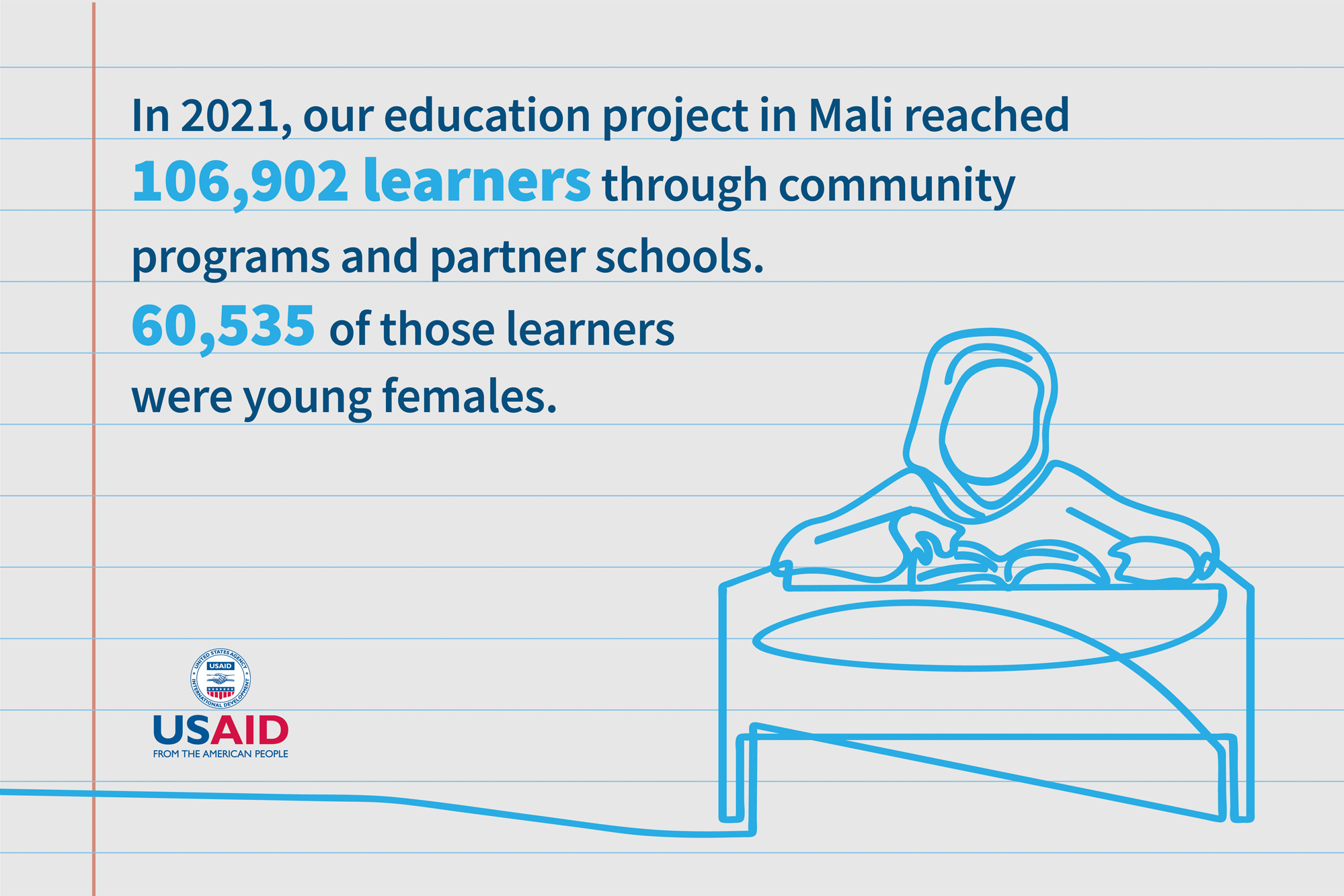 USAID Mali GLEE: Increasing access to girls' education in Mali
Insecurity and instability in Mali combine with other factors such as school closings due to threats of violence, inadequate numbers and distribution of teachers, early marriage, and economic pressures at the household level to limit educational access and outcomes. Mali ranks among the top 10 countries in child marriage prevalence, and only 49% of young learners complete primary school. Social and economic barriers prevent girls from accessing and completing education. Preference is generally given to enrolling boys while girls are relied on for caregiving, seeking water for household uses, and other time-consuming domestic tasks that further constrain educational opportunities for girls and increase their vulnerability. The USAID Girls' Leadership and Empowerment through Education activity decreases barriers to quality education in a safe and supportive learning environment for adolescent girls (10-18 years) while increasing the adoption of positive, healthy behaviors.
Adolescent girls in Mali confront a host of barriers to educational access. Although enrollment rates have risen over the last 20 to 30 years, a gender gap persists nationally; girls are enrolled at a much lower rate than boys. But there is a mutually reinforcing relationship between adolescents' health and their educational attainment. When they receive a quality education, women are empowered to make better decisions about their health and that of their families. In turn, improved health, especially in regard to childbearing, improves access to education for women and girls. Building upon other programs, USAID Mali GLEE supports and leverages efforts by the government of Mali and civil society to increase educational opportunities for adolescent girls by decreasing barriers to their quality education, improving their safety in school and their communities, and increasing their knowledge and adoption of positive health behaviors. So far, USAID Mali GLEE has reached more than 100,000 learners through community and outreach programs and partner schools.

USAID's Esho Shikhi Activity: Increasing opportunities for marginalized children in Bangladesh
USAID's Esho Shikhi Activity increases learning opportunities, enhances teaching quality and teaching learning materials to improve quality education in selected subjects, strengthens the capacity of field-level mentors to deliver quality education, and improves school communities' ability to mitigate and manage the effects of shocks and stressors on education access and quality.
The activity uses a flexible and tailored approach in marginalized and vulnerable communities to address the needs of schools to improve the learning outcomes of children in select subject areas (including Bangla) in grades 1-5, with a special focus on grades 1-2, in consultation with the government of Bangladesh, the Directorate of Primary Education, the Ministry of Primary and Mass Education and USAID in Bangladesh.
The Esho Shikhi project has co-developed subject-based master trainer and teacher training modules for over 20,000 teachers from 10,000 schools, while the GoB will train more than 110,000 teachers from 55,000 schools all over the country. On Jan. 10, 2023, Esho Shikhi kicked off a training on children's reading comprehension. In addition to developing support for teachers, Esho Shikhi will provide classroom instructional materials, including flash cards, charts, workbooks and supplementary reading materials. It is estimated that 2.3 million children will be benefitted from Esho Shikhi project. To minimize unplanned school closures during emergencies, Esho Shikhi will train 10,000 lead teachers to enhance their capacity for disaster resilience planning with the support of the community.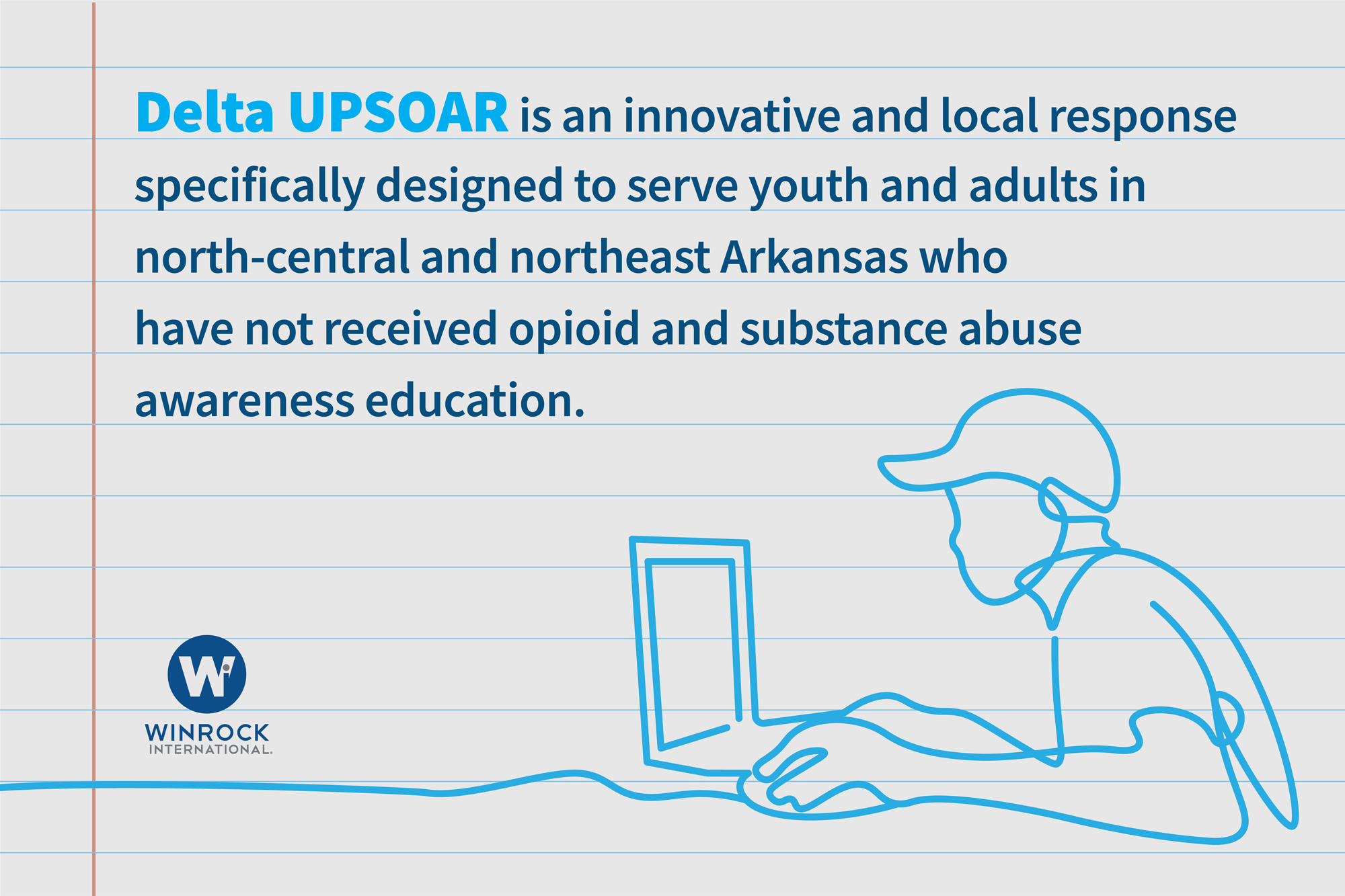 Delta Understanding and Preventing Substance and Opioid Abuse in Rurality: Fighting the opioid crisis in the U.S. through youth education
Like much of rural America, communities in north-central and northeast Arkansas struggle with high rates of substance abuse, but have limited access to preventative education and recovery resources. The U.S. Department of Agriculture's Delta UPSOAR project, implemented by Winrock, includes outreach to youth and adults who have not received substance abuse awareness education in five Arkansas Delta counties.
Delta UPSOAR partners with the University of Arkansas Medical Sciences and Ozarka College to incorporate innovative simulation tools and hands-on demonstrations for youth and young adults through organizations and schools. Demonstrations include the use of high-fidelity, computerized mannequins that simulate the body's reactions to an overdose, providing participants with a realistic glimpse of what happens – and helping them better prepare to respond effectively.
The Arkansas Regional Innovation Hub: Improving access to tech skills for U.S. youth
Say so long to teenage rock bands in the garage and hello to tech-savvy youth recording artists. The Hub at Winrock International is partnering with an international electronics retailer to develop the first Best Buy Teen Tech Center in Arkansas. The project will dramatically expand technology access and education outreach to youth, including those from underserved communities. The Hub will provide equipment, facilities, staff, and management for the center, which will offer a range of tech skill-building opportunities to motivate and prepare teens for career paths in photography and video editing, music recording and audio production, animation and design for interactive poetry, stories, games, fine arts, and coding for mobile applications. The Best Buy Teen Tech Center is expected to open in November 2023.
Other education opportunities on tap at the Hub includes the successful Skills to Launch program, which offers young adults ages 18-24 training in selected career paths and trades. This 10-week intensive program has a 86% job placement rating, providing training to young adults on technical and soft skills including resume building, goal setting, job readiness, and team collaboration. The Hub also supports science, tech, engineering, arts and math education through its Mobile Makerspace, which has brought fun and educational STEAM programming and skill-building to more than 19,781 school-aged students in 27 counties across Arkansas.  

USAID Entrepreneurship and Investment Activity: Empowering youth entrepreneurs in Senegal
Each year, an estimated 300,000 young new job seekers enter Senegal's workforce. With few opportunities for wage-based employment, self-employment and entrepreneurship currently offer the most viable path to self-sufficiency for Senegalese women and youth.
While small and medium-sized enterprises represent 90% of Senegal's private sector, most of these businesses are operated and informally managed, resulting in low-income generations and limited contributions to employment rates. The USAID Entrepreneurship and Investment activity, implemented by Winrock, promotes entrepreneurship and business investment. In collaboration with Senegal's government and private sector stakeholders, activities support the creation of startups, innovation, and new business-driven approaches, including facilitating business development services that respond to the needs of women, men and young entrepreneurs (ages 15-35) seeking to improve profitability and secure investments. Through cultivating peer networks and developing inclusive information systems, the activity explores and builds strategies to ensure start-up growth gains appropriate financing options and resources.