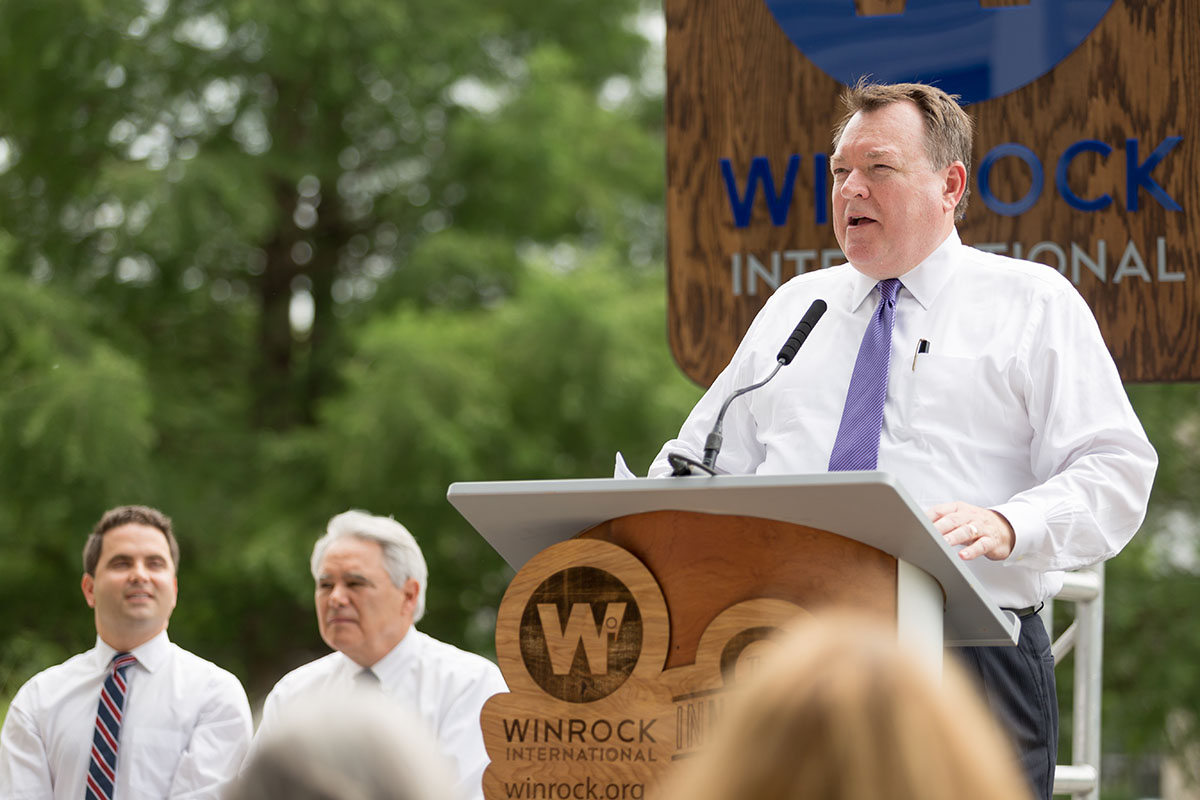 Winrock International, the Arkansas-based international development organization with a focus on agricultural, environmental and community development issues, today announced that it will combine with the Arkansas Regional Innovation Hub in a strategic reorganization of its U.S. and Arkansas programs.
As part of this unification, Warwick Sabin, who is currently the executive director of the Innovation Hub, will become senior director of U.S. Programs at Winrock International.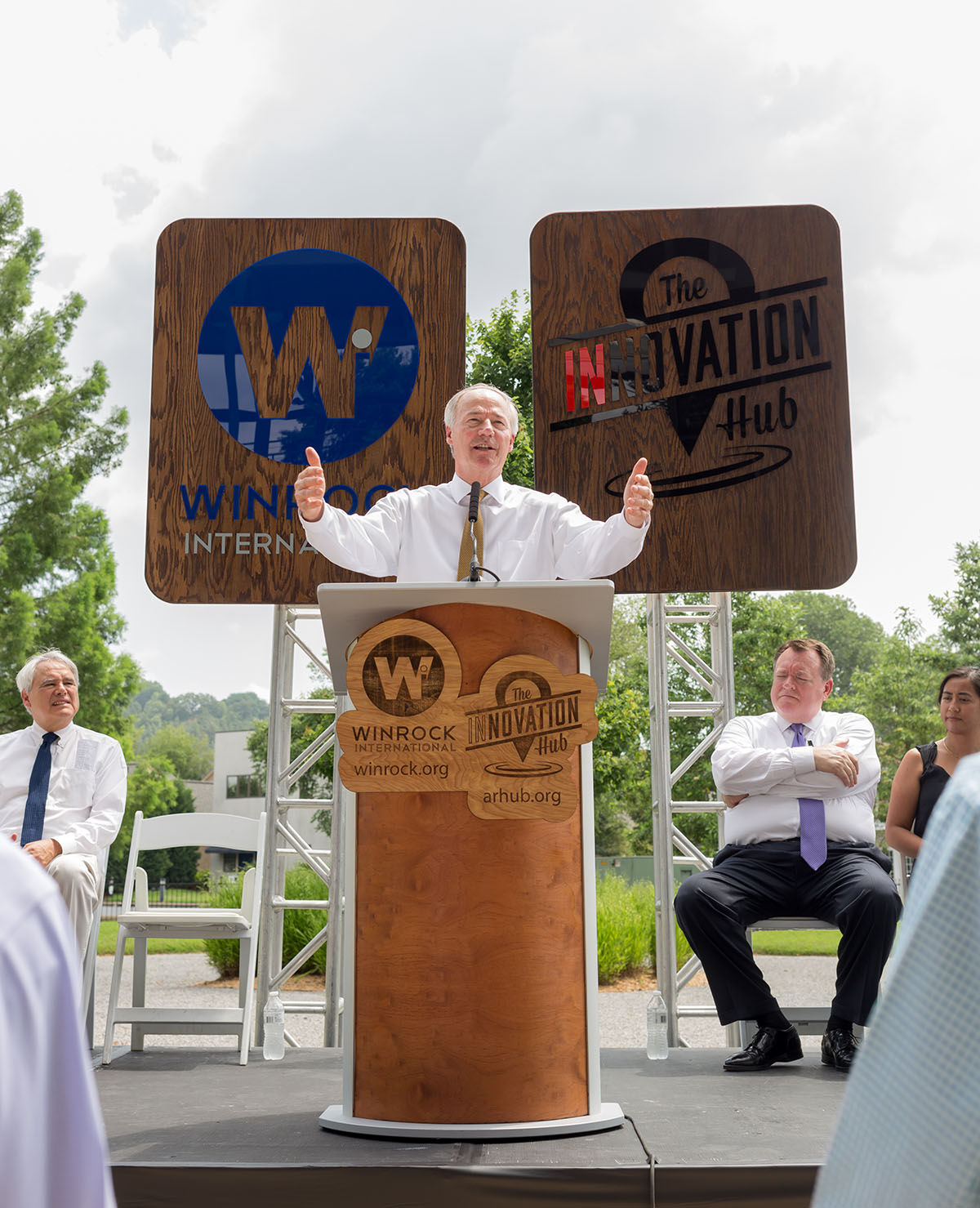 "Two of Arkansas's most interesting and innovative nonprofits are coming together and this has not only local, but national and international implications as well," said Gov. Asa Hutchinson. "This will spur real economic and community growth in our state and signals that Arkansas's impact on the world will continue to grow. I'm especially intrigued by what this could mean in terms of workforce training, manufacturing, agriculture and, especially, the Arkansas knowledge industry."
"I am so excited about the possibilities that this combination will mean for our impact in Arkansas, the United States and the world," said Winrock International President and CEO Rodney Ferguson. "Winrock has long brought an entrepreneurial approach to economic development and we look forward to building on the excellent models of innovation, community engagement and development that Warwick has built."
Said Sabin, "We are delighted to bring our organizations together, because Winrock can elevate and amplify the impact of the Innovation Hub, and the Innovation Hub can bring a dynamic new dimension to Winrock's U.S. Programs. This is an opportunity to further establish Arkansas as a global leader in innovative strategies for community and economic development, thereby sustaining and honoring the legacy of Governor Winthrop Rockefeller."
Winrock International combines technical expertise with entrepreneurial innovation to improve lives in the U.S. and around the world. Its mission is to empower the disadvantaged, increase economic opportunity and sustain natural resources. With 120 programs in 46 countries and decades of work in Arkansas, Winrock's influence is felt daily across the globe. Joining forces with the Innovation Hub will create opportunities not only in the fast-growing maker movement, but in community development, job and workforce training, agriculture, environment, and other areas. The expanded U.S. portfolio also underscores Winrock's continued commitment to Arkansas and the region.
The Innovation Hub provides education and enterprise support for youth and adults at its main facility in downtown North Little Rock, and is extending its programming regionally through partnerships with universities, cities, economic development agencies, and other public and private organizations. By developing talent and empowering individuals to obtain new skills, create new technologies and build new businesses, the Innovation Hub has created a model that is relevant and responsive to the imperatives of the 21st-century economy.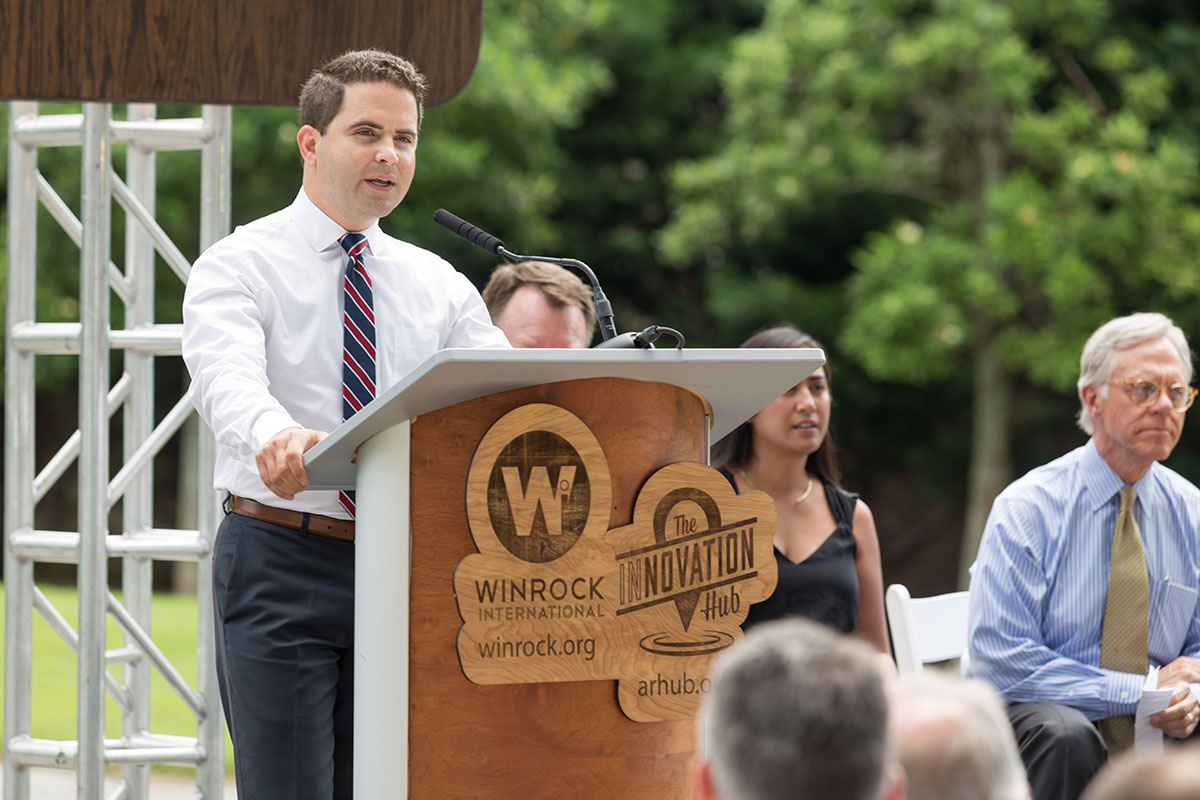 In his role as senior director of U.S. programs for Winrock, Sabin will be responsible for fostering strong economic growth in disadvantaged communities and supporting entrepreneurship as a strategy for job creation and workforce development. He succeeds Annett Pagan, who recently retired from Winrock after almost 20 years of successful leadership of its U.S. Programs group.
The Innovation Hub will continue its operations under the umbrella of Winrock's U.S. Programs group without any immediate changes to its staffing or programs.
Speaker List:
Rodney Ferguson, president & CEO, Winrock International
Warwick Sabin, executive director, Arkansas Regional Innovation Hub
Jeannette Balleza Collins, former director, ARK Challenge
Jerry Adams, board member, Arkansas Regional Innovation Hub
Bronson Van Wyck, board member, Winrock International
Gov. Asa Hutchinson
ABOUT WARWICK SABIN
Aside from his role at the Arkansas Regional Innovation Hub, Warwick is a member of the Arkansas House of Representatives, serving as assistant speaker pro-tempore for the 90th General Assembly. His professional experience includes serving as director of development for the Clinton Foundation, as well as working on Capitol Hill, at the White House and at Foreign Affairs magazine. He is a Marshall Scholar and a Truman Scholar. He holds a master's in philosophy, politics and economics from Oxford University and a bachelor's degree (summa cum laude) in political science from the University of Arkansas, where he graduated as valedictorian and was president of the student body.
ABOUT WINROCK INTERNATIONAL
Winrock International (www.winrock.org) is a recognized leader in U.S. and international development with a focus on social, agricultural and environmental issues. Inspired by its namesake, Winthrop Rockefeller, Winrock combines scientific and technical expertise with entrepreneurial innovation to deliver market-based solutions that improve lives around the world. Winrock's mission is to empower the disadvantaged, increase economic opportunity and sustain natural resources across the globe.
ABOUT ARKANSAS REGIONAL INNOVATION HUB
The Arkansas Regional Innovation Hub (www.arhub.org) is a nonprofit organization dedicated to increasing innovative and entrepreneurial activity in Arkansas by creating a collaborative ecosystem and pipelines that mobilize the resources, programs and educational opportunities necessary to develop, attract and retain talent and to build the state's economy.
# # #