Leaders around the world have long understood the vital importance of international economic development. Though that consensus remains, it has been challenged recently in ways that have generated uncertainty in the development sector. Questions about the value of this work demand an unequivocal response: simply put, development that delivers a better future to the world's most disadvantaged people is not only the ethically right thing to do, it also creates a more secure and prosperous world.
I see the impact Winrock projects make every day, yet the promise development has to permanently improve lives was never more evident than during a weeklong trip I made to Burma last May. In a remarkably short period of time, our staff and volunteers have helped build a flourishing coffee industry where none existed just a few years ago – an achievement that has transformed the lives of thousands of smallholder farmers abroad and economic opportunity at home.
Winrock has provided technical and market expertise to Burma's coffee growers since 2015 through our Value Chains for Rural Development (VC-RD) project. The results for the 11,000 VC-RD-trained smallholder coffee growers – nearly half of them women – have been remarkable. In its first two years, the project supported exports totaling 274 metric tons valued at $1.5 million to markets in the U.S., Asia and Europe with purchases from Starbucks and Whole Foods, among others.
Providing assistance that helps beneficiaries boost their income and become self-sufficient is at the core of all of Winrock's programs. In our Knowledge-based Integrated Sustainable Agriculture and Nutrition (KISAN) project in Nepal, for example, we have trained 117,000 farmers and helped increase average annual household sales of agriculture products by over 300 percent. Innovation is also central to the success of smallholder farmers. Our Feed the Future Asia Innovative Farmers Activity (AIFA) connects entrepreneurs with technologies that reduce poverty and food insecurity to the investors, businesses and researchers who can commercialize them. In strengthening a regional innovation ecosystem, AIFA has accessed over 100 innovations that have engaged over 130,000 stakeholders from over 400 organizations in 20 countries – and connected to a global network with over 11 million social media impressions.
The impact of our work goes well beyond agriculture. Winrock's longtime leadership in fighting the scourge of trafficking in persons was recognized by our selection as the lead partner in the five-year USAID Asia Counter Trafficking in Persons project. At $150 billion in 2016, human trafficking is now considered the world's third-largest illicit trade. For Winrock, tackling this complicated problem requires not only raising awareness among vulnerable populations about the dangers of trafficking and risky migration, but also mitigating that risk through alternative incomes.
Regardless of the goal or geography of our projects, Winrock offers innovative solutions that are based on sound science and economics. Sometimes, that requires advancing science through our own research, as evidenced by Winrock's breakthrough work on greenhouse gas emissions from forest degradation. Until now, there has been no clear way to measure these emissions. But with pioneering research from our Ecosystems Services team, Winrock has revealed that emissions from forest degradation are actually far greater than previously thought, even more than from international aviation. These findings will undoubtedly shape global policies and mitigation efforts well into the future, a lesson we have already learned through the success of Winrock's American Carbon Registry (ACR). A pioneer in tapping the power of markets to reduce greenhouse gas emissions, ACR has now issued more than 100 million tons of carbon offset credits and seen demand for its services increase significantly.
Though our work is diverse, a common theme animates it all: we aim to solve big challenges. To do that, we must continue to accelerate initiatives to diversify and innovate around project financing, including making it easier for foundations, philanthropists, corporations and governments to support our work. We will also continue to improve our monitoring and evaluation capabilities because there is no more important aspect of our work than delivering on the promises we make to beneficiaries and partners.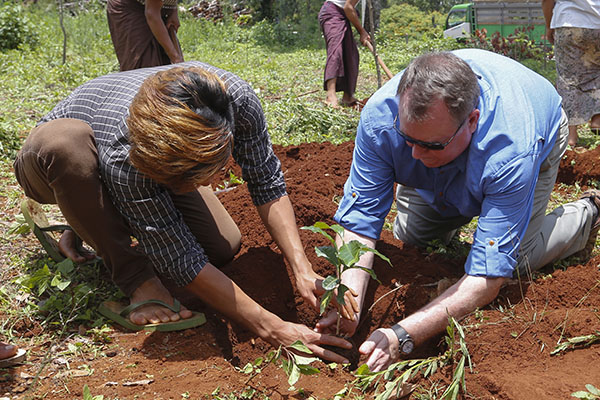 These and other changes are already making a difference in the lives of beneficiaries. But they should also come as no surprise. Innovation to increase impact has always been part of Winrock's DNA. It's a legacy we are proud of and will continue to build on to make the promise of development a reality abroad and at home.
Sincerely,

Rodney Ferguson
President & Chief Executive Officer