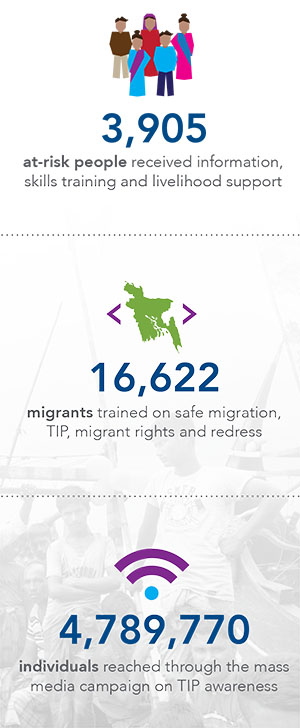 PROJECT NAME: Bangladesh Counter Trafficking in Persons (BCTIP)
SYNOPSIS: Mobilizes and coordinates the actions of governments, NGOs, citizens and community leaders to support and empower survivors, increase the effectiveness of prosecution, and engage all layers of society to end human trafficking.
YEARS ACTIVE: 2014-2020
FUNDER: USAID
This is the story of Rakib Kishore [not his real name], a trafficking survivor who turned his own horrifying experience into a force of good for others.
I live in Cox's Bazar in southeast Bangladesh. I grew up in a poor family. We struggled to get by. One day a neighbor came to my house and said there is a good job for you in Malaysia. You will earn 50,000 takas ($590 US) per month. Initially, we were taken in a small boat, 60-70 people in the same tiny boat. And they told us, the big ship is waiting for you in the deep sea. But they lied. The boat was not big. I was screaming, help me, help me. One of them gave me a big blow to the head and I almost fainted. I was put in a cage like a prisoner, a dark, tiny box below the deck. Sometimes I couldn't breathe. There were six or seven of us in the cage. I was in the cage for 12 days, and on the third day I fainted. They almost threw me into the sea because they thought I was dead, but someone checked my pulse and found I was still alive.
Before long, we were caught by the Thai Navy. They said they would take us to Malaysia. But after a day and night dragging our boat, they cut the rope. We had only 10 liters of reserve fuel and no sail. Sometimes we had to eat insects. One of us died and was thrown into the sea.
After 10 days of floating we were found by fisherman and reached the Sri Lankan coast. I called my family from the Bangladeshi embassy. They thought I had died at sea. But I finally made it home.
On May 25, 2015, it was reported that the graves of 139 people were found in the jungles of northern Malaysia. These people were thought to have died at the hands of traffickers. That could have been me. I was one of the lucky ones. I think that it's my duty to save a person from the situation that I was in. I have to save these persons because they are my brothers, they are my neighbors. I have to save them.
Rakib currently works as a driver in Bangladesh, earning more money than he ever has. Married and the father of a 3-year-old son, he has held national leadership positions with a group of trafficking survivors called ANIRBAN ["the flame that never dies"]. ANIRBAN was founded through a USAID-funded program implemented by Winrock.