For nearly two decades, the John D. Rockefeller III (JDR3) Scholars program has cultivated a cadre of exceptional young Asian scholars capable of conducting rigorous analytic research, using data and other evidence to help decisionmakers solve critical social and economic problems in their home countries. The issues they tackle range from helping rice farmers cope with climate change in Indonesia, to supporting indigenous communities in Vietnam to benefit from protecting forests and water supplies, and from helping to make the business case for safeguarding the world's largest mangrove ecosystem in Bangladesh to assisting farmers and food safety officials to detect and prevent avian influenza in Laos, Cambodia and Myanmar, among other initiatives.
The program's work is most often conducted quietly, behind the scenes. By design, it entails methodical study and the collection of original data through key informant interviews and household surveys, as well as extensive review and synthesis of reference material. The research teams' findings provide detailed, evidence-based support that augments the design, implementation and adaptation of projects implemented by Winrock across Asia with funding from the U.S. Agency for International Development (USAID) and other donors.
In recent years, JDR3 has evolved to address an expanding range of social and environmental issues that have implications for, or impacts on, agriculture and food security.
In 2015, for example, JDR3 teamed up with Winrock's USAID-funded Climate Resilient Ecosystems and Livelihoods project to assess the difference in outcomes when wetland areas in northern Bangladesh are co-managed by community-based organizations, compared to management by private fishing companies. Survey findings revealed that community co-management approaches better protect the rights of poor fishers and result in more equitable distribution of socio-ecological benefits. The research aims to inform future policy development that could help to institutionalize the co-management approach for sustainable management of wetlands, which not only contribute to food security by providing habitat for fisheries, but also are an important asset in the fight against climate change due to their carbon absorption and storage capacity.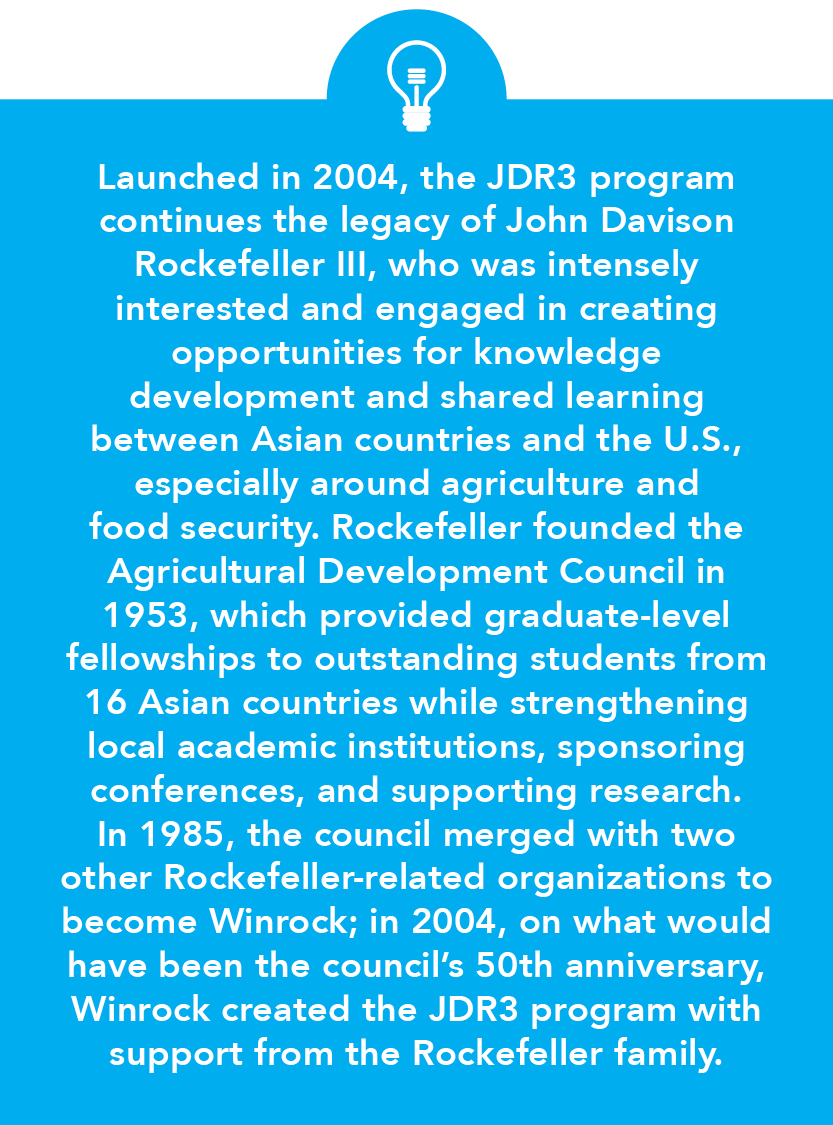 The JDR3 program's two most recent projects utilize separate teams deployed across three countries in Asia. One project, conducted in collaboration with the USAID Asia Counter Trafficking in Persons (Asia CTIP) project, is investigating the root causes and perilous effects of unofficial (illegal) labor migration occurring in the busy Bangladesh-to-Malaysia labor corridor, with the goal of supporting new policy to provide better support for legal migration between the two countries. The second project is examining access to justice and strategies for best supporting survivors of human trafficking upon repatriation in Nepal, in collaboration with the USAID- and UK aid-funded Hamro Samman, or "Our Dignity," activity. Both Asia CTIP and Hamro Samman are coordinated by Winrock, which is currently the U.S. Government's largest implementer of counter-trafficking projects.
The two current JDR3 projects underscore Winrock's commitment to building the skills of local researchers, including social scientists, to conduct deep-dive examinations of some of the most complex and challenging issues threatening socio-economic development and stability of developing countries. The current projects studying labor migration, and reintegration and support for survivors of trafficking, help to maintain focus on development challenges faced by disadvantaged groups, including women, youth, ethnic minorities and low-income groups, and to inform work planning and activities designed by the associated USAID projects to maximize the sustainability of impacts.
In association with Asia CTIP, the JDR3 project investigating the hidden costs of migration incurred by laborers as they move from Bangladesh to Malaysia, is also developing policy recommendations to reduce those costs and increase migrant protections. This research, which aims to provide an in-depth understanding of the barriers to improving migrant protections in Bangladesh and Malaysia, is the first of its kind to examine cross-border, bilateral agreements on migration, and involves researchers collaborating in each country. Next year, as the USAID Asia CTIP project wraps up its final year of implementation, Asia CTIP plans to publish a detailed policy brief based on this research, as well as holding stakeholder forums to produce actionable guidelines towards safer migration in the Bangladesh-Malaysia corridor. The JDR3 team working on the issue has already begun gaining traction and attention with its preliminary findings, which they presented in June 2021 in the form of policy recommendations on migration to the Malaysian Ministry of Human Resources and the Malaysian Ministry of Home Affairs.
The costs incurred by migrant laborers looking for work in higher-paying countries like Malaysia is central to livelihoods and economic development in countries such as Bangladesh, where remittances are the second-largest contributor to export earnings, mostly from migrants working in other Southeast Asian countries and the Gulf, where wages and demand for labor (including agriculture-related jobs, fishing sector, construction and related trades, and/or domestic work) are higher. The JDR3 team hypothesized that "information asymmetry" – or information available only to one side in the migration transaction, the brokers – was partly resulting in many migrant laborers incurring fees that were on average 43% higher than government-approved, established fees and costs. This same lack of information contributed to increased vulnerability and exploitation, especially for first-time migrants who had little-to-no knowledge of either the costs required, the process or how to navigate the system.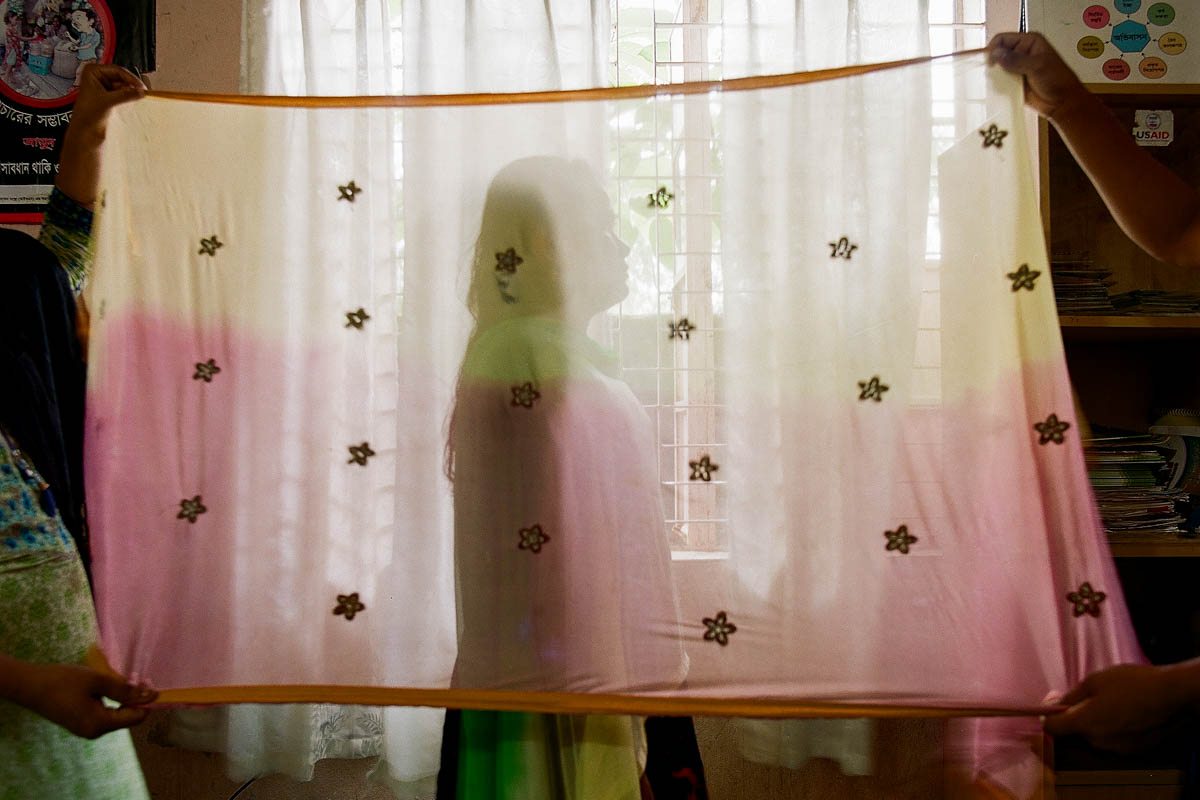 To reduce that vulnerability and level the playing field (in terms of fees/costs and other areas) to ensure migrants' rights are protected as they move between the countries, the JDR3 scholars are laying an evidentiary foundation to support the governments of Bangladesh and Malaysia to renew a formal agreement on bilateral migration that lapsed several years ago. Reinstituting that formal agreement, and embedding protections within it to ensure migrants are able to move through legally established channels with transparent regulations and fees, will reduce exploitation and better protect migrants preyed upon by unscrupulous informal brokers, including those looking to traffic laborers.
Because the number of government-approved, licensed International Recruiting Agencies in Bangladesh is restricted and concentrated only in the capital, Dhaka, many laborers looking for work in other countries seek assistance from informal brokers or agents, known as dalals. "Due to the illegal nature of the free agents, there are currently no estimates as to how many dalals/agents are operating in the migration market, and there [are] no regulatory options on agents' involvement," the JDR3 scholars wrote in a draft report. Those "free agents" have pecuniary incentives to control the flow of information provided to prospective migrants about fees to obtain authorization including proper work visas and other costs.
"One of the main findings of the study is the lack of, and need for, coordination between the two governments [Bangladesh and Malaysia] on labor migration," said Sara Piazzano, chief of party of the USAID Asia CTIP project. "Despite the suspension of the [previous] Memorandum of Understanding between the two countries, legal migration has continued without a bilateral agreement in place, and migrants continue to migrate at a cost that is 10 times higher" than it should be. "Despite going through official channels, almost half the migrants interviewed did not have a proper visa, work permit in Malaysia and job contract," increasing their vulnerability. The JDR3 team's findings provide an evidentiary foundation to push for positive changes that better protect migrants on both ends of the migration corridor, and Piazzano said the JDR research could be considered a model for how to examine other busy regional migration corridors, including channels from other Asian countries into Thailand.
In Nepal, the JDR3 program began gearing up its research project in collaboration with the Hamro Samman activity in 2021, starting with the recruitment and selection of three research teams to examine three related topics, including barriers to trafficking survivors' access to justice in Nepal and host countries; vulnerability and trafficking in Nepal's foreign employment sector; and practices and approaches to reintegrate survivors in Nepal. The Hamro Samman project, government agencies, and other stakeholders in Nepal will use the research to strengthen the legislative and policy framework to reduce the prevalence of TIP in 10 districts in Nepal.
This research is of vital importance in Nepal, which is a source, transit and destination country for labor, sex and organ trafficking, with some reports estimating that as many as a quarter of a million Nepalis are exploited by forced labor or other forms of trafficking at any given time, and that millions more are vulnerable due to reasons including poverty, unemployment and lack of opportunities. Hamro Samman is leveraging government, civil society and private sector efforts to counter trafficking in Nepal to reverse the trend.
"The JDR3 research will complement the Hamro Samman project in identifying areas of improvement in the program to combat trafficking-in-persons in Nepal," said Zainab Akther, the project's chief of party. "The main purpose is to generate evidence-based information and knowledge to guide the project to realign its strategy and approach … by adapting the learning of the research." The JDR findings will be shared with key stakeholders including "civil society organizations, the government and others, including the media in the entertainment and foreign labor migration sectors to combat trafficking," Akther said.