"Before, I did not know what my children were learning in school. Now, I can guide them," says Tamanna Khatun, the mother of five sons who lives in Khulna, Bangladesh.
"I wanted to learn how to write my name; that's why I enrolled in this class," says her classmate, Parveen Begum.
Tamanna and Parveen didn't go to school when they were growing up, but they want a better life for themselves and their families.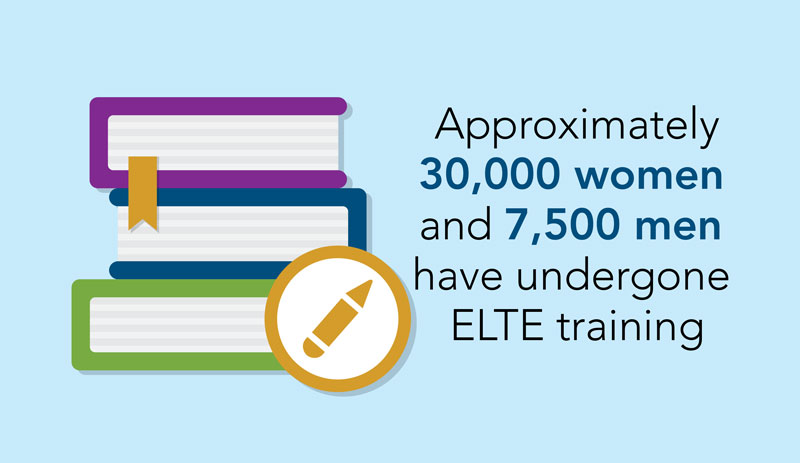 USAID's Feed the Future's Women's Empowerment Activity (WEA), implemented by Winrock International, is helping them get it.
The Entrepreneurial Literacy Training for Empowerment (ELTE) class is two hours a day, five days a week for seven months. Approximately 30,000 women and 7,500 men have undergone ELTE training, which is part of a larger effort that supports 1,350 communities in five districts of Bangladesh.
Chameli Begum leads ELTE classes. Chameli completed secondary school, but her mother and other women in her neighborhood weren't as lucky. "They never knew how to write their own names, and I'd like to see that they know how," Chameli says. In addition to teaching basic literacy, Chameli and fellow teachers Afaza Khatun and Panna Khatun help women learn how to use calculators and cultivate small parcels of land.
"I have a shrimp farm and on the bank of the fish farm I have vegetables. We had a garden before but didn't know about insecticide and fertilizer. Now I know how to take care of the vegetables and the fish, so we are doing better," Parveen says.
Before she took the class, Tamanna only cultivated rice; since the class, she's gotten additional entrepreneur development training and has now started raising shrimp and poultry.
The ELTE class gives women confidence. "Earlier, only men earned money, but now women are also earning money," Afaza says. "They are saying, we know what kind of subsidies we can get from the government and if we don't get them we negotiate for our rights."
Even the simple act of leaving their homes five days a week has made a huge difference for the women. "Before, we were not allowed to go to the market," Parveen says. "But this class gets us out and brings us together. We are more mobile. We can go here and there."
Learning leads to dreaming. "One dream I have is to educate my boys so they can get jobs," Tamanna says. "The other is to have a bank account and deposit some money in my name." She's making progress on both fronts. Her sons are in school, and she's part of a savings and loan group that grew out of the ELTE class.
"My big dream is I want to be self-reliant," Parveen says. "Now I don't have a baby. Maybe one day I will have one. I have to organize my future so I can support it. I met a lot of women in my neighborhood through the class. Now many people know me."
Says Nujulee Begum, gender specialist for the WEA project: "These women, the facilitators of this class, are like candles for the village. They bring light to it." And now, the small flames they've lit are burning bright.