ECO Games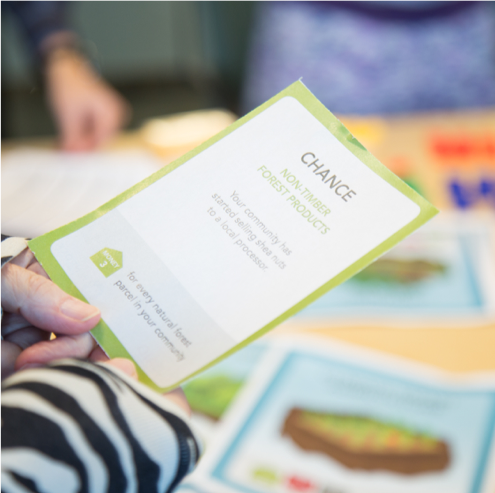 The ECO Game is a fun learning tool designed by Winrock International that educates players about the different impacts their community decisions can have on water, environment, income, and the long-term potential for communities to thrive. Three games have been developed as part of the ECO Game suite of tools, each with different focus areas and key learning outcomes:
ECO Game: Northern Ghana (developed under the USAID Ghana Agriculture and Natural Resource Management (USAID AgNRM) Program),
ECO Game: Ghana Deforestation-Free Cocoa (developed under USAID's Supporting Deforestation-Free Cocoa in Ghana), and
ECO Game: Water Security (developed under the USAID Sustainable Water Partnership).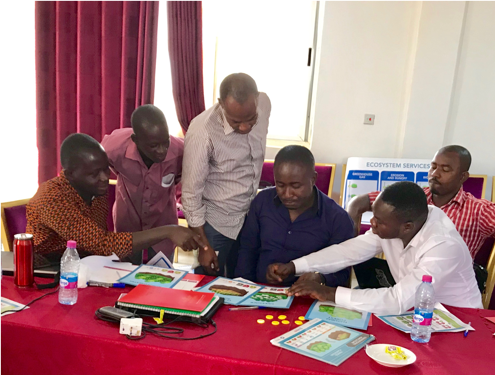 The ECO Games present exciting and effective ways to introduce concepts of resilience, ecosystem services, and water security to classrooms and communities of all ages and backgrounds.
Players split into teams, each representing a small local community. They select from a set of land uses and/or water security activities, each providing specific resources and resilience. Over several rounds, players must survive natural disasters and other chance events while maintaining enough resources to meet household needs. Through game play, communities effectively learn to build resilience through their decisions and broaden their understanding of the importance of sustaining ecosystem services. These games aim to improve long-term community well-being by facilitating stakeholder participation in decision-making and increasing environmental and climate literacy.
Materials for the three versions of the ECO Game are available for download, including all instructions and printable props.