Dr. Anna Snider traveled to Kaduna, Nigeria over the summer to work with  Winrock International host organization, Awakening Nigeria for Agro-Allied International (ANAAI),  a women's group that promotes sustainable and smart agriculture in urban communities. Dr. Snider provided train-of-trainers in homestead vegetable gardening using sacks and containers. After the training, Yahaya Hamman, host member, commented the following "This training has opened up our mind, now some of our women who don't have land to farm can now grow their own vegetables; above all we now know the importance of eating right and eating vegetables. We shall step down this training to other women. We are glad we had this training." 
Last year I had a great time working with leaders of farmers' organizations and extension workers, so I was happy to have a chance to come back to Nigeria to work with the Winrock team again.
This time I built sack gardens with members of Awakening Nigeria for Agro-Allied International, an NGO in Kaduna. The idea is that the members will spread this knowledge to people in the Internally Displaced Persons camps, adopted villages and women who are less able to get out to the fields because of cultural reasons or insecurity. Sack gardening is almost as simple as it sounds: gardening in a sack instead of a pot. But it gets interesting when we use really big sacks—100-pound rice sacks or even larger. With a sack that large you have a large space for planting on top, but you can also cut slits in the sides and plant some leafy vegetables like lettuce, cabbage, kale or even onions. That multiplies your space and allows you to plant a small vegetable garden in the space that you could normally have just one tomato. Drainage becomes a problem with such a deep sack, so we have to add a column of gravel to help the water get all the way to the bottom.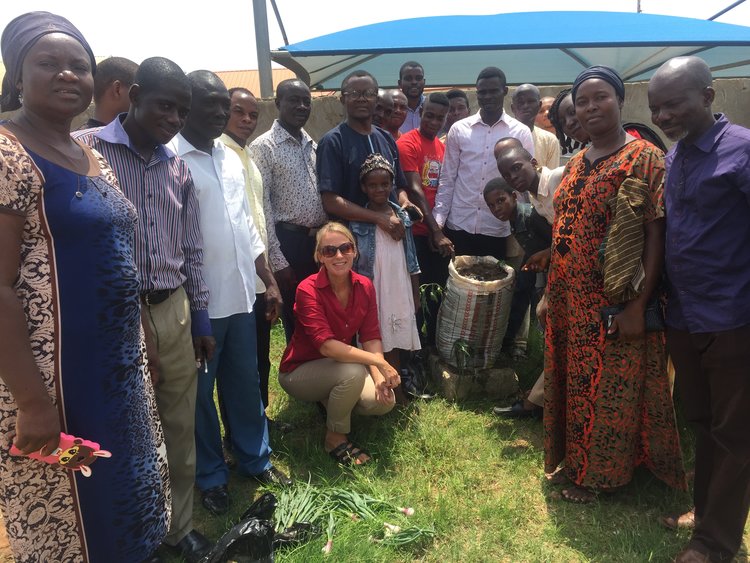 You can see in the video how we used a large metal can with both ends cut out to form the column of gravel. As the sack is filled with soil, the can is filled with gravel. The can is slowly pulled up to guide the placement of the gravel. (On a side note, I ate a lot of canned tomatoes to get enough cans for this workshop!)
Just like my last experience in Nigeria, the participants were active, curious and eager to get involved. In two weeks I worked with three groups. Each group build at least one sack garden, and one enthusiastic group built six sack gardens, experimenting with different plants and soil mixes.
But just growing more vegetables doesn't improve nutrition. I also taught a nutrition component to help the participants improve family nutrition. Since the sack garden is perfect for growing leafy green vegetables, it is a great tool for Nigeria's biggest nutrition problems– vitamin A and iron deficiencies.
Just a few weeks later the emails and photos are already coming in. Members of the ANAAI have already trained other members of their communities, including residents of an IDP camp in Kaduna. And the results keep multiplying!
To read more and view her video, please follow the link: http://www.annasnider.net/ to Anna's blog.