At the end of her assignment with an agricultural university in Nepal, Farmer-to-Farmer volunteer Susan Pavlin reflected on the connections she made and future impacts of her work. She shares her thoughts in the blog entry below:
"At the end of my first class at Tribhuvan University's Institute of Agriculture and Animal Science, I was rewarded with a plaque from the student organization as a Token of Love. At first I smiled at the quirky expression of appreciation, but soon I thought more deeply.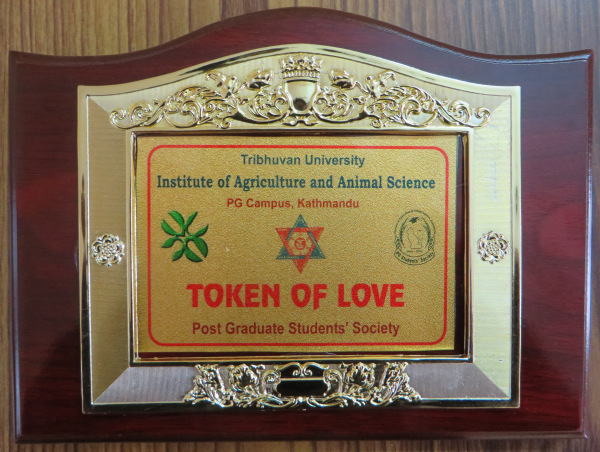 I had arrived in Nepal to prepare both agriculturally focused students and faculty to become more effective technical writers, whether pursuing funding for their research and projects or publishing their work. And I never met a more dedicated group of students than the post grads at TU. On their winter break from school, they came in every morning at seven – three hours before the official workday begins, to develop their skills. They were strong, critical thinkers who were advanced in their scientific knowledge and, in many cases, experienced in the fieldwork that makes the knowledge truly valuable. Each of the students pushed to get the most out of class, and followed up on extracurricular assignments as well.
During my stay, I have learned more about the Nepali scientific and educational opportunities that abound in this country today. On the brink of exciting technological developments and agricultural advance, the county is truly in need of these professionals – and they, in turn, have expressed their love for their country and for their education by sticking to their studies at all hours, even in the face of strikes, power outages and any number of practical challenges that are part of daily life.
While many hope to pursue education overseas, I truly believe that their love of country and all of the opportunities it offers will draw them back to Nepal, like the senior professors I met – some of whom were among the founders and first of academia in Nepal. It is here that they can enrich generations of students to come, build their country's infrastructure, and solve challenging questions around agriculture, sustainability and economy. As I move on to begin teaching classes for faculty at a second university in Kathmandu, I am thrilled to see how the technical writing skills – finely honed in our class, highlight the ground-breaking research being done by Nepal's agricultural professionals. The students have shared their love of country, their love of science and agriculture with me, and I will take that token of love and hope to return again to see them building their country."
–Susan Pavlin