Winrock's August Volunteer of the Month is Ms. Erin Riley, a Rio Puerco Field Office Rangeland Management Specialist for the Bureau of Land Management (BLM) in Albuquerque, NM. Erin took a different kind of trip to do a volunteer assignment with Winrock International and USAID. Erin traveled to Zaria, Nigeria, for two weeks to assist in a farmer-to-farmer program teaching local teachers, researchers, and ranchers techniques in assessment, rangeland management monitoring, and agriculture pedagogy that can be used in developing countries. Erin commented, "Flying into Kaduna, Nigeria, the smoke was like a fog and the smell of charred earth wafted in the air". The locals burn the fields to put nutrients back into the soil. She could see thatched roof huts in rural communities and herds of white Fulani cattle congregating under large acacia trees trying to keep cool as the airplane descended in its final approach.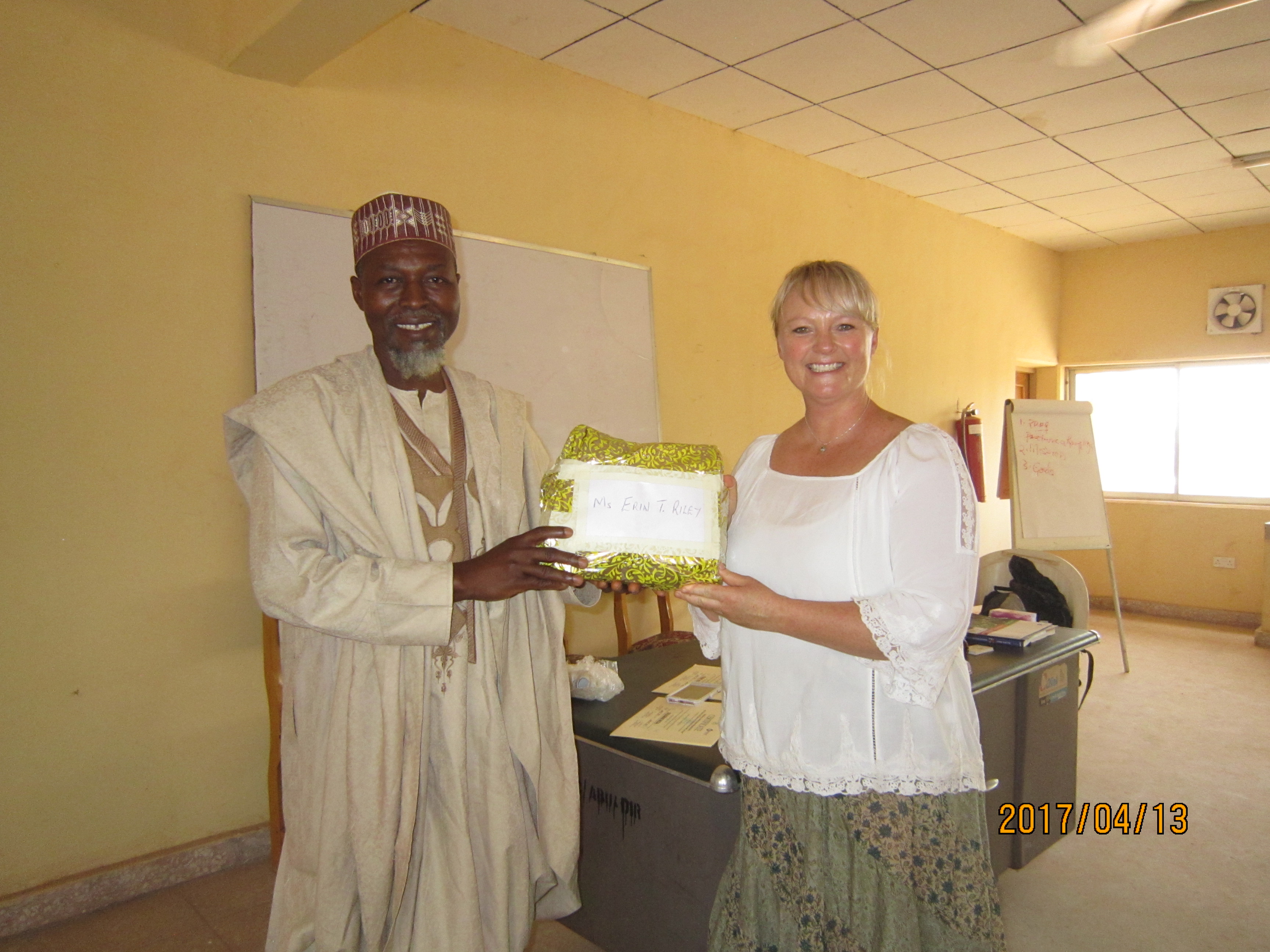 In Zaria, numerous herdsmen move their cattle from Niger through Nigeria to other countries in Africa. This is a traditional migration following seasonal patterns of weather. It is done to avoid conflicts in the northeastern part of the country that causes local farmers' crops to be sacrificed due to lack of fencing. Taking knowledge that she has learned from the BLM and explaining how the United States dealt with similar grazing issues in the 1930s was an amazing opportunity for Erin as well as the agriculture community in Zaria, Nigeria.
One of the highlights from Erin's volunteer assignment was in Zaria was when she was talking and working with the women there. They were very interested in the differences in the USA such as it is cheaper to buy dresses already made than cloth and make your own and it was cheaper to buy drapes from the store than to make them. This was something that was difficult for them to comprehend.
Erin is hopeful that more opportunities will arise for BLM employees to share the wealth of knowledge they have, not only locally, but also to other countries through important outreach opportunities. Finding solutions to conflicts, ideas of how to sustain cattle in the dry season, and economic opportunities for agriculture professionals proved to be mutually beneficial in this instance.
We asked Erin to reflect on her experience as a first time Farmer-to-Farmer volunteer. She shares her thoughts below:
Why did you want to volunteer and why should people consider volunteering?
In 1999 I was a Peace Corps Volunteer in Ecuador. It was one of the best experiences of my life. Serving underserved communities is an important part of being a good global community member. The best part of volunteering is the personal growth you get from it. Sometimes you question if you really did any good or you were effective in your teaching. But if you ask yourself "did I learn anything from that experience that will make me a better citizen" most of the time the answer would be yes. You will never regret visiting this amazing place.
What made your Winrock volunteer trip distinctive? How do you feel about the support from Winrock, whether before, during or after your assignments?
The Winrock volunteer trip was distinctive to me because I have never traveled to a West African country before. The food, people, culture, landscape and most everything was very different, yet lots of things were similar. Winrock was AMAZING. From the time that I was selected for the position till the time I returned home and finished my end of assignment write up, the Winrock staff was exceptional. I would work with any of these people again.
How have your assignments made a difference in your own life? Has your assignment caused you to do anything differently once you returned?
This assignment has helped me to grow professionally. Currently, I have taken on extra assignments that deal with conflicts between cattle ranchers. This experience has given me the confidence that I can handle most any situations when dealing with difficulties at work and at home.
When your friends/family find out that your volunteer assignment aboard, what do they say or ask?
They were amazed at first. Then they wanted to know how the food was, what animals I saw, was it safe, what were people like, what was the living conditions like and many other questions. Many of my friends and family were unaware of what life was like in Nigeria as was I.
How do you feel that your volunteer assignment has contributed to creating a shared understanding across different cultures through person-to-person interactions?
This interaction has helped immensely with sharing cultures. I think both of us understood that we have more things in common than things that are different. We also were able to see people in real life and how kind, joyous and thoughtful we were. All in all, this experience was amazing and really brought out the humanity in humans and me.