This week's blog comes from F2F volunteer, Thomas Sallee, who traveled to Bangladesh to build the capacity of faculty and students from Khulna University Life Science School and Sylhet Agricultural University on advanced statistical analysis in agricultural research. Mr. Sallee is an agricultural economist and a former agent with the United States Department of Agriculture National Agricultural Statistics Service (NASS). He also has experience working in nine developing countries where he has designed software and management systems for agricultural data and provided training on data collection, database design, survey design, and data analysis using statistical software packages.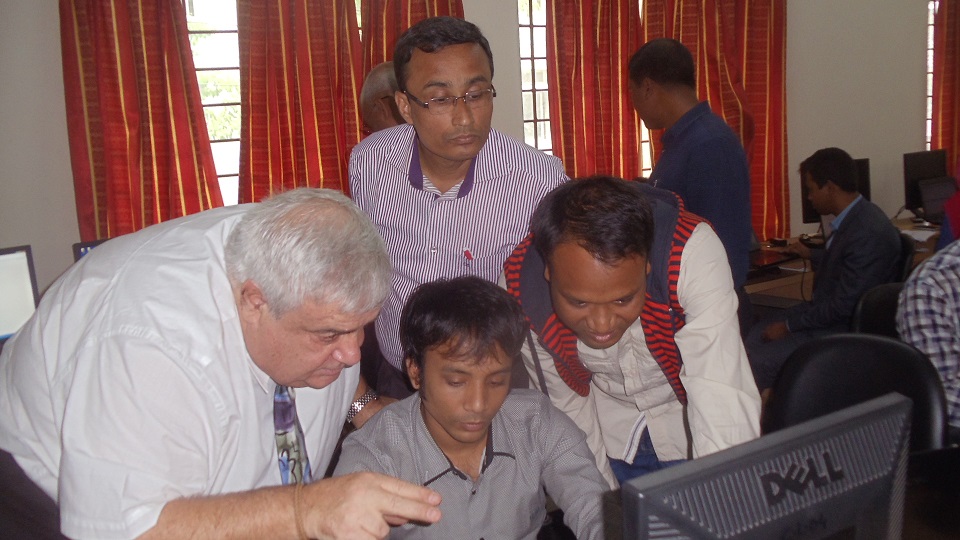 "When I arrived in Dhaka I expected a lot of traffic and I wasn't disappointed. Honking horns from rickshaws to compressed natural gas (CNG) vehicles to buses surrounded me. But I never saw any accidents during my entire stay. Dhaka is a large modern city with high-rise buildings and nice hotels. Flying to Jessore on my way to Khulna was quick and easy and the drive to Khulna took me through some beautiful countryside. Even though it was the end of the dry season, the irrigated rice paddies were lush and green and seemed to stretch on as far as I could see. Khulna is a divisional city with many modern buildings and shops filled with fashionable clothes and the hotel where I stayed was as nice as any I've stayed in back in the States. The people I met were friendly and courteous. Participants involved in the training I was providing at Khulna University were knowledgeable and quick to grasp new ideas. They were also hospitable and invited me to a barbeque of delicious chicken. I enjoyed all the food in Bangladesh, but the friendly atmosphere of the barbeque made this meal particularly pleasant.
Traveling to Sylhet I saw a different landscape full of hills and tea gardens. I had never seen tea being grown before and it was interesting to see the sturdy green shrubs clinging to the sides of the sometimes rather steep hillsides. I wondered how the harvesters could trudge along those narrow paths carrying baskets full of tea on their backs, but it is all they do for a living and they seem to have learned how to overcome gravity. A tour of a tea drying plant, which was founded in 1875, was also quite fascinating. I was invited to a dinner party by the participants in the training at Sylhet Agricultural University. This was a banquet at which various participants played the harmonium, drums, and the flute, accompanying themselves beautifully as they sang songs composed by their Nobel Laurate, Rabindra Nath Tagore. Finally, the group sang several traditional folk songs with quite a lot of gusto and hand clapping. After a delicious meal, they kindly presented me with a miniature rickshaw, which is the customary gift for visitors to Bangladesh. They also graciously gave me a gift of a purse to take to my wife back home.
Although Kabaddi is their national sport, cricket is very popular in Bangladesh. While I was there, Bangladesh beat Sri Lanka in Test cricket[1] for the first time ever and became the fourth team in the history of cricket to win their 100th Test match. The whole country was celebrating. Everyone was more than happy to explain what was happening and by the end of the second day I could almost keep up with the play-by-play announcers.
I really enjoyed my time in Bangladesh, with its beautiful scenery, cheerful people, and wonderful food. Everyone I met was interested in the United States and thought highly of Americans. Even though there have been rare isolated incidents, I never felt threatened or alarmed. My only concern was trying not to eat too much of the delicious food."
[1] Test match cricket is the longest form of the sport of cricket and regarded by players and serious cricket fans as the ultimate test of playing ability as compared to one-day international cricket. Test matches are played only between national representative teams selected from the best players within a particular nation.