Goat Farmer Recovers from Earthquake Devastation with F2F Volunteer Assistance
After returning from seven years of working in Dubai (a common trend among youth in Nepal), Keshar Jung Adhikari Chhetri started the Lekali Goat Farm in Syangja, Nepal. With just 18 goats and very little experience, Keshar was in need of training to ensure his goats were healthy and his budding business was profitable.
F2F Volunteer Dr. Daniel Miller arrived in early April 2015 to provide training to AP Agro Livestock Research Company Pvt. Ltd. members and neighboring community farmers on goat production. Keshar and 24 other Nepali goat farmers in Syangja (70% youth) received information and hands-on applications of techniques such as fodder production, nutrition, neonatal care, genetic selection, housing, record keeping, disease management, sanitation, and body condition scoring. The trainees learned how they could easily improve the health and quality of their goats with simple behavior changes, such as providing a nutrient-rich diet, regular water, and treatment for parasites.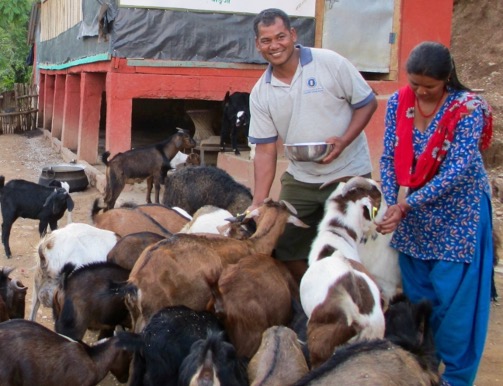 Just a few days following the training provided by Dr. Miller, a devastating earthquake struck Nepal. Keshar and his family were thankfully uninjured but lost their home in the earthquake. Over the course of the next year, they began to rebuild but started with constructing goat sheds using the advice from Dr. Miller on proper ventilation and slatted floors for waste runoff. Keshar knew that in order to recover from the earthquake, he needed a profitable business, which started with quality goats and careful record keeping. While his family was living in a section of the goat shed, Keshar grew his herd to 51 healthy and hearty goats and kids using improved nutrition and health techniques learned from the volunteer. From April 2015 to May 2016, he sold 18 goats for $1,900, increasing his net income by over $300 from the year before. Six other youth goat farmers associated with AP Agro Livestock Research Company Pvt. Ltd. increased their incomes by over $200 within the last year. In addition, through the Model Goat Campaign training, started by AP Agro, more than 120 youth farmers initiated new goat production businesses.
The Lekali Goat Farm is now a model for other farmers in the district and across the country and has significant demand from customers who come to purchase goats directly. While the road to recovery is a long one, F2F volunteer training helped this family get back on their feet and turn an emerging entrepreneur into a model businessman.