In May-June 2011, Dr. Julie Heifetz volunteered her time to provide training and guidance to a women's cooperative in Mali, as part of Winrock's USAID-funded Farmer-to-Farmer program. She came to Mali to provide inspiration, and she ended up leaving inspired herself. Reflecting on her experience, Julie offers the following thoughts:
"Faso Yirwa Ton Women's Cooperative was created in 2005 but remained a fledgling, loosely-organized group of 52 poor, non-literate women in Banamba, Mali who were struggling to deal with poverty in their communities.
In 2011, with the support and direction of Mali's Regional Directorate of Animal Production and Industry of Koulikoro, the Faso Yiriwa Ton ("Home Welfare") Cooperative decided to do something about their condition and sought Winrock's Farmer-to-Farmer program's technical assistance.  The Cooperative's common objective is to strengthen the cooperative's organization and management capacities in order to become a viable, self-sustaining, legal cooperative capable of income generation and engagement in the marketplace. Since its inception, the cooperative lacked training; didn't fully understand the rationale, benefits and value of a cooperative; and knew little about board roles and responsibilities or how to run a business. In response to the Cooperative's request to Winrock, I was asked to provide assistance and conduct a three-week cooperative capacity-building training in Banamba.
As a previous Farmer-to-Farmer volunteer with a background in women's empowerment, development, and agriculture, this was an ideal assignment. Furthermore, I have been a fan of Winrock's Farmer-to-Farmer program since my first assignments in Uzbekistan in 2004 followed by Kyrgyzstan in 2006 and Far Eastern Russia in 2008. Winrock deserves the greatest respect for their work and ways of working; a lengthy thesis could be written on the subject.
The Mali project's scope of work was clear-cut: to share best practices in cooperative management around the world; to impart an understanding of the benefits, roles and responsibilities of a legal cooperatives; to explain the function of  boards of directors and cooperative leadership; and talk about how are dues collected, accounted for, and spent on collective purchases such as grain to feed the goats, sugar and other staples that could be purchased in bulk through collective bargaining. To become a durable cooperative,Faso Yiriwa Ton (with outside support) had developed a constitution and bylaws; the women were making progress to become legally registered with the government, but the members had not read or understood the governing by-laws and constitution. The women needed to know what is, and why and how to develop a cooperative business plan and strategic plan. Happily, by the end of the assignment, all of these issues were discussed and addressed.
From the first meetings with each of the people in the field, there was a tender human connection which strengthened daily and grew to become a powerful bond. At the outset, the Winrock field officer and I met with the government livestock officers, eager champions of women's cooperative development. As part of an informal needs assessment, we toured the villages in Banamba; the women proudly led us to their henna fields which are delicately cared for by carrying water from a distant well to nurture a few plots of henna, their primary agricultural product used on the feet and hands. We befriended the rather-scrawny goats and sheep that were a meager source of income for the village women. A visit to the houses of President and Vice-President followed, in order to set the training agenda which had to conform to the schedules of daily prayer and family duties. Visiting the livestock market was a stunning example of bartering and bargaining on the part of men for the most part and a few women engaged in selling their prized cattle and small ruminants -goats, sheep, and chicken.
On the first training day with the women of Banamba, one woman began the workshop summing up a commonly-felt refrain, 'We are poor women with so few resources, few skills, and little respect from the outside community. We want to be respected, to have more money for our families, and a better livelihood.'
The erroneous notion that outside consultants and volunteers are the experts who know-all was ever-present in my mind. Therefore, together we explored what was positively-working in the community, what systems were in place, what were the gaps and how had the women progressed to date. They were in fact using the traditional tontine system as a financial framework wherein  dues collected would be pooled and shared to make collective purchases and loans to cooperative members.
Under the shade of a tree, sitting daily on handmade mats, 35 women and 2 government livestock officers participated for 12 days in cooperative organizational development training.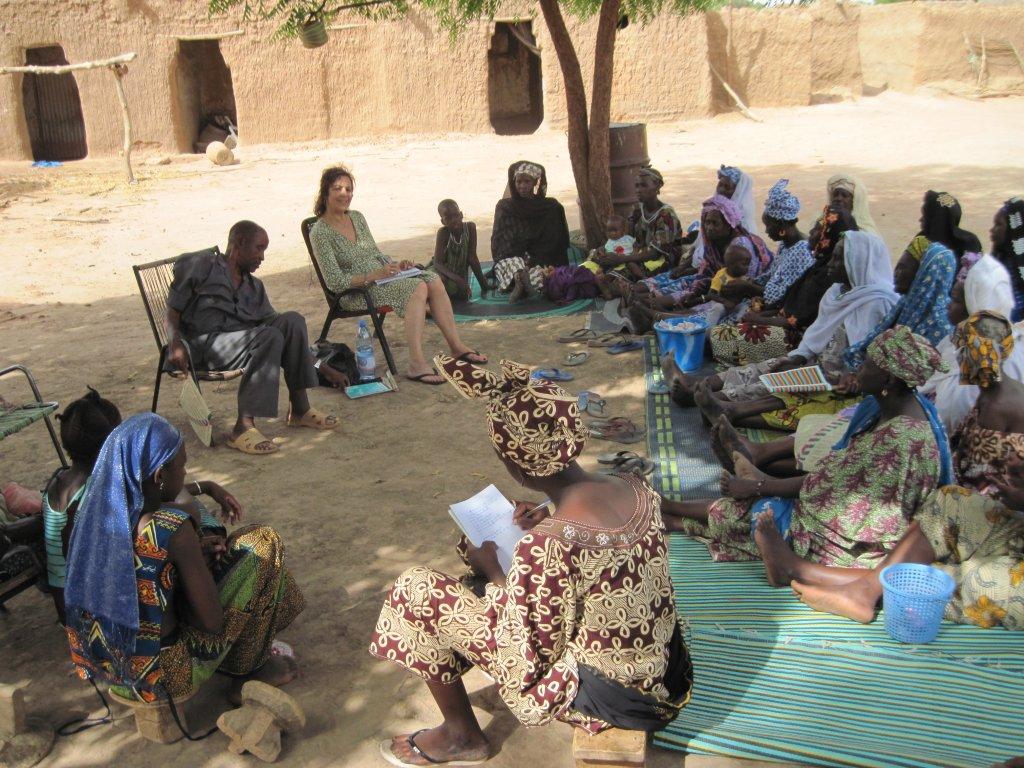 By the end of the training as the participants viewed photos of other poor women from Sri Lanka, Bolivia, and other parts of Africa who had strengthened their cooperatives and had become legal rather than ad-hoc entities, everyone had gained an enduring vision of what was possible. These models were inspirational demonstrations that this group of women was capable of negotiating with buyers, creating their own production units or business operations, marketing, and generating income from their unique products. They could successfully pool resources, bargain with outside vendors, and make loans to each other while charging interest that would then be reinvested in the cooperative. A significant milestone achieved was an exposure visit of 9 Banamba women to the Kulikoro village cooperative "Sigi te Mogo Son," which  means  "Just sitting is not rewarding." It was the first time any of these women had traveled many miles beyond their villages to meet with another women's cooperative to learn the successes and failures of cooperatives first hand. Now the President and officers of Sigi te Mogo Son are accessible by cell phone to advise the Faso Yirwi Ton members on an as-needed basis. A few days after the visit, local livestock agents brought the official documents to be signed by the newly-born cooperative members, making theirs a legally registered cooperative. We celebrated the birth of the now legal cooperative with Malian tea and peanuts; it was during that celebration that I was given a Malian name Miriam Fofana, and I promised to remember and take care of this newborn as if it was my own kin.
I was intensely touched to see the twinkles in so many womens' eyes as they expressed their newfound confidence, enthusiasm, and belief that they were on the path to a brighter and proactive future.
My parting words to them: Women, men and children of Banamba and Kulikoro: You have taught me as much if not more than I have taught you. I leave with a confirmation of the importance of community, sharing, taking care of each other, respect for your elders, and that all the children are everyone's children to raise. Speak up for yourselves and your cooperative, you are strong women in every way – each of you and all of you together."
–Julie Heifetz, Cultural Anthropologist Ph.D