Dr. Herring was nominated by the Myanmar team because of his ability to quickly absorb the local situation in the field and adapt those observations into an informative presentation and training. He got along well with all the farmers he met, was well prepared and focused on the work. "Dr. Herring's assignment and shared information delighted the host and cattle farmers, it presented real opportunities in livestock export if they practice cattle farming systematically. It pointed out potential investment areas and possible collaboration between US and Myanmar" Ai Kyaw, Chief of Party, Myanmar. We asked Dr. Herring to reflect on his volunteer experience and the trip to Myanmar, his responses are below.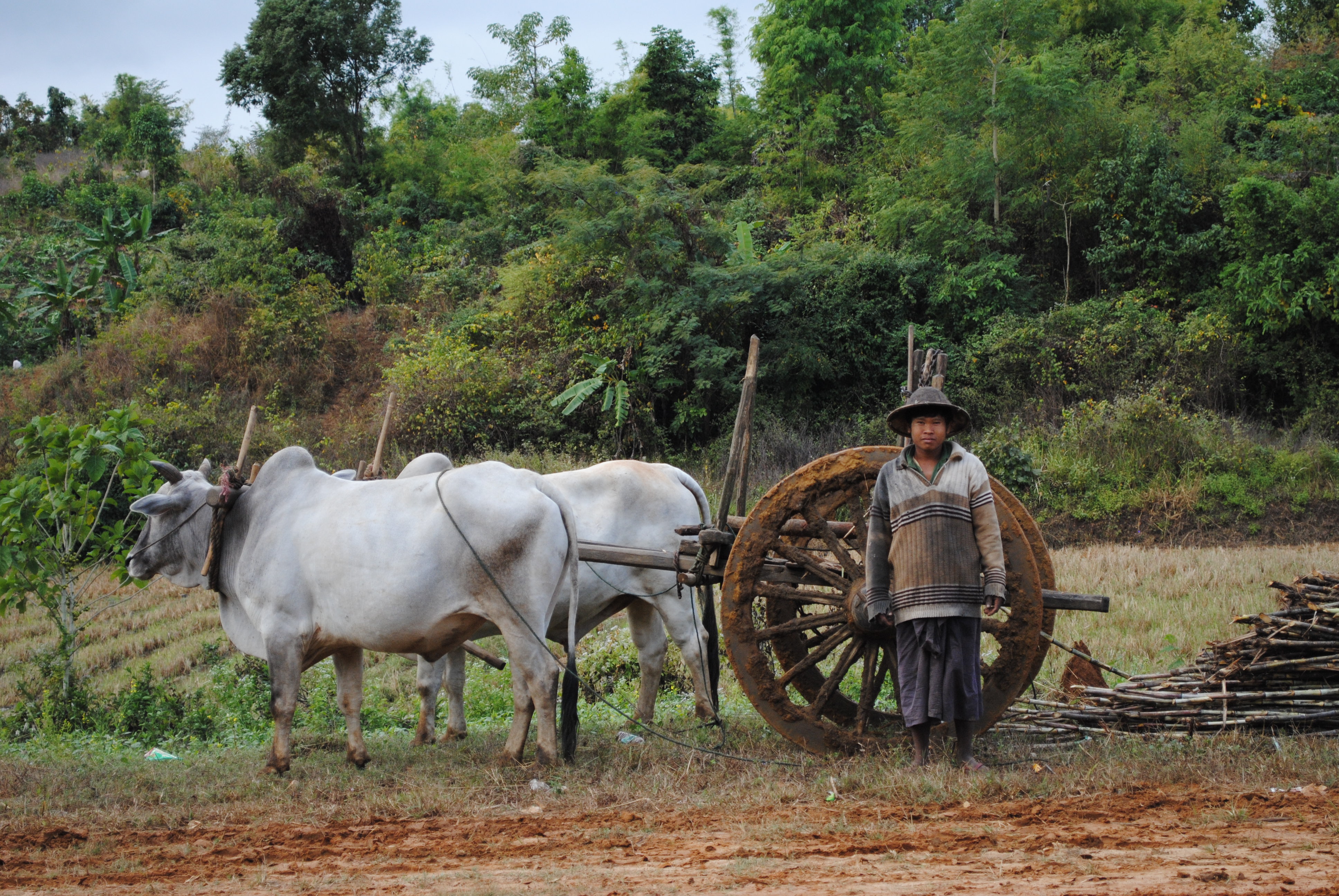 My Winrock volunteer assignment was to assess the Myanmar cattle industry and to make recommendations regarding potential improvements and developments as the industry there transitions from a draft-based cattle industry toward more organized beef production. I was in country from 1 to 13 January 2018, and my host was the Myanmar Livestock Federation (MLF).
1.Why did you want to volunteer?
I am interested in opportunities that expand my knowledge base, especially those that also help other people involved in animal agriculture, and particularly those involving cattle producers.
2. What was the highlight of your most recent volunteer assignment abroad?
The most valuable resource in the world is people, and I thoroughly enjoyed meeting and interacting with people involved in the various aspects of livestock production in Myanmar, and experiencing their culture and friendship.
3.What made your Winrock volunteer trip distinctive?
I had never been to Myanmar or this part of Asia. One of the most distinctive aspects of this trip was seeing the degree that farmers rely on their cattle for draft work and transportation, and to personally visit and contribute to one of the less developed countries of the world.
4.How does your experience affect your worldview?
The first thing it does is reinforce my thoughts on how fortunate people in the USA and other developed countries are regarding our daily lives. Many in developed countries do not realize how little of our annual income we have to spend on food. In the USA, in particular, we also have many liberties that people in other countries do not have. The second thing it reinforces is how similar people all over the world are.
5.What advice would you give a new volunteer?
1) Keep an open mind about seeing new cultures and circumstances; it will be a great learning experience. 2) the people you meet will be very appreciative of your choice to volunteer. 3) don't be afraid to ask questions, and always have patience and politeness. 4) the only impression some people may ever have about the USA could come from their experiences with you.
6.Why should people consider volunteering?
It will be a tremendous learning experience, and it will be rewarding personally. Even if there is a day or two that you wonder why you agreed to volunteer, you will be glad you decided to do it.
7.How have your assignments made a difference in your own life?
I have become more motivated to help cattle producers whenever I can. I have also become more motivated to work with producers and industry groups in developing countries.
8.How do you feel about the support from Winrock, whether before, during or after your assignments?
The support I had before the trip was excellent. The in-country support that I received in Myanmar was outstanding and surpassed my expectations. All Winrock personnel were very professional and courteous in all my activities. The Winrock Asia F2F Myanmar staff were excellent partners working closely with MLF to organize informative meetings, tours, and farm visits that not only helped me understand their industry and livestock production conditions but also helped me understand the culture and daily lives of Myanmar people.
9.When your friends and family find out that your volunteer assignment was abroad, what do they say or ask?
The main questions they ask are about how different things were there compared to here. Some of those things include food (rice at every meal and lots of spices!), living and driving conditions (which were much more congested than we are used to, and most cars are right-handed because they are used to cars from Japan, but they also drive on the right side of the road), and the cost of various household items (food and many items are much cheaper there than in the USA).
10.What do you do when you're not volunteering?
I am a professor in the Animal Science Department at Texas A&M University, and teach classes and conduct research regarding beef cattle production. However, my most important job is that of dad and husband, and my biggest challenge is time management. I also enjoy working outdoors on the small cattle operation my family and I have.
11.Does anyone in your life play a role in supporting your involvement? In providing inspiration?
I try to minimize time away from my family, but they are huge supporters of me when I choose to go on volunteer assignments. As my children have become older, it has become easier for me to volunteer more. Both of my parents also encouraged me early in life to perform service and volunteer type activities.
12.Do you keep in touch with your host organization? [Host organizations are the organizations that receive volunteer support]
Yes, mainly through social media. I hope to continue communication with them in the future.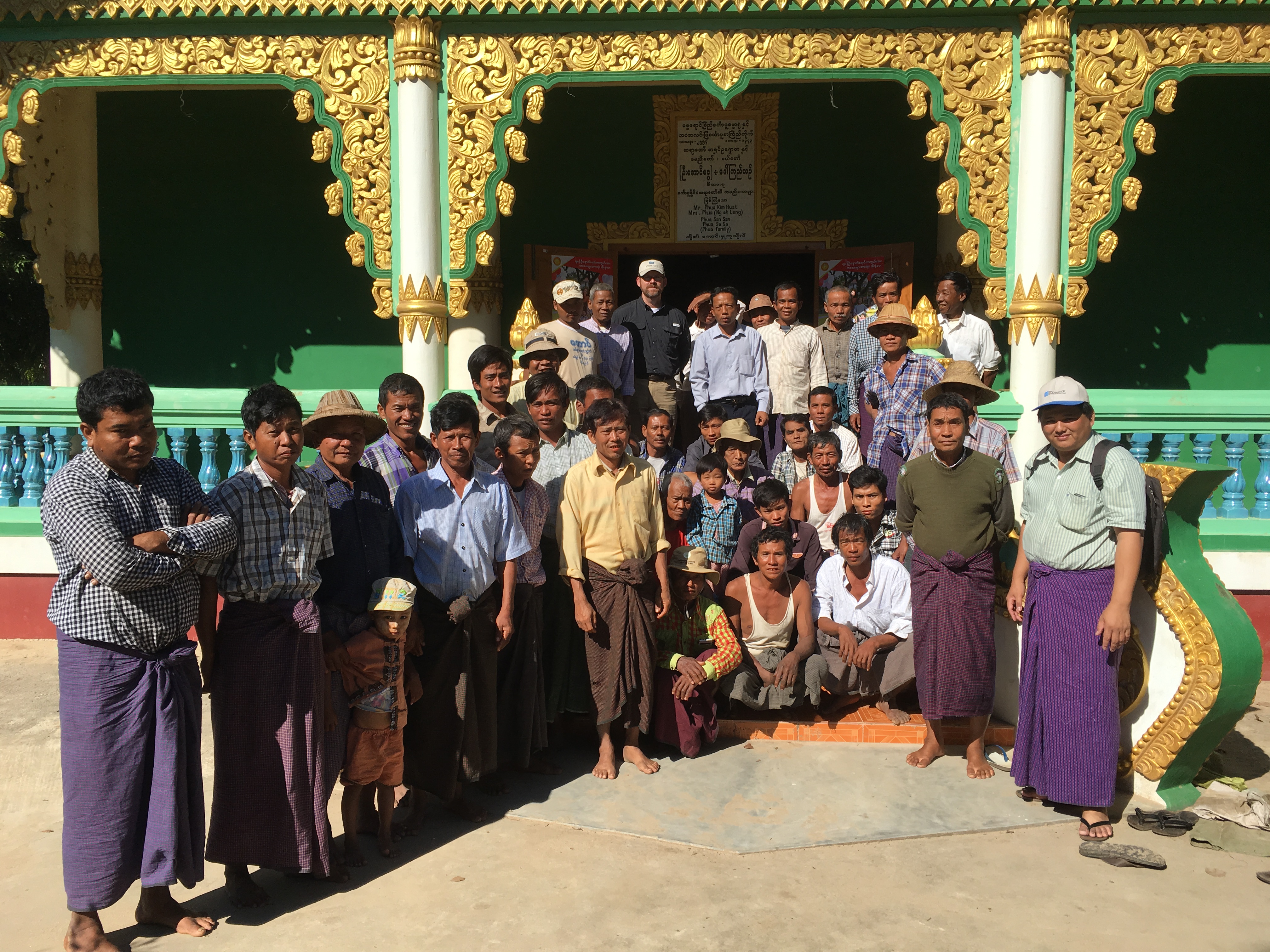 Dr. Herring with cattle farmers near Yanthar village in the Mandalay Region
13.How do you feel that your volunteer assignment has contributed to creating a shared understanding of different cultures through person-to-person interactions?
I am very glad to have contributed in a small way to a big-picture activity. The more that people understand and appreciate each other's cultures, the more effective communication can be achieved, and more efficient learning and improvements can be made. The interactions I had with cattle farmers was very enlightening for both me and them.