Winrock International started working in Nigeria with the Farmer to Famer Program in 2001 and over the past 13 years conducted over 311 volunteer assignments ranging in subject matter of swine management, apiculture, aquaculture, cooperative development and microcredit financing. Winrock made a commitment to improve the lives and livelihood of the people in West Africa and works every day to fulfill that commitment in Nigeria, Guinea and Senegal.
The latest F2F Program for Agriculture Education and Training (F2F for AET) leverages the expertise of skilled volunteers and partnerships with the private sector to increase agricultural sector productivity and profitability, and strengthen agricultural sector institutions in Guinea, Nigeria, and Senegal. F2F for AET will generate sustainable food security and economic growth by introducing new agricultural technologies and innovations through formal and informal AET institutions, and developing local training capacity for more productive, profitable, and sustainable agricultural systems.
From October 2013 – September 2018, Winrock expects to mobilize 300 volunteers to provide training and technical assistance to formal AET institutions (e.g., universities and training centers) as well as producer groups and service providers working directly with smallholder farmers. These efforts will equip a new generation of mid-level agriculture technicians to address evolving agricultural production and marketing challenges.
The continued success of this program lies with the staff of the well trained and professional employees in our Abuja office:
Mike Bassey (Country Director)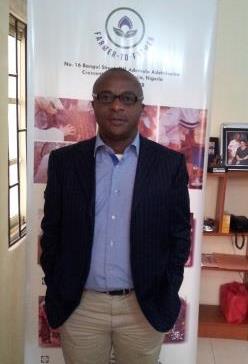 Mike joined Winrock in April of 2011 after hearing about Winrock from a friend. When Mike isn't working at the office, he either spends time with his family or at activities within his church, including volunteering in his local community.
When asked what inspires him about working for WI Farmer to Farmer, he replied "What inspires me most about the F2F program is seeing the smile on the faces of the people we work with and of the lives the program touches. What makes my job rewarding is working with the Winrock team and the contact with volunteers."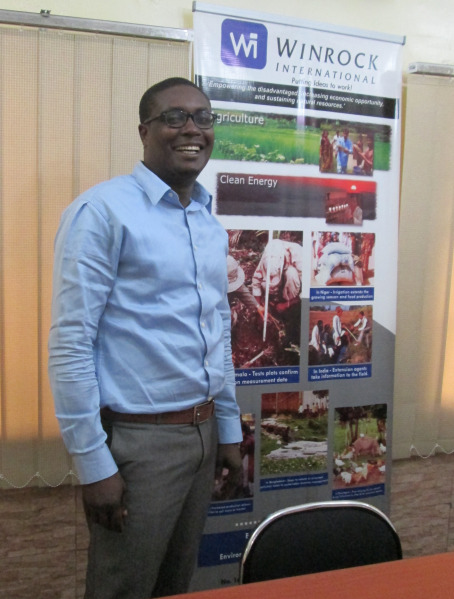 John Iruaga (Assistant Country Director)
Mr. Iruaga heard about WI from a family member who had started his career in development working with WI. John learned even more good things about WI from his former employer, Fantsuam Foundation; a CBO based in remote area of Kaduna State. Starting at WI in June of 2011 as a Program Assistant, John recently became the Assistant County Director for the five year Farmer to Farmer AET program.
When asked what he found most rewarding and inspiring about working for WI:
"What inspires me most about the F2F program is the privilege to work with experienced professionals from all walks of life in contributing to the social/economic development of my country. And the most rewarding thing for me about the program is that it has given me the opportunity to learn not just in the area of agricultural development but in other areas like administration, financial management, public relations, community development and sustainable livelihood. In fact, the list is endless."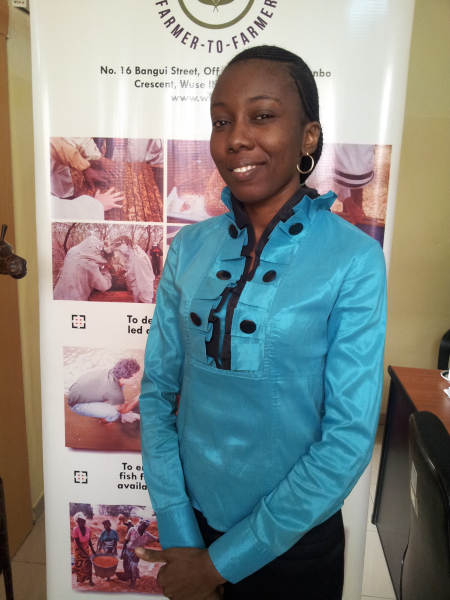 Adebola Adesina (Finance & Admin Manager)
Ms. Adesina started with Winrock International in February 2012 after hearing about WI from a friend. When Adebola when is not working, she enjoys reading books and spending time with family and friends.
Adebola says that one of the things about F2F program that inspires her is "the fact that I am a part of the team that touches lives and improve the well-being of our society. Also that my knowledge is broadening each day."
Ibrahim Samaila (Office Assistance)
Ibrahim has worked for the Nigeria F2F program for four years, starting in August of 2010.
When asked what he finds most rewarding about the Farmer-to-Farmer Program, he says:
"The Farmer to Farmer Program has built my capacity even as office assistance. Working with the staff and volunteers on this program has helped me to be able to interact with people from different background and walks of life."
Blessing Ndah (Driver)
Blessing joined the Winrock family in 2011 as a casual staff member and then permanently in 2012. He heard about WI through friend and colleagues that were discussing the F2F program in Nigeria.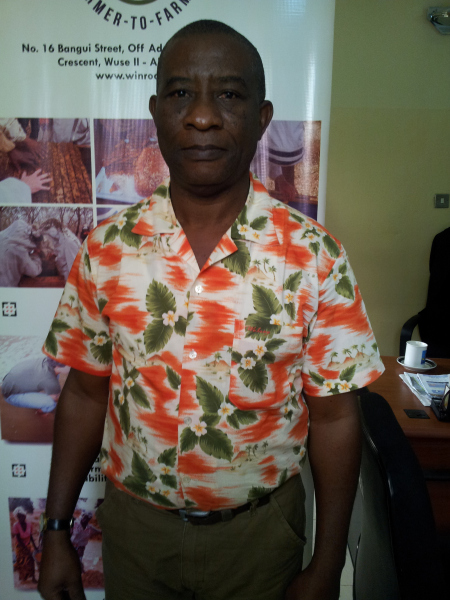 When Blessing is not working he likes to read books and continues to give back to his community by teaching children. When asked what about WI he found the most rewarding, he replied:
"The things that make the F2F program rewarding is that it is a one stop shop, in the sense that you are employed as a driver but you end up learning a lot of different components of the program. So you end up been more educated than when you came in."
---
Our F2F – Nigerian staff distinguish themselves with their commitment to the people of Nigeria and to improving their lives. They demonstrate that commitment every day with their hard work and professionalism no matter what the situation is. They truly care about the volunteers and the host organizations and it shows in their continued success with F2F.