Today's blog entry is from volunteer Dan Miller, who describes some of the sights and activities from his time in Bangladesh:
The first impression that you get when you get out of the airport in Dhaka is that Bangladesh is very crowded. You would be right. A country slightly smaller than Louisiana has almost half the population of the US, and everyone in Dhaka seems to be on the street at the same time. The only saving grace is that most people are being moved in either rickshaws or small motorized vehicles called Easy Bikes (battery operated) or CNG (natural gas operated). If they were all in cars, the city would come to a complete halt.
Once you get out of Dhaka, the country side is verdant, at least now that the monsoons are almost over, and the fields are flooded. This isn't necessarily bad because the fields are rice paddies, but they are still too deep in most cases to be planting rice. Any place that isn't covered by houses is covered with plants. They even plant a tree called dhoincha (Sesbania spp.) that they use for fuel and goat fodder. Since it's a legume, it helps put nitrogen in the soil so people don't have to buy fertilizer.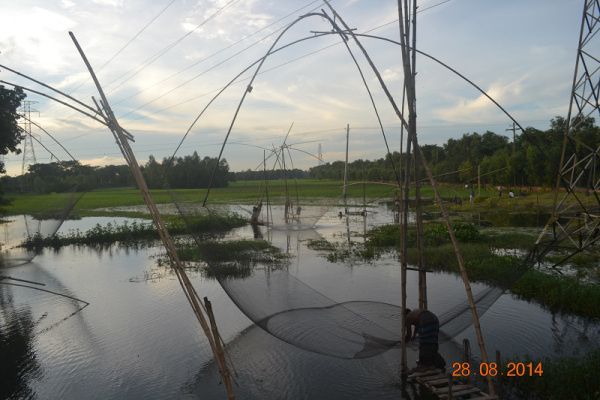 This time I went to a town a bit to the north of Dhaka, Tangail, to work with an NGO, CMES, that is trying to train [out-of-school youth] for productive lives. Here people drop out for financial reasons.
In the area I was in, there was a large weaving industry. People would work at looms making saris and scarfs out of cotton or silk, and the looms were generally in a couple of buildings in a village so people could get to work easily. The other income earner was jewelry making. One community was filled with people who spent their time making earrings, necklaces, bracelets and all kinds of similar things. And things were very inexpensive.
In the rural areas, almost everyone either farmed, or sold stuff and provided services to people who farmed. Rice, of course, is the main crop, but they also produce other things. Milk is a money earner. Goat meat is expensive. Fishing in the rivers produces some food. They grow jute which is a coarse fiber for making ropes and burlap. There are bananas, sugar cane, mangoes, star fruit, guavas and a bunch of things I've never seen before. They have a lot of chili which they use liberally in their food. Poultry at a variety of technological levels is produced. Some of it is backyard where the chickens and ducks make their own living and their own reproduction, and some is at a level almost as high as the US ten or twenty years ago with everything tightly controlled.
Anyone who has a yearn to experience something different should come to Bangladesh.