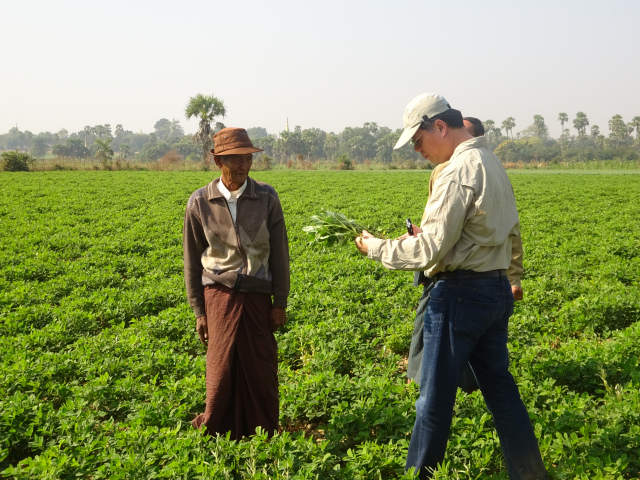 F2F Volunteer introduces Good Agricultural Practices to oil crop farmers in Myanmar
The USAID-funded Asia Farmer-to-Farmer Program, implemented by Winrock International, provided technical assistance for the Magway Region Farmers Development Association (FDA) to improve their oil crop production. Volunteer, Dr. Martin Lo, from Maryland conducted training on Good Agriculture Practices (GAP) for oil crops, including sesame and peanut. Network Activities Group (NAG), a local NGO, supported this training as a partner organization.
Good Agricultural Practices (GAPs) are practices that need to be applied on the farm to ensure food safety during pre-production, production, harvest, and post-harvest stages.
Before training, Dr. Lo visited oil crop farms to assess farmers' current farming practices and opportunities for improvement to meet GAP requirements. The training took three days (February 3-5, 2015) and 32 farmers (including 6 women) from 4 townships (Magway, Minhla, Minbu, and Natmauk) were trained.
Dr. Lo explained to farmers that, "[the US government supports these important volunteer trips], to create sustainable agriculture and to foster quality, safe crops from such fertile regions."
"So, not only am I here to teach you the knowledge about GAP, but I am also here to learn and understand your real needs in order to strategize the best approaches to help you," he said.
The training course covered an overview on GAP, GAP guidelines for general crops, and GAP for peanut and sesame harvesting and post-harvest handling. Dr. Lo shared his international experience on poor and exemplary farming practices. He suggested that farmers develop a 3-step strategy to meet global GAP requirements. The first step is to improve safety and quality of products, while the second step is to improve facilities, and the third step is to improve traceability. He also recommended that farmers improve pesticide management, integrated pest management approaches, and consumer education.
"Success is when preparation meets opportunity. While it might seem difficult for farmers to reach GAP standards, it is a global trend, and if Myanmar farmers fail to upgrade their practices they will be left out of the market where food safety and traceability are the most critical issues," Dr. Martin Lo highlighted.
This is Dr. Lo's second visit to Myanmar and his first to the Magway Region. Last year, he trained members of the Myanmar GAP Team under the Myanmar Fruit, Flower, Vegetable Producer and Exporter Association (MFFVPEA) and potato farmers in Heho. The Myanmar GAP Team re-echoed Dr. Lo's training to at least 860 farmers in different states and regions.
U Han Nyunt, training participant and chairman of FDA mentioned, "We thought GAP was too far from us, but now we understand GAP is a MUST for food safety. And we notice we have opportunities even though we have challenges. So we will work hard to improve our farming practices to meet GAP standards."
This is the second volunteer assignment for FDA. Volunteer Mr. Bill Nichols helped FDA to improve their organizational development last year. Mr Roger Engstrom also just completed a training for members of FDA on Oil Crop Seed Production Management during the last week of February, 2016."We highly appreciate USAID, the Farmer-to-Farmer Program, Winrock International, and volunteer experts," Nyunt added.
Sky-Net ALFC channel recorded the training sessions and the video will air throughout the country.
Thank you to Dr. Lo for your continuous support of the Farmer-to-Farmer program!