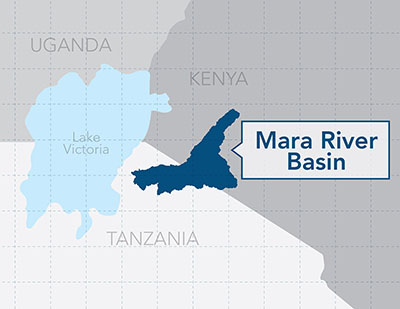 Originating from the Mau Escarpment in Kenya's Rift valley, the Mara River Basin covers nearly 14,000 square kilometers, providing a vital source of life in Kenya and Tanzania. The river traverses the towering Mau Forest, wanders through tea plantations and growing settlements in the upper Basin, and watering the rangelands of Maasai pastoral communities. The river also sustains the region's stunning biodiversity, from forest ecosystems to the wildebeests migrating between Serengeti National Park and Maasai Mara National Reserve.
But as mounting risks threaten the water security of the region, the health of the Mara is at stake. That's why, this month, the Sustainable Water Partnership (SWP) is officially launching a three-year project in the Mara River Basin.
But what makes the Mara a good fit for SWP's work?
Growing Water Security Risks
Growing pressure on water resources are threatening development, conservation, tourism and the globally significant biodiversity in the Mara River Basin, endangering the region's water security:

Population growth and expanding urban areas. An estimated 1.1 million people call the Mara Basin home, and population is growing by more than 3 percent every year. This means rapid and unplanned growth for towns and settlements, all of which depend on the river for water – as well as increasing food and energy needs.
Land use change. Over the last 30 years, agricultural land use in the Mara Basin has increased by about 200 percent. Now, over 65 percent of the Mara's households are small farmers. As a result, much of the original forest in the area has been converted into farmland, impacting both seasonal availability of water and water quality.
Threats to adequate water quality. Water quality in the Mara Basin faces a number of threats: sedimentation from river bank erosion, continued deforestation and degradation, and water pollution, just to name a few. These issues have the potential to hamper access to water, sanitation and hygiene services, negatively impacting health and livelihoods.
Vulnerability to climate change. Climate change threatens the Basin's water security through changes in seasonal distribution of rainfall, increased temperatures, and increased frequency and intensity of extreme events, such as droughts and floods.
A Strong Enabling Environment
Of course, the risks facing the Mara aren't unique. What is unique, however, is the region's receptivity to change. Over the last few years, several important institutional, policy and planning developments have proven that people in the Mara are willing to invest in water security improvement. In a show of diplomacy, a Memorandum of Understanding between the governments of Kenya and Tanzania signed in September 2015 marks an agreement to cooperate over water resource management in the Basin. These developments are a promising first step– and SWP plans to build on and support this agreement.
 A History of Success
Over the last decade, USAID has cultivated a strong reputation of success in the Mara through environmental and water projects like ProMara and PREPARED. These projects have paved the way for SWP, providing opportunities to achieve significant results with limited resources.
In early February, SWP's activity in the Mara officially began, kicking off with a launch workshop in Arusha, Tanzania. Over three years, the SWP team will work with local representatives and water users in both Kenya and Tanzania to develop a basin-wide plan for allocating water, provide tools and science to improve decision-making around water, and improve on-the-ground water security.
"There's an exciting level of cooperation happening in the Mara Basin," says SWP Deputy Director John Parker. "We're supporting not just the governments of Kenya and Tanzania, but also partners like the East African Community and Lake Victoria Basin Commission, in advancing joint water management between these two countries. Together we can provide tangible improvements in water security that benefit the people and ecosystems of this beautiful, globally significant basin."