Dagupan City sits on the Lingayen Gulf, about 135 miles due north of Manila in the Philippines. It has been a regional market center for centuries but has recently gained wider fame as "the Bangus Capital of the World."
Bangus, also known as milkfish, is one of the oldest farmed fish species in Asia. Over 10 days in May each year in Dagupan, tourists and locals join the Bangus Festival, featuring street dances, parties, parades, and most importantly, bangus: silvery fish with forked tailfins cooked simultaneously atop so many contiguous grills that the city once won a Guinness World Record for the longest barbeque ─ at nearly 3,306 feet long.
Aquaculture and fish processing are a mainstay of Dagupan's economy, and important to both food security and livelihoods in the Philippines. The U.S. Department of Agriculture (USDA)-funded Food for Progress program called B-SAFE, implemented by Winrock, focuses on improved food safety in milkfish production and processing, as well in the coconut sugar, corn, and swine value chains, all of which are commercially important in the domestic market and for export.
Working closely with the Philippines Department of Agriculture and the Food and Drug Administration, the B-SAFE (Building Safe Agricultural Food Enterprises) project recognizes the connection between food safety, food security, improved market access and livelihoods. B-SAFE helps agriculture and food safety policymakers and regulators work with private sector producers, processors and suppliers to improve the policy environment for food safety and help develop risk- and evidence-based food control systems that prevent foodborne diseases and their debilitating socioeconomic impacts. Those impacts include strained health care systems, lower productivity, and other harmful economic ripple effects, including reduced trade and tourism.
As the 2022 United Nation's World Food Safety Day dawns on June 7, B-SAFE is supporting the Philippines government with tools and information to implement risk-based analysis of foodborne threats, helping the nation meet obligations under domestic law and international food safety and trade protocols. It's also improving Filipino agribusinesses' access to services and information and facilitating relationship-building to help the private sector reach increasingly stringent, food safety-conscious export and domestic markets.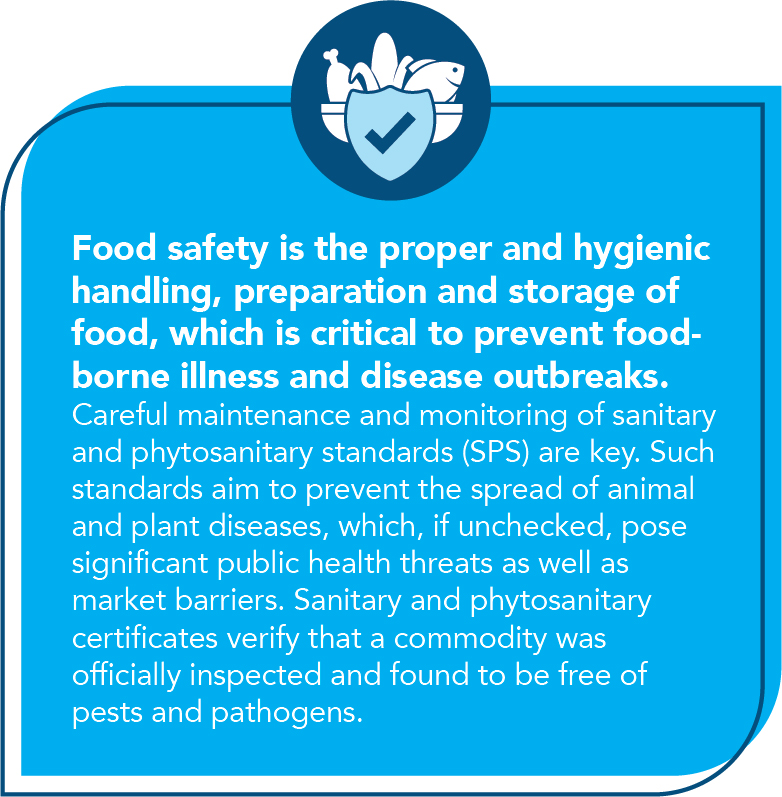 With most milkfish cultured in shallow ponds, B-SAFE helps fish farmers, processors and traders learn about improved production, management, and storage practices to meet Philippines government and international standards. B-SAFE has helped to assess and develop plans for the rehabilitation of the Dagupan City Market Fish Processing Facility, gauging what the plant needs to meet international food safety standards in fish processing. B-SAFE also helped to revive the blue card system for Dagupan milkfish processors, enabling fish processors who complete training to differentiate themselves as knowledgeable about and committed to safe fish processing, potentially opening new markets. Training on land preparation and water quality management for fish farmers is also helping to improve the food safety environment, benefiting both the milkfish industry and consumers.
Boosting prospects for agricultural trade is key to improving livelihoods in a country with more than 12 million farmers and agri-export revenues estimated at almost $5.7 billion annually. Despite the potential of agriculture to expand economic growth and development, the Philippines falls short of its export potential, in part because of challenges meeting food safety standards. The U.S., for example, rejects a significant volume (about two-thirds) of Filipino agri-products due to safety issues. A recent internal analysis conducted by B-SAFE, "SPS-Related Constraints to Philippine Food Exports," estimates the country loses nearly $230 million in potential export income each year from refusals and other constraints.
Down south in Bukidnon, a province on the island of Mindanao, B-SAFE is collaborating with agribusinesses including Syngenta to introduce farmers to new production, harvest and post-harvest practices and technology to safely produce high-quality corn. Dr. Ramon Clarete, B-SAFE's chief of party, says that about one-third of Filipino corn farmers — roughly 460,000 families — now plant genetically modified (GM) corn varieties. Such varieties are seen as important both for food security and competitiveness in the Philippines, in part because they require the use of fewer inputs like pesticides, lowering costs for producers; in addition, yields are generally high and have a long shelf-life.
"Modern biotechnology holds great promise for farmers and consumers in the Philippines," Clarete says. "GM crops approved for import include alfalfa, canola, cotton, eggplant, corn, potato rice, soybean and sugar beets. These help the country's food, feed and food processing industries gain competitiveness." One of the project's major goals is to support the Philippines government as it develops biotechnology review and approval protocols, including guidance on inter-departmental coordination.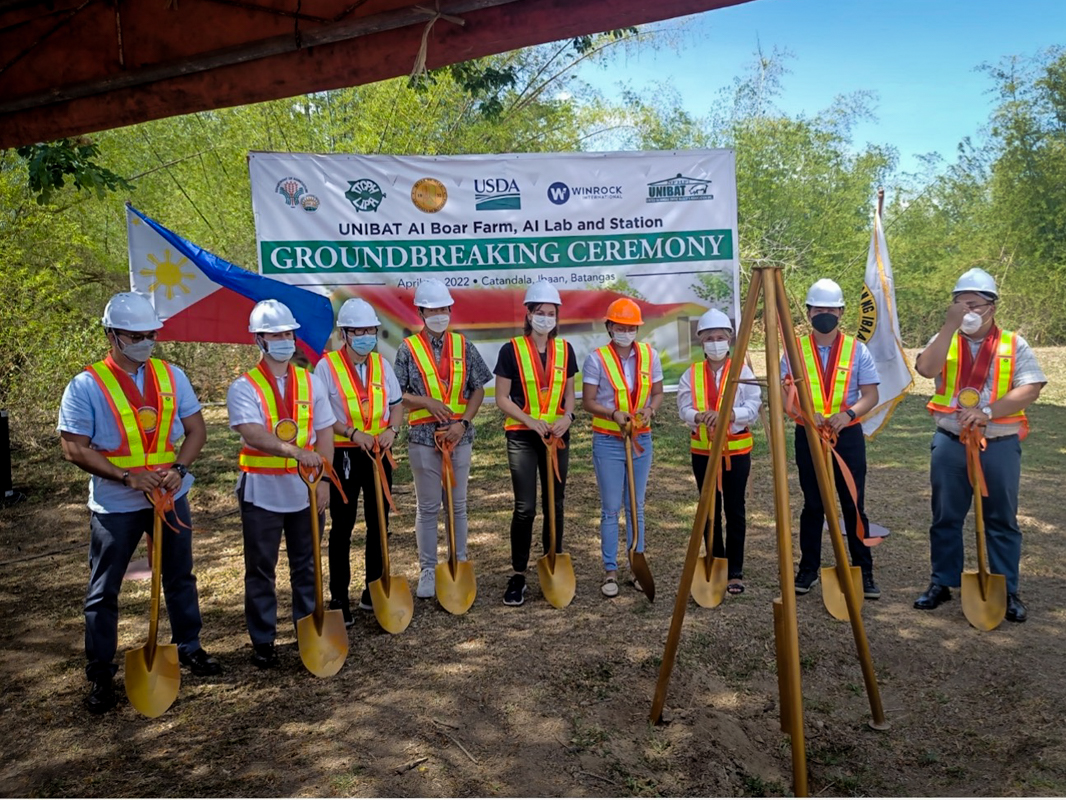 Some of the project's other recent activities include swine supply chain work in Batangas, including assistance in an African Swine Flu-free (ASF) genetic material for breeding at an Artificial Insemination Services and Breeding Center. The center helps to prevent disease and boost market access through promotion of contract farming. B-SAFE has also provided guidance on food safety safeguards and improvements at a local slaughterhouse and in meat vending facilities in Batangas public markets.
As B-SAFE assists the Philippines on its path to improved food safety, it is facilitating interaction between policymakers and important private sector partners ─ including McDonald's, the U.S.-based, multinational food service retailer. McDonald's Global recently collaborated with B-SAFE to present a detailed case study demonstrating how the industry uses data and analysis to anticipate and prevent food safety threats in food supply chains. During the presentation, Victoria Visitacion, McDonald's senior manager, Quality Systems for Agricultural Products, and Cindy Jiang, McDonald's senior director of Global Food Safety Risk Management, shared information with the Department of Agriculture's Food Safety Regulatory Agencies about global Good Agricultural Practices, SPS and other standards, as well as how careful collection, monitoring and sharing of data are key to the design and implementation of effective food safety systems.
---
"Working towards safer food for improved health, B-SAFE's collaboration and implementation process is set to improve each aspect of food safety, provide access to markets and improve economic activities for communities," said Belyn Rafael, the project's deputy chief of party. "On World Food Safety Day, we want to honor the progress we have made with USDA's Food for Progress support, and continue our drive to establish equitable, healthy food systems for all."