USAID's Collaboration, Learning and Adaptation (CLA) is a set of practices that integrate strategic collaboration, continuous learning, and adaptive management throughout the project cycle to help ensure programs are well coordinated with others, are evidence-based and iteratively adapt to remain relevant. It is important to use CLA holistically by connecting the enabling organizational conditions (culture, processes and resources or CPR) across to the CLA (on left side) of the cycle in an intentional, systematic and a resourced manner. The process includes bringing in diverse local stakeholders to understand needs and to identify successes and challenges of a project's activities or products. Based on the feedback, stakeholders adapt or refine the projects' approaches and tools to have greater impact. The CLA process allows for stakeholder feedback to play a role in decisions about project direction and priorities which can advance locally led principles in development programming.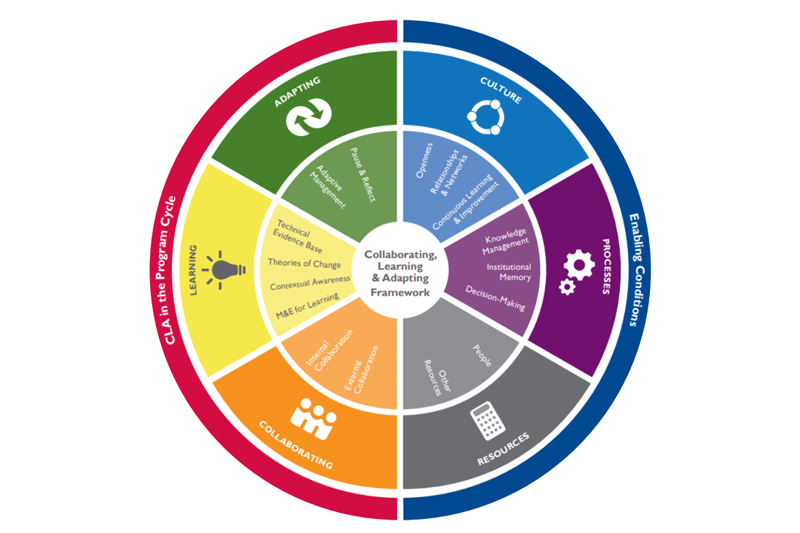 Winrock International is implementing the USAID-funded Feed the Future Knowledge-Based Integrated Sustainable Agriculture in Nepal (KISAN II) project that aims to increase resilience, inclusiveness, and sustainability of income growth in the Feed the Future Zone of Influence.
Rice is Nepal's staple food and covers the largest land area in the country, but yields are low compared to neighboring countries, with rice imports in 2019 reaching $280 million USD. Once a net exporter of rice, today the country depends on rice imports from India. This shift has been slowly evolving over the last few decades as a result of a number of interconnected factors, including consumer preference for fine rice over the local coarser variety; the change in governance to a federal structure in 2015 that inadvertently created vacancies in the government extension service, leaving farmers unaware of changes in consumer demand; rice mills lacked the technical and infrastructure capacity to process fine rice; and a lack of trust and incentives for coordinated efforts between government, private sector, rice millers and local farmers.
Historically, private-sector mills have not supported local farmers to grow fine rice. The public sector had not worked or coordinated with the private sector to drive market demand, even though the Government of Nepal (GON) prioritized reducing fine rice imports in 2019. In a market assessment finding early in the project, Winrock identified a gap between farmers and millers. There was no connection between the two, in part because local traders play a middle-man role of buying and selling, without an eye for millers' quality specifications.
As part of its design, the KISAN II project includes a CLA approach to address constraints within agricultural value chains through external collaboration, partnerships, and knowledge sharing with government, private sector, and civil society stakeholders. In 2018, the project began implementing CLA as a stand-alone component, intensifying support to encourage greater collaboration between millers and farmers that could result in improved production and quality capacity of fine rice and improved yields and income for Nepali farmers that would contribute to the government's priority of reducing rice imports.
To start, three rice mills were selected to pilot a new model called the Rice Mill Model (RMM) to directly connect millers with farmers. Winrock co-financed mills to increase their milling capacity through acquiring new machinery to increase production and transactions in addition to reducing their dependency on traders as the middleman. Mills provided farmers with technical assistance that included irrigation, inputs, credit, and transportation. They also worked to connect farmers to local government for subsidies. After one year of monitoring, learning, and exposure visits involving the government, the private sector and project staff, the mills were receiving the quality and volume of rice from the farmers and demonstrated that the RMM increased local production of high-value fine rice. The model then expanded to 10 mills. This more direct engagement validated the joint benefits in income and revenue to both the farmers and the millers.
Through the CLA process, Winrock shared the evidence from the Rice Mill Model with the GON. It sparked an interest, given the objective was in full alignment with the government's own goal of transforming the local rice subsector to reduce imports.
At the GON's request, senior government officials, USAID, and Winrock co-designed the Joint Rice Intervention Program (JRIP), adapting the RMM to include government participation and investment. The model that started in two provinces and 18 municipalities has expanded to 10 districts and 59 municipalities, resulting in 30% higher yields under JRIP sites, earning Nepali farmers 20% more income than in non-JRIP sites.
This project has demonstrated the numerous benefits of CLA to help attain a more locally led approach in action.
Some of the highlights are listed below.
CLA leveraged resources for collective benefit: As a result of evidence on increased rice production, all tiers of the GON have committed tangible financing for this model to help meet their transformative goal of reducing fine rice imports while also supporting millers with increased income and revenue and local farmers income.
CLA contributes to local ownership, adaptive management, rapid decision making: Evidence-based data and monitoring visits by GON to RMM sites led to adapting the model to include direct government support and investment while allowing the GON to scale up, expand, and own the model. Collaboration with a broader spectrum of local stakeholders can lead to new initiatives that result in local ownership, thereby increasing long term sustainability.
CLA enhances relationships and leverages social capital: The development of the JRIP program provided the opportunity for relationship building among government and the private sector (through monitoring and exposure visits) that had not been commonplace before the project. GON now views the private sector as a partner in support of Nepali farmers contributing to their strategy of reducing rice imports.
CLA strengthened local market systems: Instilling connections between millers, farmers and all tiers of GON has strengthened local actors' understanding of the system and has leveraged collaboration of all actors in the rice subsector.