In late 2021, as the COVID-19 pandemic dragged on, conspiring to keep us from friends, family, and new opportunities, 26-year-old Melanie Leill bucked the trend. After learning about ceramics classes offered by the Arkansas Regional Innovation Hub in North Little Rock, she signed up and set herself on a personal mission: to design and craft 22 different kinds of pottery mugs. And so, she did.
Some are in the shape of a bowl; some teacup-sized, and one resembles a mushroom, but all are handsomely handmade, each one a small triumph of determination and creativity in the midst of a gloomy era. On a recent afternoon in late November, Leill's mugs sat in a white room inside the Hub's headquarters, in a renovated, 108-year-old former lumber depot near the east banks of the Arkansas River. The room is occupied by a small a kiln, pottery wheels, and floor-to-ceiling shelves storing every hand-pinched cup, bowl and figurine made by school-aged students, adult Hub members, and teen interns taking advantage of the Hub's studio space and classes.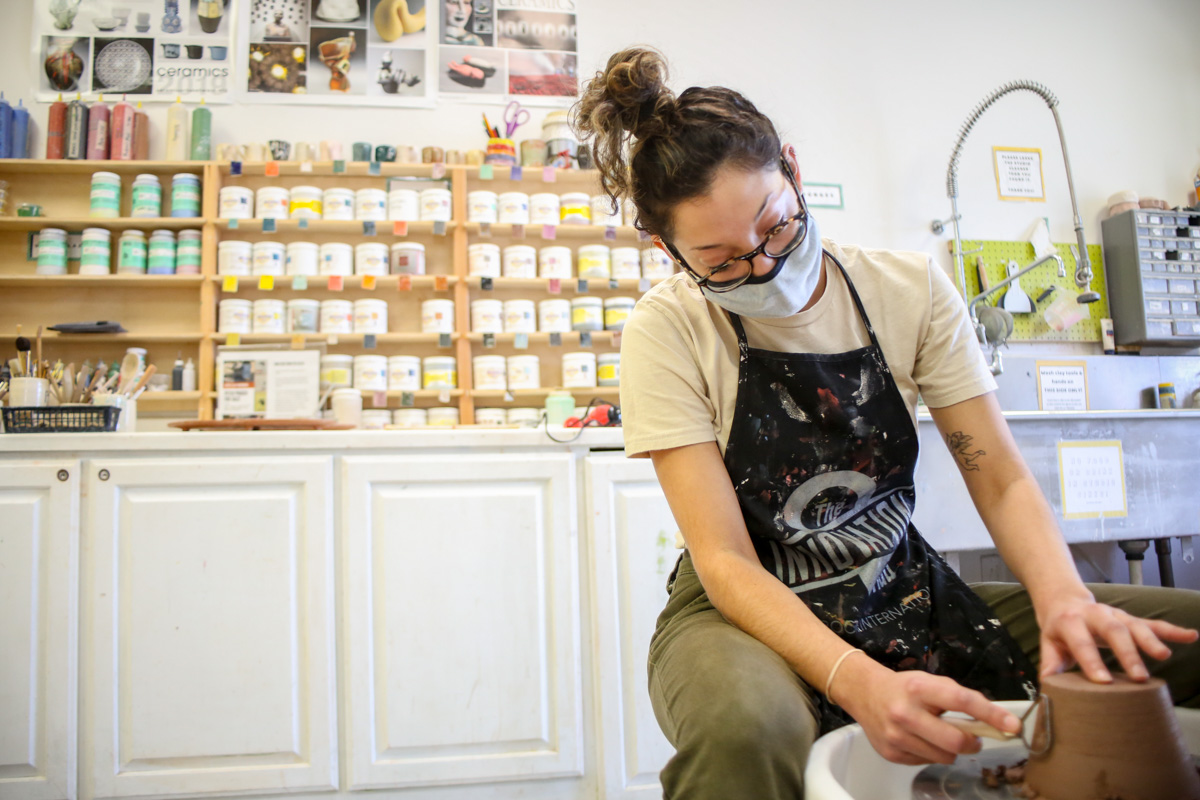 In another part of the 22,000-square foot warehouse space, a series of faint booms emanated from a laser cutting demonstration, accompanied by irrepressible "Oohs!" and "Ahhs!" from some of the 50 local elementary students attending a Hub Maker Show.
Whether it's a Hub member like Leill looking to unleash her inner potter ─ and possibly, jumpstart a new small business ─ or children learning how laser cutters can vaporize metal, plastic, paper or wood while exploring the STEAM universe (science, technology, engineering, arts, math) ─ the Hub has tools and classes to meet community needs creatively. The makerspace, which first opened in 2014, provides a safe place for kids and adults to learn about technologies including 3D printing, software development and computer programming, ceramics, graphic design, robotics and cutting-edge carpentry, among others. Hub summer camps, STEAM field trips, and after-school classes have served more than 18,000 makers, and counting, across Arkansas since it opened. 
Winrock has long supported the Hub's mission and vision of improving the lives of Arkansans by inspiring innovation and expanding opportunities, with the two nonprofits first affiliating in 2016. In 2021, Winrock and the Hub announced plans for a full merger, including expanded collaboration, renovation and upgrades of the Hub's property in North Little Rock. Plans include the addition of new office space to accommodate staff from Winrock's U.S. and international programs teams as well as existing Hub staff, while enhancing program offerings and member services.
"The best years are in front of us with our Winrock partnership," says Errin Stanger, director of the Hub. "Winrock has a global presence of doing good throughout the world. Establishing their headquarters within the Innovation Hub brings their team and support to our innovative, vibrant community."
Stanger is no stranger to the Hub. Before the organization first opened in its restored Argenta Arts District industrial building, she participated in early planning meetings. The vision was to create a haven for students, artists, makers, movers, and shakers in Central Arkansas. From the beginning, the team searched for ways to invent a space that would be both transformational and capable of meeting a range of community needs and challenges with a "Why not?" approach to problem-solving, learning and resource development.
As the pandemic began wreaking public health and economic havoc in early 2020, Hub staff confronted it head-on. Led by Stanger, the Hub brainstormed ways they could help the community. Recognizing the lack of available personal protective equipment (PPE) available in the region, Stanger designed and launched the Hub's Arkansas Maker Task Force, aimed at connecting Hub-trained local designers, makers, and members into a kind of tactical support group to assist frontline emergency workers in need of PPE. The visionary linkage enabled a corps of locally trained, skilled community members to use the Hub's production machinery, including 3D printers, to make and provide more than 13,300 (and counting) masks, face shields, and other PPE for distribution to people coming face-to-face with virus-stricken or exposed community members. 
So far, the 267 task force members have delivered PPE gear to more than 25 organizations and 10 areas outside of Arkansas. The initiative has received support from the Arkansas Children's Hospital, the Arkansas Department of Health, the William H. Bowen School of Law's Business Innovations Clinic, CHI St. Vincent hospital, and Nelson Intelligence Solutions.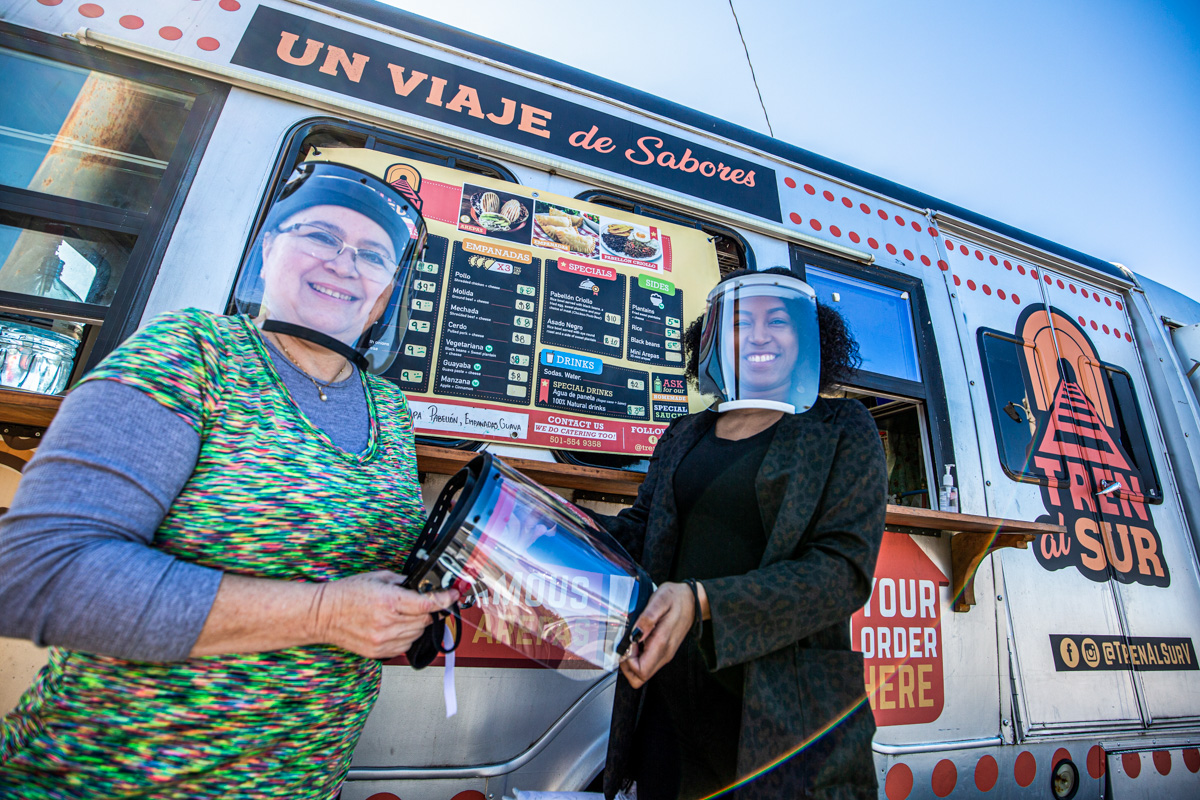 In a space where anyone can be anything, the Hub adapts to everything, including problem-solving for school districts overwhelmed with pandemic-induced shifts to virtual learning. The Little Rock School District (LRSD), with nearly 26,000 students, turned to the Hub in October 2020, seeking help developing a digital learning system. The Hub responded by creating and helping to launch a new, digitally-driven education platform. The online system has kept learning on track throughout the pandemic while enabling teachers, parents and students to communicate and gauge progress. The platform has become essential in the COVID era, with LRSD students switching from in-person to virtual schooling as virus variants ebb and flow.
In addition to developing the online platform, early in the pandemic, Hub staff continued to innovate ways to engage schools and students by organizing virtual learning experiences, including field trips and maker shows that allowed the Hub to reach preschool and kindergarten students as far away as Washington, D.C. By the end of 2021, the Hub had conducted 1,215 field trips, taught 94 children during summer camps, and signed up 141 members while completing 63 production jobs and teaching 183 students through adult classes, for a grand total of 2,421 total participants. As kit-based workshops and classes pivoted online, the Hub connected and continued to support youth, including with STEAM-inspired programming. Since 2018, the Hub has reached communities across Arkansas using its "STEAM Roller" mobile makerspace to bring fun and educational programming to 16,551 people in 22 counties, ensuring that STEAM opportunities are accessible even in the state's rural reaches.
When the pandemic first began to spread, holding annual science fairs didn't seem possible. So the Hub stepped up with yet another creative solution: the Innovation Challenge, an entrepreneurial twist to the familiar science fair fun. The Challenge, first introduced in 2020 in the Pulaski County Special School District, uses an engineering design process to inspire students to solve real-world problems. The resulting projects, many of them with COVID response themes, were both ingenious and useful. A self-sanitizing door handle, an all-in-one self-pasting toothbrush, and an all-accessible robotic trash can were among the creations to win the first competition. Funded by Gilead Sciences, a research-based biopharmaceutical company, the competition provided resources including a virtual library, consultations, and class trainings with guidance on design, prototypes, and construction of 3D models. The competition was a huge hit, and will be expanded in 2022 as an Arkansas regional competition for school districts in other counties including Faulkner, Saline, Pulaski, Perry, Lonoke, Grant, Garland, Hot Spring, and Jefferson.
Despite the pandemic, the Hub's successful collaborations with public, private and other nonprofits never ceased. If anything, they expanded.
In early 2021, the Hub announced plans to partner with the consumer electronics retailer, Best Buy, to add the sound of music to the maker movement's metamorphosis. The project will enhance the Hub's technology access and education outreach to teens, with a focus on underserved youth. The Hub will provide equipment, facilities, staff, and management for the center, which will offer skill-building to help motivate and prepare teens for future career paths, including on the tech side of producing and recording music. The first of its kind in Arkansas, the Teen Tech Center will broaden the Hub's youth-tech offerings to include photo and video editing, animation and design for interactive poetry, stories, games, fine arts, and coding for mobile applications.
Other important skills development and training programs supported by the Hub are already lifting the prospects of youth and young adult community members. The Hub's Skills to Launch program, for example, offers adults ages 18-24 training in their selected career paths.
In December 2021, the third Skills to Launch cohort graduated at the Hub, with 19 students beginning their career pathways and applying skills in the workforce. In all, 34 of the 43 graduates so far have obtained jobs, a 79% success rate.
With its ever-evolving programs, tech-facing education and non-stop creativity, Hub members and staff sometimes self-effacingly refer to their North Little Rock institution as a "Nerdvana," a state of perfect happiness for all lovers of learning and making. At the heart of it all, the Hub is a place where visions and plans are both cultivated and realized.
After all, "Why not?"