Bangladesh is a populous, low-lying nation that is vulnerable to climate change and the natural disasters that arise from it. Only a few months ago, the country dealt with Cyclone Amphan, which inundated over 4,000 square kilometers of land. On International Day for Natural Disaster Risk Reduction, we feature a question-and-answer discussion with John Dorr, who currently heads the Safe Aqua Farming for Economic and Trade Improvement (SAFETI) project in Bangladesh, funded by USDA, and who also led the USAID-funded Climate Resilient Ecosystems and Livelihoods (CREL) project there from 2015 through 2018. CREL built on the work of earlier projects in the country, including Winrock's Management of Aquatic Ecosystems through Community Husbandry (MACH) project.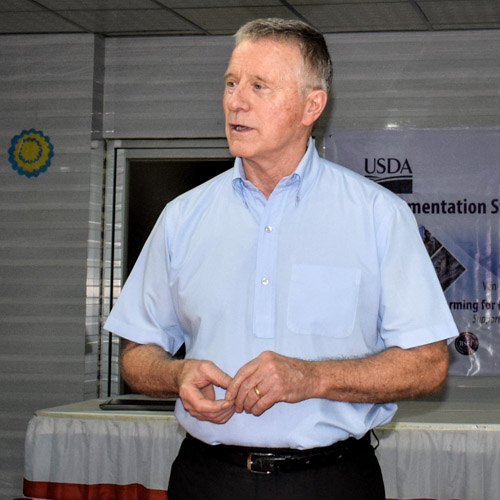 What were the major components of the CREL project?
CREL focused on strengthening biodiversity protection and conservation in four ecologically important regions of Bangladesh and built community and ecosystem resilience to the effects of climate change. We catalyzed more effective communication and linkages with other stakeholders, created and improved policies that support community involvement in natural resource management, and fostered collaboration with the Bangladesh Forestry Department, Department of Environment and Department of Fisheries.
What are some of CREL's greatest achievements?
One of our greatest achievements was strengthening the co-management process. CREL worked with 45 forest and wetland co-management organizations (CMOs) to strengthen their finance, governance and organizational functions. CREL built the capacity of local organizations through training, mentoring, monitoring, construction and through the effective use of grants, which among other things enabled CMOs to generate income. The overarching ecosystem approach that we took was shaped around using co-management as a primary tool for ecosystem conservation and management. It improved the capacity and expertise of co-management organizations in implementing supportive public policies, bolstering community involvement in natural resource management and promoting sustainable alternative livelihoods that were less dependent on natural resource extraction.
Another major achievement — which CREL did with the guidance and support of the Forest Department — was to set out criteria that helped define what constitutes a sustainable co-management organization and what these CMOs could do in protected areas or wetlands. CREL advanced co-management from an informal and sometimes unrecognized process into a legal, approved mandate and made good strides toward providing the financial support that will be required for these CMOs to thrive. Because of these criteria, there is now a protected area management framework into which donors can invest money. That's a big step forward and one of the major technical accomplishments of the CREL project. It's also important to recognize the 20 years of support that USAID has provided to the development and implementation of co-management in Bangladesh.
What about the protection of ecologically critical areas?
CREL undertook the planting of mangroves in the protected Sunderbans area and pioneered mangrove valuation research. It catalyzed revisions to the Wetland Leasing Policy and encouraged the Ministry of Land to convert privately leased wetlands to co-managed wetland sanctuaries. In numbers of hectares, these aren't hundreds of thousands, but they are some of the most critical of the haors (wetland areas). And this helps maintain a minimal level of sanctuary ecosystem that allows these residual populations of  plants and animals to repopulate the wetlands once they're flooded. We don't need to convert all the wetlands, but we need to convert enough of the key areas with the highest level of biological diversity, so they provide a reserve for when there's an opportunity for the populations to expand.
Who were the primary beneficiaries of the CREL project?
We had 350,000 economic beneficiaries, and that's a large number, a lot of people impacted. But beyond that, one of the things I've taken great pleasure in is that we, the American taxpayer, have trained several thousand of the brightest young professionals in Bangladesh in policy, management planning, grants and women's empowerment. We've taken some of the most motivated young professionals who will become the future leaders of the country and imparted this training, this capacity building. And it isn't just technical; it's management, it's leadership, it's motivation. We can take great pride in that.
You mentioned women's empowerment. How did CREL further this in Bangladesh?
CREL had a profound impact on women, strengthening the role and involvement of women on many levels, from community forest patrol guards, to increased representation in CMOs and the executive committee positions including president of a CMO, and extensive expansion of climate-resilient and sustainable livelihood and income-generating activities, including women-operated community savings groups.  The project had a strong gender technical team, including a full-time, experienced gender expert who was very active in the field. Under her leadership, project offices and staff developed a gender-sensitive environment for employees. In addition, managers and partners viewed their project activities through a gender lens with a gender-focal-persons approach that produced champions in the field and reinforced mainstream gender issues among CMOs and government.
How did CREL create and celebrate female champions?
Participants in gender mainstreaming trainings in leadership, organizational management and financial literacy learned about the importance of female leadership in natural resource management. As a result of these trainings, women leaders were more confident to meet with local government, claim their rights and take responsible positions in their CMOs. Six women in Cox's Bazar followed up their training by working with other leaders to plan gender-inclusive activities. They even presented their experiences at a press conference where they told others the story of their struggle for dignity, empowerment and leadership. There were many instances when women reported a large increase in social standing in their households and communities. These kinds of changes pay dividends for years to come.