Located just blocks from the largest informal market in Latin America, the 17 de Noviembre neighborhood of Lomas de Zamora, Buenos Aires province, is a hub for clothing manufacturing and sewn goods. The neighborhood's network of small, informal workshops is populated primarily by immigrant women from Bolivia and Peru.
While these workshops provide women and their families a modest living, the lack of formal employment and poor working conditions create precarious situations with multiple families often living and working in the same workshops, prone to health problems, economic insecurity, and child labor.
The Attaining Lasting Change for Better Enforcement of Labor and Criminal Law to Address Child Labor, Forced Labor, and Human Trafficking (ATLAS) project – funded by the U.S. Department of Labor and implemented in Argentina by Winrock International partner Desarrollo y Autogestión – has worked to change these conditions by increasing coordination between local government agencies and communities to address child labor risks in the neighborhood.
The project saw a major success in this effort when in December of 2022 local women's groups supported by DyA, the provincial Commission for the Prevention and Eradication of Child Labor (COPRETI), and the municipal government launched a new, locally produced children's clothing line free of child labor and forced labor called Kubi.
With the slogan "Tejemos una infancia libre de trabajo infantil," (Weaving a childhood free of child labor), Kubi sells clothing and toys for children ages 2-12, produced in workshops with positive working conditions. The initiative currently involves more than 150 local women, demonstrating that it is possible to produce garments for the formal sector with decent wages, controlled working hours, and no child labor.
"These items are made with fine materials, unique designs and messages that feed the imagination of our children," said Gudelia Huaman of Mujeres en Acción (Women in Action), one of the textile cooperatives promoting the initiative. "We want them to have fun, feel cared for and free. We want parents to notice that these are personal products, made with love. In addition, we reuse the remnants in stuffing, bedspreads, and small toys, so we also take care of the environment."
The ATLAS project supported this initiative by working with COPRETI and the municipality to provide women training in decent work and textile production while supporting child care centers to ensure workshops were free of children and child labor. This work is part of joint action plan between the three parties, and is based on a participatory community mapping process with local residents. This Action Plan has three main goals: 1) Improved labor conditions and productive capacities in the garment sector; 2) Improved child care networks to prevent child labor; and 3) Awareness-raising on child labor.
"Betting on strengthening neighborhood organizing and women's networks was an important bet to generate decent work, which generates a better quality of life for boys and girls," said Maró Guerrero, director of DyA Argentina. "Together with the municipality of Lomas de Zamora, COPRETI, and the cooperatives, we are launching this clothing line as a way to raise awareness around the topic of child labor and guarantee careful processes in textile manufacturing."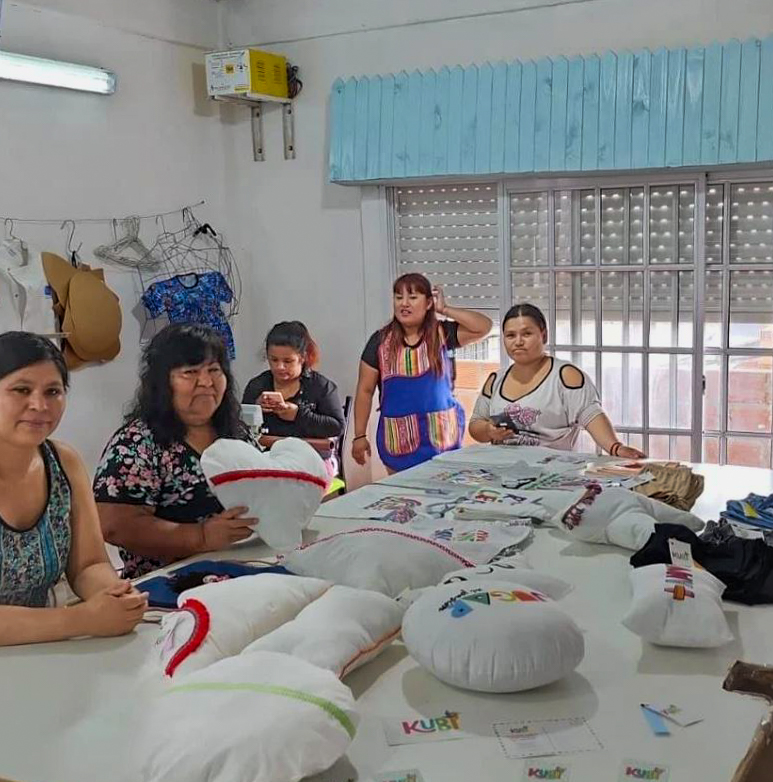 The ATLAS project, led by Winrock, works to strengthen responses to child labor, forced labor, and human trafficking in Thailand, Paraguay, Liberia, and Argentina. Desarrollo y Autogestión leads the project's work in Argentina with support from Winrock.
Funding for the ATLAS project is provided by the United States Department of Labor under cooperative agreement number IL‐32821-18-75-K. 100% of the total costs of the project is financed with USG federal funds, for a total of $8.8 million. This material does not necessarily reflect the views or policies of the United States Department of Labor, nor does mention of trade names, commercial products, or organizations imply endorsement by the United States Government.