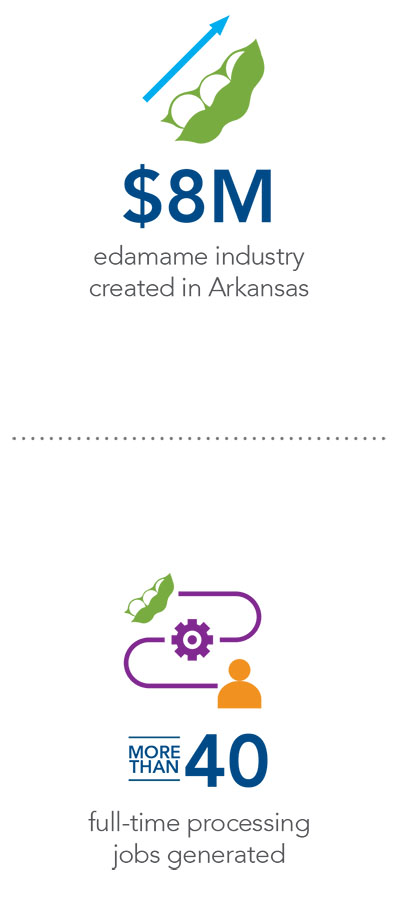 PROJECT NAME: Market Potential of Using Specialty Soybeans as Replacement Crops in Arkansas River Valley
SYNOPSIS: Winrock U.S. Programs develops solutions for the challenges facing rural communities, from farming to entrepreneurial development. Its work on edamame in Arkansas was funded through the United States Department of Agriculture.
YEARS ACTIVE: 2010-2011
FUNDER: USDA
A WINROCK LEGACY STORY
Herby Ault, who farms near Dardanelle, Arkansas, had never heard of edamame when Kelly Cartwright first approached him about growing it. But Cartwright, an agricultural scientist and entrepreneur, had done the math and knew it would work.
"We had the numbers and we also had the market," says Cartwright, who leads the Natural Soybean and Grain Alliance and has partnered with Winrock on several projects. A company in Texas had been working with Cartwright and a development team to place a processing facility in Mulberry, Arkansas. Vertically integrated, the company would not only purchase the locally grown edamame but would also help manage the crop throughout the season, including harvesting it and transporting it to the plant for final processing. Still, it would take more coaxing for Ault and those first few farmers to make the leap.
"We finally convinced them that edamame is just a soybean," Cartwright says. "It isn't exotic. It grows like a soybean — but it pays like a vegetable." Within four years, edamame had become an $8 million industry, was generating more than 40 fulltime processing jobs, and had put Arkansas on the map as the country's first domestic processor of the bean and the "Edamame Capital" of the U.S.
Winrock had a huge hand in making this happen — starting with an initial phone call with Cartwright early in 2010. This led to a Rural Business Enterprise Grant from USDA; working with agricultural extension, university agronomists and others to learn which soybean would best fit the soil and temperature of the Arkansas River Valley; assessing markets; providing technical assistance and helping pull it all together.
This wasn't the first time Winrock was part of reshaping an agricultural market in Arkansas. Fifteen years ago, it helped a group of sweet potato farmers improve the quality and boost the yields of their crop. The Central Arkansas Research Conservation and Development Council brought farmers together to establish a facility where they could process and store their crop, and Winrock introduced them to new markets. Eventually, there were contracts with Gerber and the Bright Harvest Sweet Potato company — and a $1 million federal/state grant. Sweet potatoes from the Arkansas Delta are now shipped to many states and abroad.
"U.S. Programs takes an economic development perspective," says Senior Director Linsley Kinkade. "We're not just about getting better skills to the farmer, we're about building up an industry that will create more jobs in small towns. I think for us, when we see real success is when that happens."
U.S. Programs is currently working to repeat the success of edamame and sweet potatoes with organic grains. While still in process, it's a winning model, and it taps into a rich legacy of agricultural research that's been part of Winrock from the beginning.