New Food Products Reduce Waste and Address a Growing Demand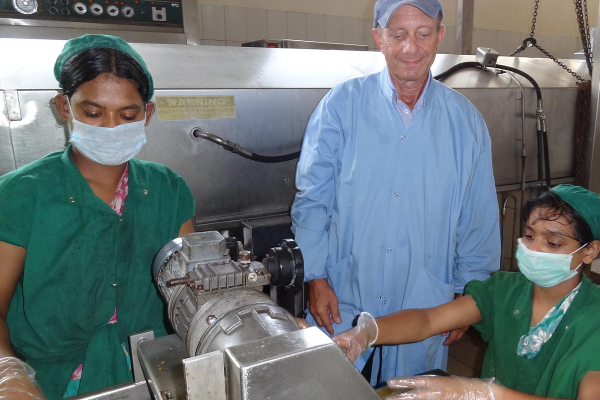 In recent years, the demand for ready-to-cook and ready-to-eat food has increased in Bangladesh.
Considering the country's huge population and an increasing urban demand for time- and labor-saving food products, vast potential exists for more companies to engage in production of these items. In addition, production of frozen and ready-to-cook food items can help reduce post-harvest food losses, which are extremely common in Bangladesh, and provide an outlet for more smallholder farmers to sell their products.
Golden Harvest Agro Industries Limited is a Bangladeshi processing company that produces frozen and ready-to-eat/ready-to-cook food. Golden Harvest had a goal to diversify its products and target the emerging city dwellers, particularly working families interested in ready-to-eat products at affordable prices. Committed to building the capacity of local agribusinesses to increase availability of food and food products, Winrock's U.S. Agency for International Development-funded John Ogonowski and Doug Bereuter Farmer-to-Farmer (F2F) program pledged to help Golden Harvest meet its goal.
Winrock provided technical support through Clifford Wener, a food processing and business specialist, who came to Bangladesh as an F2F volunteer. Wener spent three weeks with Golden Harvest to help develop new products, improve the quality of existing products and improve overall operations.
Within only four months of receiving F2F assistance, Golden Harvest produced two new products and improved the quality of four existing products, with knowledge gained from Wener's training. Demand has increased for these products as a result of the improvements in quality, leading to increased sales and exports.
Grateful for the F2F assistance, Golden Harvest's Chief Operating Officer Samad Choudhury said, "We would like to thank Winrock International and Mr. Wener. Without Winrock's support it wouldn't have been possible for us to continue our mission."
Related