USAID's Collaboration, Learning and Adaptation (CLA) is a set of practices that integrate strategic collaboration, continuous learning, and adaptive management throughout the project cycle to help ensure programs are well coordinated with others, are evidence-based and iteratively adapt to remain relevant. It is important to use CLA holistically by connecting the enabling organizational conditions (culture, processes and resources or CPR) across to the CLA (on left side) of the cycle in an intentional, systematic and a resourced manner. The process includes bringing in diverse local stakeholders to understand needs and to identify successes and challenges of a project's activities or products. Based on the feedback, stakeholders adapt or refine the projects' approaches and tools to have greater impact. The CLA process allows for stakeholder feedback to play a role in decisions about project direction and priorities which can advance locally led principles in development programming.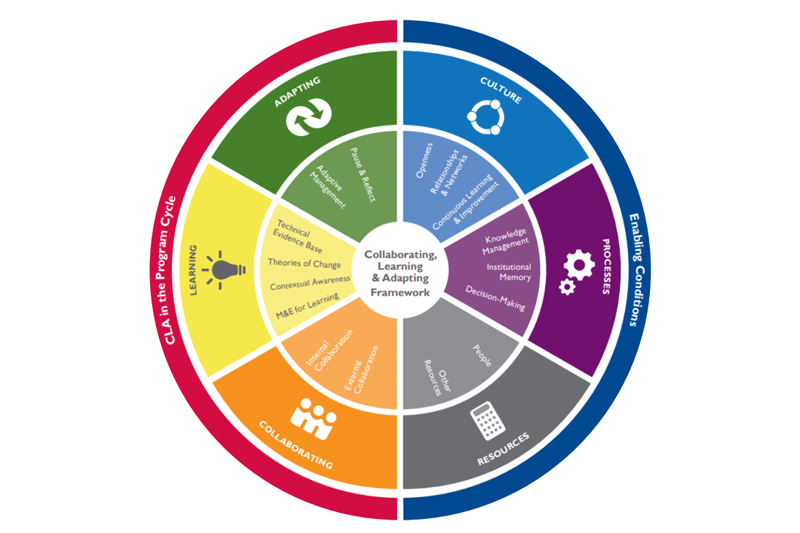 Niger, a land-locked country in West Africa, faces recurring weather events associated with climate change and has one of the world's three highest population growth rates, which puts undue strain on natural resources. Conflict between herders and farmers, who do not normally engage in dialogue, intensify during these weather episodes, which is also when seasonal migration takes place. People search for improved living conditions or herders move to other areas to find suitable grazing land for their livestock.
To both protect natural resources and enhance dialogue and social cohesion among communities, numerous development organizations were supporting communes (the equivalent of a U.S. County) to develop Local Conventions (LCs) that serve as natural resource management guidelines. LCs are now official mechanisms for the Rural Code of Niger, a key government agency that works on land tenure, natural resources management and rural conflict prevention. However, multiple LCs with varying practices caused confusion among the diverse communes.
CLA was incorporated into the design of Winrock's USAID-funded TerresEauVie Activity and specifically for assessing standardizing LCs across communes. This presented an opportunity to adjust the process to enhance local actor engagement and ownership in the LCs. CLA supported a process to reduce the irregularities in LCs and to improve effective coordination, consultations and interactions amongst host government and learning from commune leadership. Leveraging previous USAID-funded projects TerresEauVie convened local actors, host government and other development organizations to co-develop a standardized and unified national regulations guide that incorporated local knowledge and experience into the national regulations. Through an iterative learning cycle, TerresEauVie then supported the Rural Code to test the new national guide that resulted in adaptations and adjustments for easier usage among communes. The CLA process also created an opportunity to collaborate with a different USAID project that was supporting the revision of a tool for communal planning in Niger, called the Communal Development Plans (CDP) The collaboration resulted in permitting the inclusion of LCs into the CDPs, which coupled together will ultimately help to improve efficiency and sustainability for natural resource management and conflict reduction in the country.
"We don't need to wait for someone's help. These natural resources are for us. It is up to us to manage them and enforce the provisions of the Local Convention. We can lead our own way out of farmer-herder conflicts"

Mai Magagi, village chief of Kouyikam, Mazamni
The result of the CLA effort has been a Local Convention National Reference Guide that is standardized, officially endorsed, and enforced by the Ministry of Agriculture and Livestock. Additionally, revised Communal Development Plans that are now inclusive of Local Conventions are setting clearer and more inclusive pathways for communities and the country to effectively manage its natural resources and prevent conflicts.
Through intentionally investing and resourcing CLA approaches, a few best practices have emerged from this activity that supports a more locally led approach:
CLA was incorporated into the design of the TerresEauVie Activity for Local Conventions (LCs) to help standardize them across all communes. However, given observations, consultations, and assessments of LCs, collaboration with local stakeholders was broadened. This provided enabling conditions for CLA to succeed through culture and leadership, processes and resources.
Adjustments and adaptations were made to tailor the LC development process that instilled more local ownership, knowledge, and context to ensure communes effectively implemented the LCs in line with the regulations they were involved in developing. This has demonstrated how collaboration with local stakeholders leads to initiatives that are more contextually relevant and locally owned, increasing long-term sustainability.
CLA offered the opportunity for the Rural Code to test the guideline approach that made recommendations for adaptation for easier usage and consistency of the guidelines among local communes. Through collaboration and consultations with local communities the process helped to reshape interventions that contribute to communes more effectively carrying out the guidelines.
Broadening CLA to wider stakeholders resulted in LCs being integrated into Communal Development Plans that supports a more comprehensive understanding of protecting and managing natural resources and preventing conflict for local communities, communes, and government bodies.